Right to left: Nick Rogers, Nathan Wilmot and Chris Grube
To London 2012 the hard way
Once upon a time (before 1994 in fact) there was no National Lottery in the UK and the resulting grants that leading British sportsmen and arts bodies regularly receive via the Foundation for Sports and Arts today, were but a pipedream. Pre-Lottery Olympic sailing campaigns were principally Corinthian affairs with individual sailors self-funding their efforts by mortgaging houses, asset-stripping friends and relatives, etc. It was a different world.
But sadly it is back in this self-funding situation that Nick Rogers, the 470 silver medallist at both the Athens and Beijing Olympic Games, currently finds himself. Having scored his two Olympic gongs and then splitting with his crew Joe Glanfield post-Beijing, Rogers teamed up with Pom Green but over the 2009 and 2010 seasons rarely found his previous form. Early last season Rogers, now 33, shifted into coaching and it seemed the days of his Olympic campaigning as a sailor were at an end...
But in December Rogers received a call from Chris Grube (aka Twiggy) asking him to reconsider.
So what swung him? "The first day I sailed with Twiggy. Twiggy asked me to come back and go sailing. Unfortunately I'd just sold my boat, so it was bad timing and that wasted about £10,000 or actually quite a bit more than that. And then I realised it was doable.
"Twiggy was sailing with Phil Sparks and they weren't really getting anywhere, so he needed a change, stop sailing or not, and I'd given up. I'd done a lot of coaching and there were a lot of things I'd seen that I thought how different it was to the campaign that I was leading before. I'd been sailing with Pom and I learned a lot with him and we did a lot of good things, but from inside the campaign it looked very different. And having then coached my friend, a Pakistani guy, for a bit, l realised there was a lot more to it than I realised."
Possibilities were spurred on by an offer of sponsorship Rogers had received, and he went ahead and set the wheels in motion...only that four months on that sponsor has yet to come good. As a result Rogers has been accumulating alarmingly huge debts in order to follow his Olympic dream.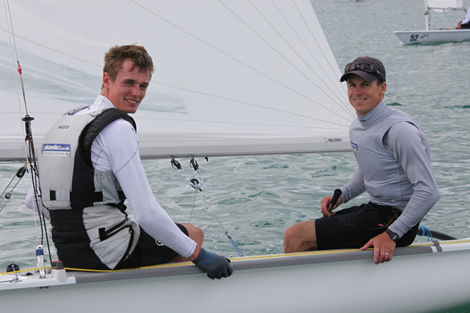 Aside from the potential sponsorship, the biggest piece of the puzzle that has materialised has been in the form of their coach – none other than Australian Beijing 470 Gold medallist Nathan Wilmot, who himself had retired from Olympic campaigning after China. "I phoned Nathan and, most unbelievably, he said he'd do it," recalls Rogers.
There was a period of hiatus as they waited for the elusive sponsorship to come through and according to Rogers there came a crunch point when they couldn't wait any longer. "First Nathan flew over to England and we did a week in Lymington with snow on the boat! Poor Nathan has the video footage! At that point we weren't up to our eyeballs in debt. We had enough cash to do that and then we were just waiting and waiting and waiting for the sponsor, because we didn't have two beans to rub together ourselves. And the sponsor didn't come through. Then we got to 5 January and my wife said 'what are we doing?' And we talked it through and that afternoon I booked a flight and we flew down under at 0400 the next day.
"That is another part of the campaign – I feel I've had amazing support from a lot of people. My wife has been amazing at just saying 'do this'. We have taken on £60,000 of debt between us on the mortgage. I believe we can do it, otherwise I wouldn't have bothered. I have amazing support at home from my family and from my wife, so that has given me the balls to say 'you only have one life, just do this, it is not the end of the world, it is a debt you can pay back' and I feel I have the best crew in the world and the best coach in the world.
"David Mackay built me a beautiful boat - when we got to New Zealand, he did anything he could to help us. I feel that a lot of people have done that to get us here. And I am really proud of that and pleased to be here and I do believe we can do it."
This is Rogers' 15th year in the 470 and one would imagine it to be a boat he has experienced and mastered every nuance of. However he says that Nathan Wilmot's techniques are so different it has been a case of going back to school. "Nathan was the best 470 sailor I ever raced and he was relentlessly fast through the water, always with good boat speed. So it is just about us learning to sail the boat with Nathan's techniques and set-ups and tuning and then to be able to get my racing skills back on the water. That is what is happening here: We have moments when I lose my racing focus because it is all so new, so you make mistakes."
At the time of writing Rogers and Grube were lying eighth in the 84 strong 470 Men's class after scoring two seconds on the opening day but posting two big results yesterday (Wednesday). In the Team GBR ranking they are ahead of past World Champions Nic Asher and Elliot Willis (in 10th) but behind the talented nippers Luke Patience and Stuart Bithell who are currently third (while Nathan Wilmot's old crew, the present 470 World Champion Malcolm Page leads with his new helm Mat Belcher).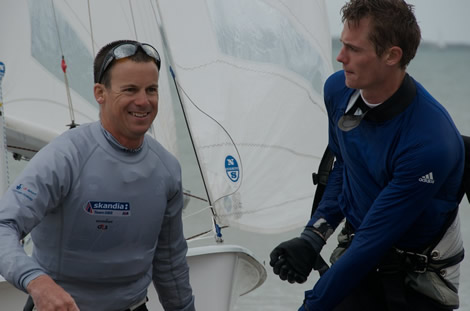 Wilmot brings to the campaign a lot of boat set-up skills, which Rogers can't talk about, other than that they have changed to Wilmot and Page's sailmaker at North Japan. "It is just a mix between the set-up and the technique..."
Perhaps the most significant change for Rogers as he launches into his new campaign is the tactics. In his previous medal-winning campaign with Joe Glanfield, it was Glanfield who performed this role from the wire, whereas in the Wilmot-Page set-up it was Wilmot, the helm.
"I think I couldn't do that with Joe and my's set-up, because the boat was so difficult to sail and I think that Nathan refined a hell of a lot of things as well. When Joe and I would tend to buy our kit and pick the best of what we'd bought, the masts, etc, Nathan would actually know what he was looking for. But typically Joe and I were exactly how we were coached: Hamish [Wilcox] is an unbelievably good sailing coach, he is a crew, he is a tactician and he has been a weatherman for however many America's Cup campaigns. And Hamish is a competitor as is Joe, who is a mega-competitor - he doesn't play a game without wanting to win it and that is what we were good at.Whereas I feel that Nathan also used to actually sail a 470 properly and the priorities were very different in his boat."
In addition no doubt Wilmot brings with him some of fundamental, back to basics, zen approach to sport that he learned from his Olympic coach in the Australian team, Victor Kovalenko. "Nathan has been very open and an absolute God send. There is no way that we would be here to compete seriously at this level without him," says Rogers.
While Rogers plans to continue with the campaign, money be damned, there is the obvious possibility that if he starts performing consistently well then the powers that be at Skandia Team GBR may have no choice but to put him back on funding.
"I did ask Sparky [Skandia Team GBR Olympic Manager Stephen Park] twice for funding and twice he said 'no'. That is his call really. I had a very open discussion with him when I stopped sailing, and opted to come off funding on the basis that if you opt to come off, you can come back on. Then when I talked to him again he said we couldn't come back on funding because there were so many people on it and they didn't have enough space – which is fine. I talked to him again and then he said we had to re-qualify and that entails results at the World Championship, but that's not until November... So the long and short of it is that we are going to put our head down and get a place at the Olympics and that starts at Sail for Gold.
"There is nothing we can do about it. If we were to go on funding now, it wouldn't make any difference because we are so deep in it. It is not really about funding or not. We want to go to the Olympics and win a gold. When we qualify, then the debt will be paid back. An opportunity to go to the Olympics and win a Gold (in Weymouth): I feel that to get that opportunity is worth any debt."
Running up debt is a double edged sword. It means that possibly Rogers has an added impetus to perform, because his life really does depends on it more it perhaps does for his competitors, but this comes at the price of considerable added stress off the water. "It does focus you. Definitely. I think the key thing is that it adds pressure and we've faced that now at this event and that isn't going to change from now on. I believe we can do it and I think that Twiggy, Nathan and I are comfortable with that kind of pressure. I have been part of Skandia Team GBR and the lottery funding and it is an amazing thing, it gives huge opportunities to a lot of sailing. I have nothing negative to say about it. We're just not part of it!"
From here Rogers and Grube and their uber-coach plan to compete at the Spring Cup in France followed by the Semaine Olympique in Hyeres before they start focussing on the UK and training out of Weymouth. In the meantime their presence on the race course can only be an added impetus for Skandia Team GBR's 470 squad to perform.

Back to top
Back to top