Coxon comes through
Australian 18ft Skiff champions Michael Coxon, Aaron Links and Trent Barnabas fought back strongly today in Thurlow Fisher Lawyers to score an impressive win in race 2 of the Winning Appliances JJ Giltinan Championship on Sydney Harbour.

Thurlow Fisher Lawyers took the lead from the first windward leg of the course and put on a wonderful display of light wind sailing to defeat Race 1 winner Gotta Love It 7 by 1m23s.

Gotta Love It 7's Seve Jarvin, Sam Newton and Scott Babbage had set a challenge to all challengers after a brilliant win yesterday, but were unable to match the light wind speed of the winners. Former Giltinan champion John Winning and his Yandoo crew of Andrew Hay and Dave Gibson were near the head of the fleet all day and finished a further 3m17s back in third place.

Western Australia's Slam (Grant Rollerson) finished fourth, followed by Red Claw Wines (Matthew Searle) and TF Collect (Mark Kennedy).

The race was another light day with an easterly breeze which fluctuated between 5-12 knots.

From the start, the fleet was spread across the harbor on the windward beat to the Rose Bay mark. Positions changed regularly before Thurlow Fisher Lawyers finally took control and led by 30s as spinnakers were set for the downwind legs. Slam was in second place, closely followed by Yandoo, Gotta Love It 7 and Red Claw Wines.

Pure Blonde (James Francis) led the next group, which included Queenslander (David Witt), Panasonic (Jonathan Whitty), Rag & Famish Hotel (Jack Macartney) and TF Collect.

Yesterday's placegetters Smeg (Nick Press) and CST Composites (Howie Hamlin) were buried back in the fleet – 11th and 12th respectively.

Thurlow Fisher Lawyers held her lead downwind then sailed a superb leg back to Rose Bay where the team held a 1m10s lead over Gotta Love It 7. The other Thurlow Fisher boat TF Collect also sailed well and was in third place just ahead of Slam, Yandoo and Red Claw Wines.
Smeg and CST Composites had made up four placings over the lap but were still 7th and 8th respectively.

On the final windward leg back to Rose Bay it was truly a two-boat race as Thurlow Fisher Lawyers and Gotta Love It 7 opened up a big break over the rest of the fleet.

After two light wind days, most crews are hoping for more breeze on Tuesday for Race 3 of the seven race championship.

Early predictions are for 15-18 knot northeast winds, which would be ideal conditions for great skiff action.
Full results here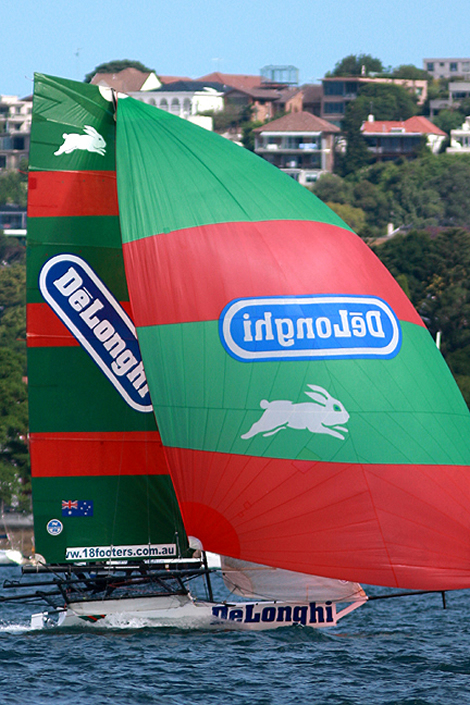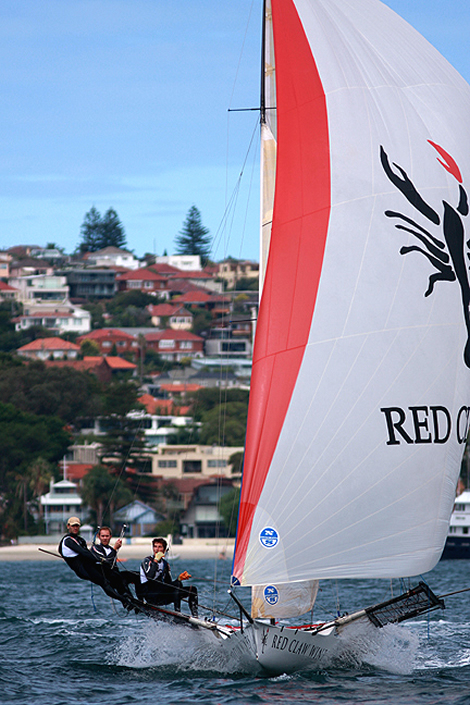 Back to top
Back to top