High scoring day
The game has decidedly turned going into Race 5 of the Final Series at the 2011 Zhik Moth World Championships. Racers are still flying fast, but the tactical gears are beginning to churn.
In Race 5, New Zealand's Peter Burling led around the course, ultimately losing to Iain Jensen on the last leg. Nathan Outteridge now with 8 points was back in form after the injury in today's first race, lost out on the win, but played a tight race against the leading contenders, Joe Turner and John Harris who have 19 and 23, respectively. Turner finished the day strong, but he does carry a DNF into the final day of racing and cannot afford any slip-ups.
Outteridge goes into the final day with a comfortable 11-point lead (although what's considered 'comfortable' in a Moth Fleet is debatable.) Second place on down is anybody's guess. Even with 2009 World Champion Bora Gulari's OCS in the final race, he was able to climb back to 13th, which is currently his drop for a score just 7 points back from Turner. Scott Babbage sits just ahead, and despite having a double-digit race early in the day (10th), he did hit a 31.1 knot split during the racing.
Forecast for tomorrow reads for 20 knots at 0930, and PRO Peter Moor has moved the start of Silver fleet to 1000hrs AEDST, with Gold to immediately follow.
Full results from the Gold fleet here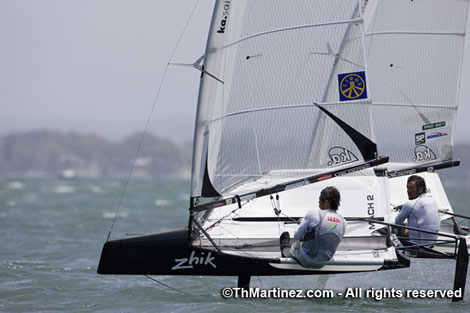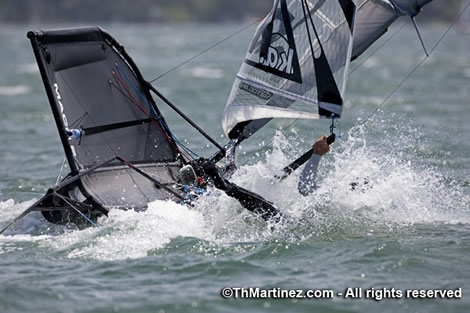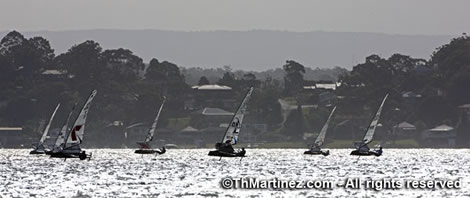 Back to top
Back to top