Qualifying series complete
Just another day at the office for Nathan Outteridge who flawlessly handled the gusty 16-18 knot easterly on Lake Macquarie at the 2011 Zhik Moth Worlds during the final day of the Qualifying Series. In the last start of the day he blasted off the line at 20 knots, after dipping the line from above the start boat.
Also moving quickly was Kiwi Peter Burling hitting a max of 27.7 knots, but he suffered two stacks in the last race, costing him the chance for another triple bullet day and a minor injury when his foil came down on his back. Joe Turner swooped in for the win and enters the finals in third. Scott Babbage was almost too consistent, failing to cover Outteridge in the final downwind of Race 9, and earning straight 2nds for the day, putting him 4th overall.
Is Bora back? "I think he might be", reports the 2009 Moth World Champion Bora Gulari, who in the first race of the day wasn't quite on pace, but was able to turn up the heat for a 4th place finish. Closing out the day with two 2nds, he jumps to 11th place. Fellow American Brad Funk, who was off to a rocky start with fleet mix-ups and an OCS, grows more consistent and holds onto his 9th place slot.
Standout performances were made by Arnaud Psarofaghis, leading the Europeans, and Andy Budgen. 2010 Moth World Champion Simon Payne clings to 19th with a damage-free day for Charlie McKee and the Wing-sail, now in 21st. There's a tight battle for leading lady with Sam England (AUS), Emma Aspington (SWE), and Lindsay Bergan (USA) all qualifying for Gold with 51, 52, and 53 points, respectively.
Fortunately most the fleet survived the day unscathed, and event sponsors SP-High Modulus, who have offered free carbon for repairs during the event, can hang on to their supply for another day.
Winning AC skipper James Spithill was out on the course today. When is he getting a Mach 2 Moth? "Maybe when they make a Mach 3."
The top 55 proceed to Gold Fleet, with 54 sailors making up Silver. Sailors carry over their rank from the Qualifying Series as points into the 3-day Final Series (e.g. Outteridge starts with 1 point, Burling with 2, etc) starting tomorrow. After a lay-day on the 12th, racing will
conclude on Friday, 14 January.
Full results from the qualifying series here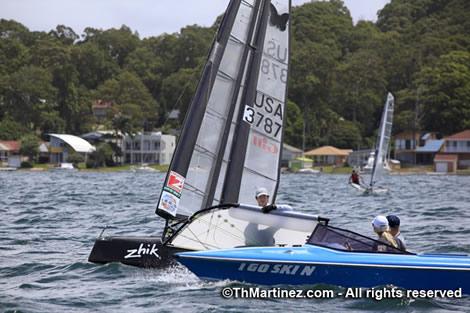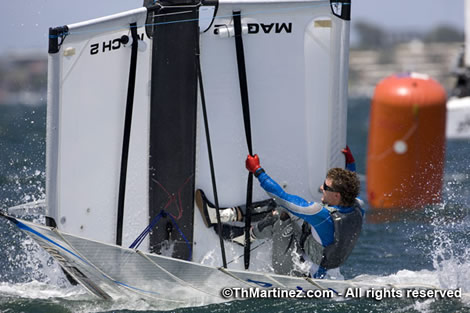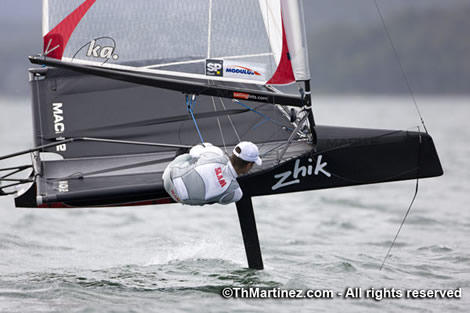 Back to top
Back to top