Boat of the future?
Solid wingsail catamarans? Very 1990s. All the way from Switzerland, the boat of the future was taking part in Weymouth Speed Week last week.
See the video here
Thomas Jundt's Mirabaud LX three man foiler is no newcomer to thedailysail and we continue to wonder if this represents the type of vessel we'll be sailing in decades to come; if one day we will be seeing 60 or 100ft long airborne monohulls or if the lack of lateral stability inherent in such boats is an issue just too impossible to overcome.
Mirabaud LX is now into its fourth iteration. The boat started life as a 18ft skiff to which foils from Prowler creator John Ilett were added. Since then the sizeable 18ft skiff hull has been replaced by a much skinny version from an M2 catamaran mould and over the last two seasons has twice grown in volume, heading back in the direction of the boat's 18ft skiff origins. Fitted this year, the latest version fitted is a 8.5m long surfboard that resides below the Mirabaud LX's unique carbon fibre scaffolding structure and is 1.2m wide at the transom, just 15cm deep and ultra-flat bottomed.
Jundt built the new hull simply from a block of Styrofoam with Airex and a layer of carbon fibre laminated over it. The all-up weight of the boat has increased marginally from 160-170kg all-up, but this is a substantial improvement over the 220kg it weighed in its original foiling 18ft skiff form.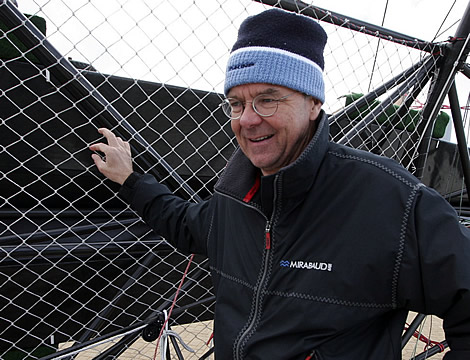 The aim of the Mirabaud LX is to race successfully in the wide range of conditions that can experienced on Lake Geneva, but according to Jundt the previous hulls since the 18 have been too unstable in light winds and also used to sink at the stern during manoeuvres. "It was just a torture to sail. Especially at night, it was just impossible." At night? The boat has competed in the Bol d'Or annual lap of Lake Geneva, where typically the front runners arrive in the early hours of the morning.
Significantly they have also dramatically scaled back on the size of the Mirabaud LX's foils. The T-foil on the rudder is just 30% of what it was albeit with a much higher aspect, while the main foil is 60% of the original, the idea obviously being to minimise drag.
The new foils are cleverly constructed with the join between the vertical and horizontal components of the T-foil comprising a small steel bulb that comes in two parts. Changing the horizontal foil is now simply a case of unbolted the bottom half of the bulb.
Despite the substantially smaller foils, take-off speed has only increased marginally says Jundt. "I am very astonished: we can get out of the water at 10 knots, whereas before it was 9 - a little bit higher speed, but not that much. On the other hand we believe we can pick up speed quicker because there is less drag and definitely the top speed is better, but less than I thought."
The new slippery foils and improved planing shape of the hull contribute to allowing the Mirabaud LX to reach take-off speed faster. However the aim of the foil reduction was to increase the top speed. At Weymouth Speed Week they managed 25.8 knots but he had hoped for 27-28. However it was an improvement over the 23 knot maximum they achieved with last year's set-up. "We are quite happy because the boat has never been so fast, but I think we can go a little bit faster still," says Jundt.
The 25.8 knot peak speed was hit on windy Tuesday last week, although their fastest run logged down Weymouth Speed Week's 500m course was 23.248 knots. According to Jundt the Mirabaud LX was suffering as the start gate was very narrow. "The official results are not as good as when we train because they had such a small gate - it is really difficult to hit the gate because if we have a gust we have to bear away and we are not always up to speed at the gate. Then it has to be on a good gust and it changes here - sometimes we have a good start and a lull at the end. Outside [of Portland Harbour] the speed was more constant."
Nonetheless Jundt says he very much enjoyed Weymouth Speed Week, an event he has been trying to get to for a very long time, as it provided the rare opportunity for he and his crew – Swiss Moth sailors Jean-Pierre Ziegert and Jean-Marc Monnar – to sail constantly for five days.
Jundt is now considering where to go next. Inspired by the BMW Oracle Racing trimaran, he is very keen on fitting a solid wingsail to his boat and was over in Newport, Rhode Island in the summer measuring up the C-Class catamarans competing in the Little America's Cup.
"The main reason is that when we sail upwind and lean to windward it is very hard to sheet in, to bring the boat upright again," he says of why he wishes to fit a wing. "I need a sail that keeps its form and you can control better the lateral stability. And there is much less load. So I have been making sketches of a wing for about a year."
Jundt says that the hard part of creating the wing will be minimising its weight. "That will be the challenge for me as a civil engineer."
While Mirabaud LX currently flies 33sqm of sail upwind, Jundt imagines the wing's acreage would be a little smaller, at around 30sqm, and like the AC rigs would be a simpler two element affair with a jib and flat genniker to improve manoeuvrability but also to reduce the build/engineering complexity and weight of the wingsail.
However one gets the impression that Jundt is looking for some sort of technology partner to help him. Mirabaud LX would certainly benefit from someone spending some time working on its hydro side, while the scaffolding structure looks to have a high degree of aero-drag. "I am at the end of what I can do as an amateur," Jundt admits. "It takes so much time and so much energy which I don't have that alone I can't go any further with this boat."
Moth guru's impressions

While we were offered the chance to go for a yacht on the Mirabaud LX last week, we felt that the opportunity would be much more valuable for our stunt double, wingsail Moth sailor/designer and ex-Olympic Tornado sailor Adam May.
"It is very Moth-like in some areas and very unMoth-like in others," says May, who was one of the original wave of British Moth sailors to get into foiling.
A fundamental difference between the Mirabaud LX and the Moth is the two extra bodies on board, but May said it was fortunate that at Weymouth Speed Week, his fellow crew were Jean-Pierre Ziegert and Jean-Marc Monnar, both like-minded Moth sailors.
He continues: "You have to plan things so much more, just due to the inertia and the whole link of the main sheet and tiller is a huge part of it - the coordination needed there is massive. It is a bit 49er or Tornado-style, but with a whole other dimension because of the inertia going on, so you really do need to know what the other people are doing. Every manoeuvre has to be pretty well planned."
Due to the larger size of the Mirabaud LX compared to the Moth, the lack of lateral stability is an increased issue and thus reaching is potentially very scary. "It is very overpowered, so it is not like you can sail along at any angle," says May. "You have your upwind and downwind angles and you don't want to spend much time in between... You could easily overstress the boat with some big loads. And we were taking it easy with a newbie on board!"
Even rounding up was carried out quite tentatively. "They found the safest way to do a round up was to go for the full stall of the main and wait for it to slow down and then round up when you are going a lot slower. It was surprising how long that took from the moment of stall to when it slowed down to when you reached a safe speed at which to do the turn."
However there were benefits from the extra weight of the Mirabaud LX compared to May's Mach 2. "Being so light, the Moth does slow down in the lulls, whereas the Mirabaud just kept on going, so it was easy to maintain a very consistent average, because it didn't slow down as much."
This was also an advantage when attempting foil-born gybes, as May confirms on the Mirabaud LX you had time to make steering corrections through the gybe, that you wouldn't have on the Moth. However once again it was a case of ensuring that there was co-ordination among the crew as to when to switch sides.
With the added inertia, foiling tacks in theory should be easier too. Jundt says that they haven't succeeded in achieving one of the these but points out that it is only the top 10 Moth sailors in the world who have. May reckons the foils are too small to achieve a foil-born tack at present.
When we saw the boat it appeared to be quite stern down on lift out and according to May this is because at present it is still hard to adjust the pitch of the rudder T-foil while sailing. When he was on board they set-up in 'downwind mode' and managed to get it flat. "That was pretty good. It just sat at 22-23 knots."
They also managed to get the Mirabaud LX going nicely upwind, with the rudder trimmed correctly and flying flat when she was able to sit at 13 knots - again, slower than a Moth which typically might be at 14-15 knots in similar conditions. During May's session they briefly lined up with Olympic sailors Paul Brotherton and Mark Asquith on their 49er and according to May the longer Mirabaud proved to point around the same as the Olympic skiff, but was a little faster.
So would a big version of the Mirabaud LX work?

Jundt doesn't think so because of over-riding issues with the lateral stability and the inability of getting enough crew on board to keep it upright when reaching. "In fact I think we would go faster if we scaled it down and sailed it with just two people. You have a better ratio weight compared to the righting moment you can generate." Currently Moths are faster, although they are much more refined equipment than the Mirabaud LX.
Like Jundt, Adam May is sceptical about the feasibility of a foiler larger still than the Mirabaud LX. "A three person foiler is starting to get to the limits of where you can do things. It is a demanding boat in terms of main sheet and it was a bit like threading a needle to get the boat to go down the speed course in terms of planning where to turn round and enter the speed course due to the angles you can do. With a Moth you can buzz around at any angle.
"To go larger you would need good control of the righting moment, quick steering, good sheet control and you'd need to put righting moment in there as well. The problem is that just turning a corner - it is hard enough going around a leeward mark in a Moth, but you can survive, getting around with big windward heel, but with this you needed to go a lot slower – if you did a fast turn, you would just be on your side."
To go bigger with a foiling monohull, the result would end up being similar, but worse, to one of the old Libera class boats found on the Swiss-Italian lakes, requiring supreme co-ordination among the multiple trapezing crew to prevent a capsize. Otherwise the solution would simply to gain lateral stability from a multihull platform, but our view is that this would be something of a cop out.
Come on naval architecture students!
Back to top
Back to top