Sibling power
Potentially a sweet story in the making for the 2012 Olympics will be if US Sailing Team Alphagraphics brother and sister Zach and Paige Railey make it to the Games. At present, just under two years out from D-day, both are in good shape. Zach, 26, was the surprise silver medallist in the Finn in Beijing and remains in pole position in the big lad's singlehander in the US team, having come fourth and second in the last two Finn Gold Cups. Younger sister Paige, 23, didn't make it to the last Games for reasons she discusses later, but was the Laser Radial World Champion in 2005, Rolex ISAF Sailor of the Year in 2006 and is back on form now having finished third at the Worlds this year following wins this season at Kiel Week and Rolex Miami OCR. She like her brother is the dominant sailor in her class in the US team.
While the Raileys come from Clearwater, on Florida's west coast, their parents are "motorboat people" and Zach says he was only enticed into sailing aged eight, when the family dentist suggests he should do a sailing course.
"I was five at the time and we weren't allowed to sail until we were eight," recalls Paige. "Zach would take me on his Opti sometimes when he'd sail in from regattas and I learned to sail when I was eight years old too."
With son and both daughters – Paige has a twin, Brooke – avid teenage sailors, the co-operation of their parents Daniel and Ann were clearly instrumental to their present success. As Zach states: "We wouldn't be here without them (!). They have been a huge part of this ever since we were younger. Whatever goals we set they were fully behind it. And the only deal that we had with them was as long as we had good grades at school we could keep sailing."
Paige pitches in: "They were very big on us having fun too. I think that was one reason why they took us around so much. There were three of us being active, they liked us being outside doing things and for us to be into a sport."
The goal of sailing at the Olympics came to Zach when he was just 12, inspired by Michael Johnson's performance in the 200m at the Atlanta Games in 1996. "I found out that sailing was in the Olympics two weeks after that and I said to my parents 'I want to go to the Olympics'. They were supportive. They said 'if this is your goal you have to realise that there are a lot of things that you have to do differently than other kids your age. There's going to be things that you have to sacrifice and things you have to do.' But they are driven people in the business world and they were able to give us a lot of their lessons outside of athletics that applied to what Paige and I were doing in athletics. That helped us a lot in terms of getting to where we are at."
Parents Daniel and Ann work in real estate and insurance.
Growing up sailing out of Clearwater Yacht Club, both Zach and Paige started out in the Optimist. Zach moved into the Laser Radial when he was 12, but growing rapidly switched to the Laser Standard. He made a valiant attempt to get to Athens in 2004, before moving into the Finn when he was 21. Paige says she tried to sail a 420 with her twin "but that didn't work out" and then moved into the Radial getting serious, she says, when she was 15.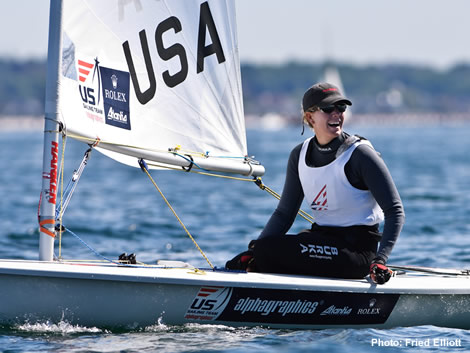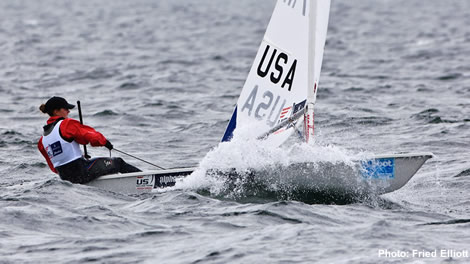 Having sailed the Radial for several years helped greatly when it was took over from the Europe as the women's Olympic singlehander for the Athens Olympiad. "When the girls got out of the Europe, I was faster than them in the Radial, but I wasn't very tactically developed or strategy-wise. I was really good at starting and banging a corner but I was young and I had a lot of pressure from my yellow flag situation with the jury and pressure to win the trials and I just caved, I stopped having fun and then I lost trials."
This coincided with the able Anna Tunnicliffe coming on form and as Paige puts it, Anna was peaking as she was collapsing. She lost the Laser Radial trials but there was some consolation when Tunnicliffe returned from Qingdao with a gold medal. "It was a big learning experience, losing that trials. I didn't believe it at the time but people said it was one of the best things for my sailing and I hated them when they told me that. Now I look back and I look at sailing a lot differently. I relaxed for a little bit, then last year I came back and this time I have been sailing really well at all the events. It has been going really good."
Under the new regime at US Sailing Team Alphagraphics, which Paige rejoined last year, the coaching they provide has helped her considerably. "I have progressed a lot in the thinking, the mental side rather than just physically being fast," she says. "They forced me to be a more conservative sailor rather than the hot head that would just go off and bang a corner. For the whole of last year I wasn't allowed to start at the ends - they forced me to start in the middle or just up from the end, just to make me feel more comfortable with that. Then we talked a lot about how I was sailing upwind and what I could improve. So now I am allowed to start at the ends! It is cool because I can start anywhere now."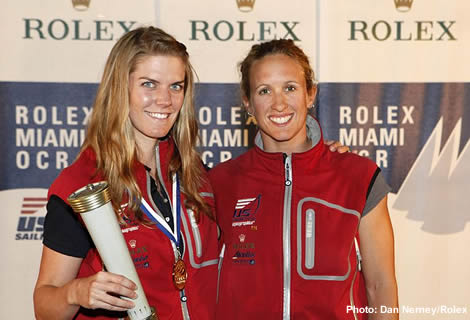 Following a less than happy period in her relationship with Anna Tunnicliffe, they kissed and made up towards the end of 2008 and agreed to be training partners (at that point Tunnicliffe hadn't committed to her Women's Match Racing campaign). With Tunnicliffe living in Fort Lauderdale, a four hour drive from Clearwater, they spent a lot of time on the water sailing together in 2009. "She's a more conservative sailor than I was, and I was more feisty, so we learned a lot from each other," says Paige of her former arch-rival.
In addition she sails with the US Laser Radial squad and at the numerous training camps organised by the team and this year while in Europe has been training with France's Sophie De Turckheim and the Danes Alberte Lindberg and Maiken Foght Schütt, as many of the US squad are still at school and couldn't afford the time. At present coaches Luther Carpenter and Dane Dennis Paaske.
This year has been a frantic one for Paige as in addition to her sailing she has also been trying to complete a degree in business management. "I'll brag for her," her brother pipes up. "She would come in after racing at the European or World championship and then sit up all night doing university class and tests on line and then go sailing the next day. So she has been working really hard over the last two years to try and get uni done."
Much of Paige's uni work can be carried out on line by remote but some of her courses have required a physical presence. Occasionally she has found herself commuting back from Europe to Florida to make a class. "I was having to work around the system, like if I had to be there on Tuesday, I'd be back on Monday night and fly out Tuesday night, because you lose 10% of your grade if you skip class. So it was definitely hard," she admits.
Another day trip occurred just before the Laser Worlds where boyfriend and Skandia Team GBR sailor Nick Thompson was competing. "Nick and I are a lot alike in the way we sail and the way we tactically think. I have sailed against him. I don't know how good that was for the relationship! We talk a lot like I do with my brother. With my brother it is racing strategy. With Nick, because he sails a Laser, we talk about downwind or how he sails it upwind. It has been good."
Aside from winning Laser Radial Gold in 2012 her goal is to get to compete at the Games alongside her brother. "We missed out on that in 2008 and that was incredibly disappointing for both of us so one of the main reasons that we're going again."
Before then however they need to qualify their country in both the Laser Radial and the Finn which will happen at Perth 2011. Then there is their own national trials which this time will comprise results from selected events rather than one sudden death regatta. "I think it is a good system to qualify internationally because you get to find out who races the best against the sailors and athletes you'll be racing against at the Games," says Zach. "The one-off trial system does have its advantages but it has more disadvantages now in today's sailing era – it is a professional sport and since 1996 it has really changed."
Both Zach and Paige are pleased with developments such as this at US Sailing Team Alphagraphics which in Paige's view have done a 180 degree about turn over the last four years. "We are a 'team' now," she says. "Before it was more individuals and we hired our own coaches and had some support. Now we train with our groups, we have staff coaches and they give us a lot of support, we have a PET guy here, we go to team dinners, we stay together..."
The new US Sailing Team Alphagraphics model is similar in many ways to that of Skandia Team GBR however as Paige puts it: "They still want us to have a lot of freedom, if say we want to work outside and use other coaches, they gave us some support but they also want us to work for it."
In particular the US team sailor has to work on getting funding. As Zach explains: "Paige and I each get about 60% of our funding covered each year, so we still have a lot of ownership of our campaigns, but we still have to go out and find sponsors and donors for the campaign. I think that makes you work harder because then you know that other people have the expectation that you are going to do everything possible to achieve the best result you can."
Their funding is mostly private although following his Olympic success Zach has some sponsorship deals including Sperry Topsider, Coremetric Servics, ACM Corporation and Sunsail, the giant international yacht charter company which owned by Tui Marine conveniently headquartered in their hometown of Clearwater.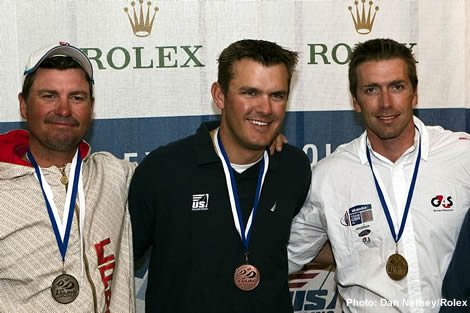 Most significant about the new US Sailing approach for Zach in the Finn is that they now share information throughout the team.
In terms of coaching Zach worked up until 2008 with Kenneth Andreasson, now head coach at US Sailing Team Alphagraphics. Now he trains as part of the US Finn squad with US Finn no2 Bryan Boyd, and two 'developmental' sailors gunning for Rio in 2016, Caleb Paine and Luke Lawrence. "We work together and share information, cars, trailers, hotel rooms," says Zach.
Training in a squad is fine in the UK where everyone gathers around Weymouth. In North America it is logistically much more complicated with Zach based in west Florida, Lawrence in east Florida, Boyd in Annapolis and Paine in San Francisco. Zach explains: "We travel around, but Florida is the winter training base but then once we start the European season we have been setting up trainings in Europe so we have had training camps in Kiel and Palma and Hyeres and then also in Weymouth in May and a week before Sail for Gold, plus all the regattas we've been doing."
This season they spent four weeks training in Weymouth and obviously plan to increase this in 2011 and 2012. "Travel-wise it is a lot easier to get to here than it as to get to Qingdao you can come here for two weeks and go home, whereas in China we were going there for a month and a half and then going home," says Zach.
As to the sailing in Weymouth Bay, both Raileys say they are coming to terms with it. Zach: "It is not easy to read what the wind is doing. It is going to take some time getting used to it and feeling comfortable with your decisions. It is certainly a pressure-based venue. You really have to find what the pressure is doing. On our race course during Sail for Gold there was a lot of current so that will be a big effect in 2012. I think it is going to be a venue where consistency is going to be very important but at the Olympics, where you have the top 25-26 boats, that is going to be really hard. So not taking too many risks, but also knowing when to take risks as this is a venue where sailing up the middle of the race course isn't going to favour you."
Paige if anything has further to go: "The conditions are what I consider the weakest - sailing the puffs and choosing proper lanes to get across. It is not like in a sea breeze when it is a case of boat percentages... I used to be really bad in these conditions. You have to know when you take a header back, but sometimes you have to sail in horrible stuff to get over to the wind. Where I grew up we didn't do any of that kind of sailing and I hated it!"
Generally in the Finn class, Zach says he enjoyed racing once again against Ben Ainslie at Skandia Sail for Gold and for these Games there is some new competition in the class including the two talented French sailors Thomas le Breton and Jonathan Lobert. "There are 8-12 sailors that could legitimately have a shot in 2012 at the podium."
Outside of his Olympic sailing Zach has raced a Melges 24 but after 2012 he has a strong desire to move on...to everything, match racing, America's Cup, Volvo Ocean Race, etc. "The Volvo intrigues me. I'd like to do some offshore stuff after 2012 and try and get my feet wet. We'll see where it goes and what opportunities open up after the next Olympics."
Back to top
Back to top