The Tom Slingsby masterclass continues
Tom Slingsby's two completely dominant victories today bring the Australian's third Laser world title in four years within reach.

In wind and sea conditions on Hayling Bay which were a virtual facsimile of previous perfect days, Slingsby seemed to have speed to burn. He finished a long way clear of his nearest rivals on the water in both races.

Now it would appear he just needs to stay clear of trouble and press the 'repeat play' button to be sure of equalling the three world titles tally of his compatriot Glenn Bourke. If he were to be successful it would be the perfect 26th birthday present to himself tomorrow.

After a Black Flag disqualification Friday Slingsby chose to start conservatively today and to then use his speed advantage upwind in the 13-15kts easterly breeze and a decent sized swell.
Slingsby described his day: "It was 15-16 knots, nice waves, sunny a really good day for me. The first race I got a nice start near the pin end and worked the left side of the course and opened up a nice lead which I held. The second race I was not so good off the start line but got the first big shift on the first beat and I just lead to the top mark. I got overtaken by the German Philip Buhl on the down the run and overtook him on the next beat. I could not have asked for anything more today.
"Definitely today the key was keeping clean around the course. I know I have plenty of speed so I just have to keep clear lanes, stay a little back off the start lines, I already have one yellow flag and so I am keeping my body kinetics to a minimum so I was just trying to do the small things well and that definitely worked.
"Paul - I saw him get that yellow flag and a little relief goes because I know how dangerous he is, he can be 30 points behind and still be a threat, but he is just one of 10 boats which can be threat, so there are plenty of other guys out there.
"I need to keep myself clean again tomorrow, to knock in a good first race, and then I can assess after that.
"But I can easily lose. In 2006 I lead for seven days of an eight day event and lost on the eight day. All I am thinking about it doing the simple things right, and keeping clean.
I am really fighting for every spot, even if I am back in the pack tomorrow I'll be fighting for every point come the end of the regatta."

Sadly for Skandia Team GBR's defending World Champion Paul Goodison, his challenge to Slingsby evaporated on the first run of the first race of the day. Having worked his way up to fourth from a solid start Goodison was given his second yellow flag, for excessive body kinetics in the rolling swells of the first run. His second disqualification in as many days plunged the Olympic title holder to lie a frustrating 19th overall.
Goodison commented: "The first race looked like it was panning out to plan. I got a good start and was steadily pulling through the fleet and was probably up to fourth place and I got my second yellow flag and that really was it all over after that. So now it is just getting round and finishing it all off. I think Tom has got the title wrapped up from here, so congratulations to him. He just has to hold it together and my regatta is over from here.
"I think it's a tricky call. In 15-16 knots with big waves downwind the boats are rocking around and everybody is trying to make the boats go fast, and so I think it is a bit harsh, it's a jury decisions so there is nothing I can do about it, I just have to get on with it.
"I feel a bit gutted. Here, I wanted to do my best and unfortunately I haven't been able to do that because of the decisions, but in all fairness to Tom he is sailing well and thoroughly deserves it.
"I don't think I am too far off. I have not done as much Laser sailing recently as some of the guys out there, so we are there or thereabouts two years out from the Games I am in with a good shot."

Goodison's team mate Nick Thompson, the 2009 ISAF World Cup winner who finished third overall in Halifax last year, lies second overall but admitted to a real mix of emotions when he landed back at Hayling Island Sailing Club.

When he had needed to really impose himself on the first beat of the first race of the day in order to accelerate his title challenge, instead he found himself having to choose to do penalty turns for an infringement, starting up the first beat from last, 55th, but fighting back to sail his discard, 17th.

Thompson came back to a useful 12th in the second heat, preserving a strong set of scores in his armoury, 14 points clear of the St Tropez based French sailor Jean-Baptiste Bernaz.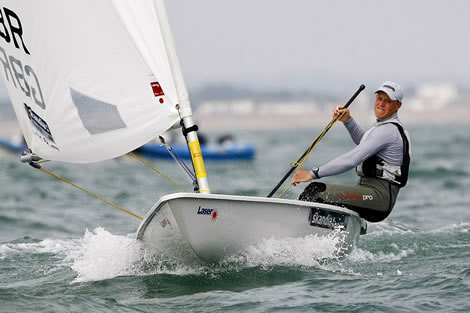 "Mixed emotions for me today," said Thompson. "First race I got a good start and just infringed somebody slightly and through it best to do some turns. I managed to pull way back from there, really deep at the mark rounding, to a 17th, so that was a really good race. The second one I was just in touch but just not quite there, just outside the top 10. But, really a tough day. Going in to the final day in second is great. I was looking for a top three at this regatta and that would be good. I think the best thing is my discards are not too bad.
"Tomorrow will be like starting a new regatta, trying to get consistent results and see how I lie after the first race. I quite enjoy the breeze, but so does Tom Slingsby which is a little bit frustrating, he is sailing really well."
Bernaz has 18th as his Worlds best, was 31st last year, and finished eighth at the 2008 Olympic regatta in Qingdao, but after a 15th and third today now needs to hold off the immediate challenge to his podium finish from Cyprus' Pavlos Kontides who lies fourth.
"I made good starts and went fast," said Bernaz. "I am not so surprised to be doing well, but I am maybe a little surprised that I have been able to be so consistent. If you are consistent you do well. We trained here at a Qualifier here in June, but we only came here three days before the regatta. Tomorrow I'll just be trying to sail the same as I have and see how we go. I prepared well for Beijing, but since then we have been working hard to sail well in the stronger breezes so I feel like I'm well prepared for tomorrow no matter what. Last year I was in the 30s but here I am stronger, heavier, fitter and sailing better."

Punchy starting was the key to back-to-back wins in the Junior World Championships first two finals races by Thorbjoern Schierup. The Dane's double bullet day sees him moving ahead of Italy's longstanding championship leader Francesco Marrai.

The oscillating breeze offered the quick starters an early opportunity to establish an early lead. Schierup was quickest off the line then unleashed his excellent downwind speed to record his to wins, now six points clear.
Britain's Alex Mills-Barton lies third, 13pts ahead of Croatia's Filip Jurisic.

Laser Standard Men's World Championships
Hayling Island, UK
Standings after 12 races inc 4 of 6 Finals races.
1 Tom Slingsby (AUS) 1,8,(29),3,1,1,5,1,(BFD),8,1,1= 30pts
2 Nick Thompson (GBR) 2,3,(25),6,9,7,9,8,4,2(17),12,=62pts
3 Jean-Baptiste Bernaz (FRA) (33),2,14,12,5,1,(19),3,15,6,15,3=78pts
4 Pavlos Kontides (CYP) 4,3,21,4,5(27),1,1,10,15,(36),13 = 77pts
5 Andrew Murdoch (NZL) 6,4,11,2,8,(22),9,1,(24),14,8=87pts
6 Tonci Stipanovic (CRO) (19),14,15,4,1,8,2,11,3,13,(32),17=88pts
7 Joshua Junior (NZL) 3,22,1,2,7,5,8,(29),12,21,(25),7=88pts
8 Andrew Maloney (NZL) 2,(22),4,10,2,11,3,4,20,5,(37),35=96pts
9 Julio Alsogaray (ARG) 8,(39),11,17,17,6,23,5,(DNC),7,3,5 = 102pts
10 Andreas Geritzer (AUT),(33),6,2,1,2,(22),9,9,(37),16,16,25 = 108pts

Laser Junior World Championships
1 Thorbjorn Schierup (DEN) 3,3,6,(19),6,2,6,4,1,1 = 26pts
2 Francesco Marral (ITA) 2,3,(7),5,5,3,1,1(17),6 = 26pts
3 Alex Mills-Barton (GBR) 12,(BFD),5,2,1,(21),1,1,15,4 = 41pts
4 Filip Jurisic (CRO) 7,(35),1,27,1,(29),3,5,8,2 = 54pts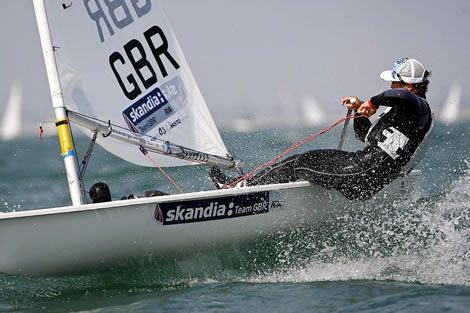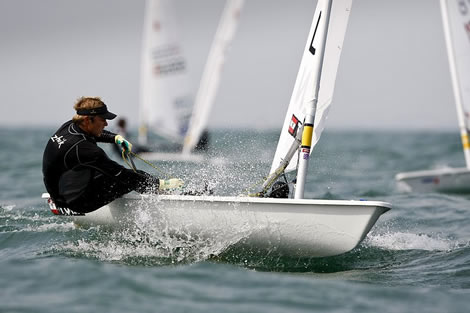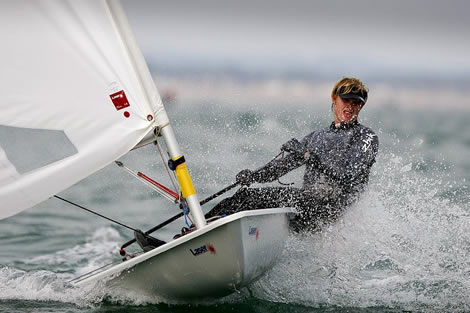 Back to top
Back to top