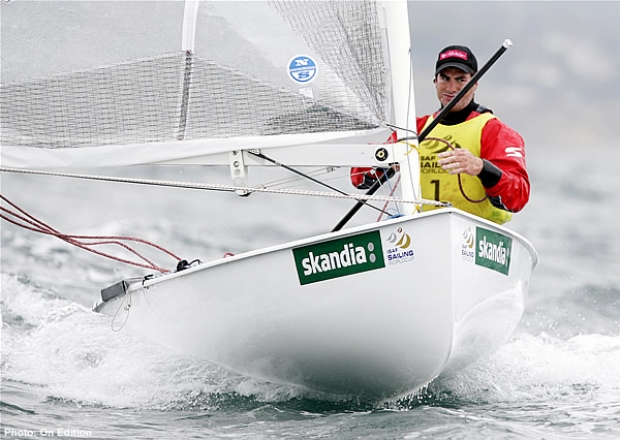 Getting ahead in the Finn
With his laser beam stare and an intensity impressive even from an Olympian, we have to suppress a smile when Ivan Kljakovic Gaspic, Croatia's no1 Finn sailor, and the present European champion in the heavy lad's singlehander, tells us that his secret to success this season has come from lightening up, both his sailing weight, but mainly his attitude.
In addition to his European championship win this year, his fifth season in the Finn, Gaspic came third at the Gold Cup, won Hyeres and most recently Skandia Sail for Gold. He has otherwise podiumed at every event he has raced in this year with the exception of Princess Sofia in the spring.
"A perfect year after the Olympics, which didn't go as I expected - I was 8th overall and I wasn't satisfied with this position," summarises Gaspic. "Then I knew I had to change something in my approach to sailing and stress management, because the Olympic Games for me was really stressful. So I did and this year I enjoy sailing much more than before. I take it as fun. I don't take it as pressure."
Easier said than done? "I just realised that I have to take it as something I really like, that I do for fun, do for a living. It seems to have worked well for me this year - everything is really like it is in a dream, everything is perfect, so I am going to continue in the same way in the following years and continue sailing and training really hard."
But how? "Just in my head I made this switch, because I knew I had to do it. Otherwise I was going to spend so many years trying to do it. So if I don't do it this year I don't want to sail any more. So that was it - I did it, as I wanted."
Following Beijing, Gaspic took two or three months off, by which he means training only once a week or once a fortnight. Over the winter he focussed on the economics degree he is studying for at Split University and hopes to complete this coming winter.
Split, his hometown, half way up the Croatian coastline, he says is an excellent place for training. "We have every day probably three or four Finns sailing there. Some are not so young, there are a couple of masters, but in lighter conditions they are very fast."
Gaspic's club is just outside of downtown Split, where he is the only Olympic sailor (the rest of the Olympic squad either sail out of Split's other clubs or from Zadar further up the coast). At his club, Zenta, there are some national level Laser sailors, otherwise it is best known for its radio controlled model boaters, including the present 1m World Champion.
Split is also home to the Croatian Sailing Association which is today is showing considerable success in Olympic sailing. In addition to Gaspic's European championship win and Finn Gold Cup bronze, Šime Fantela and Igor Marenic were recently crowned 470 World Champions, while Tina Mihelic was second at the Laser Radial Europeans and they have two strong Laser sailors in Milan Vujasinović and Tonci Stipanović who were seventh and fifth at this year's Worlds in Halifax.
The war in Croatia finished in 1995 and all those in the present Olympic squad took up sailing shortly afterwards. "We are all really young and are all almost the same age," says Gaspic, who is 25 and a year or two older than the rest of the squad. "We all started sailing in 1996-7 which was a new era in sailing in Croatia and from the start we got really good results from Optimists to Lasers, Radials, 4.7s. After that we started to sail like professionals and we started to build a really strong team and in the years that passed we were building ourselves and getting better and better. Now, 10-12 years on, we are starting to get good results and it is not coincidence. It is just working hard to do it."
Top of the podium ahead of GBR's Ed Wright (left) and the US' Zach Railey (right)
To get this off the ground the support for Croatia's Olympic sailors came less from their national federation and more from local clubs, parents and occasionally sponsors. However with sailing results having improved dramatically Gaspic reckons their national funding could increase. "In terms of results we are the best sport in Croatia for sure. So this is a very good moment for us," says Gaspic.
The focus of their federation is also changing from attempting to develop large numbers of sailors, to focussing more on their main talent. "We don't spend our funds on other guys who are at a lower level. I agree with this because if you make two or three medals every year you get more money and then you have more money for lower quality sailors to fund them. But if you make a wide team then you don't have good results because you can't focus on the top guys. I hope in a couple of years we'll get stronger and we will have a couple of crews in each class sailing really good."
Gaspic also hopes that sailing will become a more popular sport in Croatia, which he says it isn't at the moment, despite their coastline being in our view one of the most picturesque in the whole Mediterranean. "I hope we are going to make it more popular with these results and people will appreciate sailing and kids will start sailing more and more so we will have more sailors all around Croatia."
Back to his Finn sailing and Gaspic says that weight-wise he is 92kg, some 5-7kg less than his normal fighting weight and thus making him one of the lightest Olympic-level Finn sailors at present. However this is becoming a characteristic across the class. "We are all getting lighter and I think it is better, it is more competitive and we have changed the technique of the upwind and the downwind. It is now a power sport, it is no more 'ladies sitting in the boat'. I can say I made a big change in downwind technique over the last three or four years. If you see pictures or footage from 5-10 years ago you see people sitting on the deck and not moving too much. But I started to stand up downwind in the boat and move a lot with my body and do really strong pumps with my body and the sheets and the mainsail. So when we have free pumping it is good fun to watch Finn sailors doing this. It is for sure more demanding and it is more difficult, but it is also much more fun I think."
While the elite of the Finn class have been flexing their muscles this season, there remains the problem, set to re-emerge next year, of double Olympic Gold medallist in the Finn, Ben Ainslie, who has been taking a sabbatical from the class this post-Olympic year. "He is not a problem, he is just one more guy to beat and I hope we will succeed in this in the future," says Gaspic. "He is more of a challenge - that is how I look at him. Also I think Ben Ainslie is good for the Finn class because if he is in it we have much more media, much more sponsors so I want to thank him for staying among us. I hope that we are going to get better and better and at least give him a difficult time to beat us."
So how do you go about beating Ainslie? "It is about your confidence," reckons Gaspic. "I learned about confidence a lot in the last year and after the Olympics my lesson was clear - I had to change my mode of sailing and my mode of thinking. I learn from everybody because everyone has something good. But Ben is the perfect sailor, maybe the best sailor ever, but I still think we are all human. He is not an alien and we all have chances for ourselves. So as long as we try and push really hard I think we can get close to Ben and sometimes even kick his ass!"
As to the 2012 Olympic sailing venue, Gaspic seemed to relish the conditions, during Skandia Sail for Gold, which saw the wind coming from the 'not normally like this' northeast. "It is not what I am used to," he admits, although his performance might indicate otherwise. "I haven't sailed in these kind of conditions since maybe Cascais [the Worlds in 2007]. We had a big swell like here in China but it was really light winds, so it was very different sailing. But these conditions I am not so familiar, so I need some time to get used to this, but it seems that I am also good in these conditions, so I am happy that I am becoming an all-round sailor."
Gaspic reckons that next year he will come out for a couple of weeks before Skandia Sail for Gold to gain more experience of the venue and will probably spend 20 days to one month each year in Weymouth until 2012 "until it becomes like home".
He is impressed by the Weymouth & Portland Sailing Academy facility too. "The atmosphere is friendly. The people are really kind and friendly, so we feel great. Everyone is happy and thanks a lot to everyone who made such an effort. It is not easy to organise everything. I think this is the best place for Olympic sailing anywhere. It is really great."
Back to top
Back to top