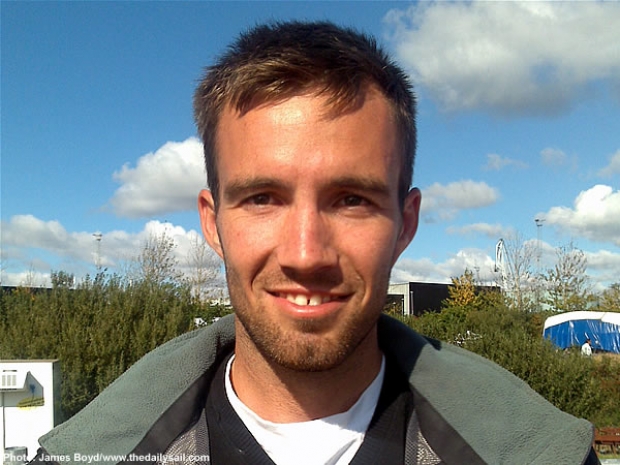 What next after 49er Gold?
The 49er medal race at the Beijing Olympics last year was one of the most nail biting moments from the event.
Leaders by 11 points going into the medal race, Denmark's Jonas Warrer and Martin Kirketerp broke their mast in the blustery conditions with just 30 minutes to go until the start gun. They raced ashore, borrowed the boat of the Croatian team (who hadn't made it to the medal race), went out and despite being four minutes late for the start managed to eek out a seventh place benefitting from boats capsizing all around them. After numerous protests this was enough to secure them 49er Gold.
"It was crazy," recounts Warrer looking back at it. "When the mast broke and until we got on shore we thought 'this is it – it is too late to get another mast'. But then the idea popped up to borrow another boat – I don't know who it was."
They chose the Croatian boat simply because it was there. "In the beginning we just took it," Warrer admits sheepishly. "But at the same time someone was calling them and they came running and down and they said 'no problem' and in fact they helped us rig the boat, because they have this other system – we couldn't really rig it! The way you put the tension on the rig – where you put some device on the forestay, they had it in a different way. So they came and helped us and we were ten people running around the boat rigging it. I've never seen a 49er rigged so fast! Another thing was that we didn't know what the tension should be on the rig, because we did it such in a hurry – it may have been for light wind! We didn't really know."
Warrer admits that while the strong conditions cost them the mast of their own boat, it also provided them with a way back into the medal race. "If it had been a normal race then we were four minutes behind and we would have had no chance. We knew before that if we were 6th or better, then we were okay. Then we were 7th, but the Spanish won so we were fine."
But it wasn't until five days later that they found out for sure that they had indeed won Gold. First they were protested by the race committee. This was overturned by the international jury. Then the Spanish and Italian teams attempted to appeal this decision via the Court of Arbitration for Sport, but at a hearing in Beijing, this was turned down.
Since then both Warrer and Kirketerp have been looking at their options. "I have been doing a lot of things," says Warrer. "I have been match racing and a bit of 49er. I have just spent a month in Finland, where they have a Grand Prix 49er series. I sail with Jyrki Jarvi, the Gold medallist from Sydney, and then I coached the Finnish 49er fleet in between. I've also done some match racing and actually a lot of things, because I have also been studying a bit. Both me and Martin have tried a lot of different things this year, so we just have to figure out what to do from now on."
At the moment Warrer doesn't think they will mount another 49er campaign. He has been sailing the boat since 2000 and with Kirketerp since 2004. "We haven't made the decision about it, but right now, it looks like we won't do it. But you never know. Maybe at the beginning of next year, we'll find out we're going."
If they don't make it then it may not be a problem for the Danish squad as there are other good teams they can choose. Part of their success in the 49er Warrer attributes to having a strong group of 49er sailors, mostly based around Aarhus on the east side of the Jutland peninsula. "We have known each other from the Optimist dinghy and we have just been sailing together a lot and pushing each other and it has been a really good group of people who push the level up all the time."
Funding is good. Dating back to Paul Elvstrom, Denmark has a strong culture in medalling in sailing events at the Games and the sport receives good funding. "There is quite a big budget in the national team. They have some really good sponsors and it is a big priority. For me and Martin, about 90% of the finance was from the national team and the sponsors."
For the Games last year Warrer and Kirketerp also benefitted from having an uber-coach in Denmark's three time Olypmic medallist, Jesper Bank, who worked with them in the six months leading up to the Games. "He was really really good, not so much on the 49er technical stuff, but at the Olympics there are so many other things - the mental stuff is particularly important and he is really good at that. Mostly he had this big overview of the whole situation. He helped us move in the right direction, to focus on the right things. Then it was really nice to work with him, because it was a team. He didn't say 'do it like this and this and this' – it was ping pong all the time, and if we had an idea it was fine and if he had an idea we talked about it. So it was really team work. It is good to have a guy like him. When you have an idea and you doubt whether it is the right thing to do or not and he says 'yeah, I think it is good' then you believe in it and have confidence in it. So he was really good at calming things down. Of course all the protest thing, he was really good during that." Bank had in fact flown back to Denmark after the medal race, but returned to Beijing for the CAS hearing.
Week before last Warrer was invited to compete at the Danish Open, the World Match Racing Tour event, being held in his hometown. Aarhus has a great heritage in match racing – it was here that Denmark's first match race centre was founded in the mid-1990s producing the likes of Jesper Radich and Jes Gram Hansen. This centre has since closed but Gram Hansen and Warrer have recently set up a new match racing centre there with some J/80s.
While Warrer competed in five match race events this year, including a Grade 2, the Danish Open was his first foray into the big time. "We always liked the concept and then we just thought it could be nice to get a crew," he says. "When you come from the 49er there is so much time spent on preparing the boat and rigging it and maintaining it, but with this concept you show up with your sailing gear and that's it. And the most important thing is the sailing: the concept of match racing is really simple, two boat, one is the loser, one is the winner and it is just intense all the way around."
But like so many sailors making the transition from fleet racing, the big issue has been acquiring that knowledge of the rules and making the manoeuvres as if they were second nature. "Definitely the tight situations, especially the starts where the regulars just have all the moves in their backbone - they know exactly what the best thing is to do in this particular situation and they don't need two minutes to figure it out! That is the problem – when you only have a split second to decide. We came into the Danish Open knowing that the more we stay out of trouble, the better our chances would be."
In the end Warrer finished the Danish Open with three wins. "Before when we went into the event, all these guys on paper should have beaten us. So just winning three – I am happy about that. And we could have won at least one more.
"I really hope to also do some match racing, because I really like it. I wasn't scared by that regatta, because we had our chances. It is a characteristic that these guys keep it really simple. They are focussed on getting the right side of the start without doing too many circles. In fact I think there are more tight situations in a Grade 2 event than in World Tour events. Of course when I come over they want to put me into more tight situations because they know that I am not good at it! But in general…"
The question is how to get on the Tour. For the Danish Open, Warrer managed to get a good team together but he says the problem is that he didn't have a chance to train with them. "I'd like to get the same crew all the time and a crew who I could train against, but then you have to start over with new guys. So it is a balance: you want the best guys, but you also want to train a lot. And there is a different training culture in match racing compared to Olympic classes. In Olympic classes you train every day. But match race guys don't really train, because they race all the time and they have sailed for 10 years, but when you are new… Also, if I want to do something, I want to do it 100%, so it is not nice to get into this and not be able to do it at 100%."
Certainly the new training base in Aarhus will help because Warrer says that previously over recent years they have had to either go to Middelfart or Copenhagen to train – neither particularly convenient for Aarhus.
Moths
If Warrer does increase his match racing it is unlikely to be next year when he is hoping that his focus will turn to foiling Moths. He doesn't own a Moth at present but is planning to get into bed with the New Zealand-based manufacturers of the Assassin. Aside from the fun and intrigue of getting on board a foiler, especially for a 49er sailor used to racing a performance boat, there is also the matter of logistics. "The big problem with the match racing is to gather crew and also to have someone to race against. In match racing there is not so much boat work but the issue is sailing time. In the Moth it is a one person boat, you can go out sailing when you want to."
Warrer hopes to compete at the Moth Worlds in Dubai next year and the Europeans in Switzerland. "I am really look forward to that. I think there are a lot of 49er sailors in the Moth and the World Champion [Bora Gulari] is a 49er sailor."
Back to top
Back to top