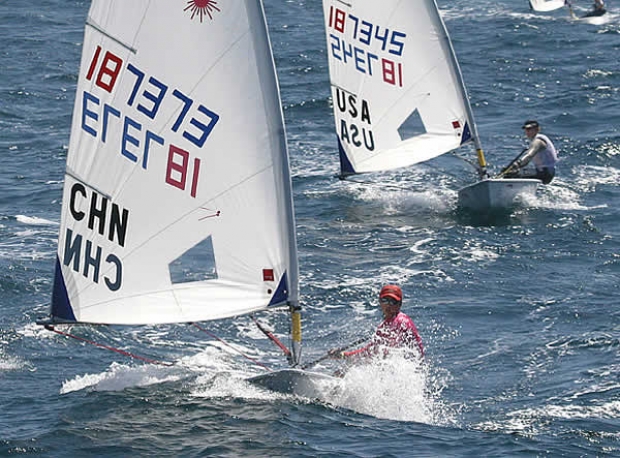 Emerging nations
The Asian Games are due to begin next week - 5 December - in Doha, Qatar. This event is very significant in the Asian sporting world being roughly the equivalent of the Commonwealth Games in the UK.
The sailing competition at the 15th Asian Games will take place from Doha Sailing Club where extensive renovations and improvements have been made to bring the facilities up to top international standards. Doha Bay and the Corniche will provide the backdrop for the 13 sailing events. The club, located at the south end of Doha Bay, is affiliated with the ISAF and stages regular racing between September and June.
Sailing has been a part of the Asian Games since the sixth time the event was held in 1990 in Bangkok, Thailand. The format is very similar to that of the Olympic Games and it is clear the Asian countries see this as a kind of home Olympics. However there are significant differences to the 'main' event. For example there are classes included strictly for youth sailors, such as the Optimist, where competitors must be born after 1990 (ie an age limit of 16.) The classes for adults are also different and focus on smaller, less powerful boats.
The boats included in the Asian Games are:
Men - Women
2 Persons: International 420 - 2 Persons: International 420
2 Persons: International 470 - 2 Persons: International 470
1 Person: Mistral Light - 1 Person: Mistral
1 Person: Mistral Heavy - N/A
1 Person: International Optimist - 1 Person: International Optimist
1 Person: International Laser Standard - N/A
Open: 1 Person: Laser 4.7
Open: 1 Person: International Laser Radial
Open: 2 Persons: Multihull (Hobie 16)
Open: Match Racing in Beneteau First
Class 7.5: 4 or 5 Persons with
Maximum total weight of 350kg
What is particularly interesting about these classes is the selection of some of the open classes in the event. For example it will be fascinating to see if men and women are able to compete on equal terms in a Laser 4.7 or a Laser Radial. The prospect of more women racing men or vice versa is one that raised recently at the ISAF Annual Conference. It is possible events like the Asian Games could help us to see how feasible this competition could be, particularly as everyone tries to second guess ISAF's choice of which class they will drop from the Olympic stage for 2012.
Although the entry list does not contain a wealth of well known sailing names to the western world there are a handful of sailors who stand out and with the growth in interest in sailing occurring at an exponential rate throughout Asia and particularly with the 2008 Olympiad taking place in China we can expect many more sailors from here to set foot on the international stage from this area.
At the Asian Games, Laser Radial World Champion Lijia Xu (CHN) looks set to be the star of the show following a highly successful year on the international circuit. Xu, who modestly still names her hero as world number three ranked Radial sailor Paige Railey, will be looking to add an Asian Games medal to her list of victories that include back to back Optimist World Championship wins on 2002 and 2003. It will be interesting to watch Xu battle it out against some of the less well know male names in the Radial fleet to see who comes out on top.
A pair of sailors who have shown potential this year are Koreans Daeyoung Kim and Sungahn Jung, who go into the event as Asian Sailing Champions after winning the Asian Sailing Championships (not to be confused with the medal for sailing at the Asian Games being battled for next week.) Although not always at the top of the medal table in international competition, this pair had a fantastic Test Event in Qingdao, finishing a close second overall. With conditions likely to be light throughout the event - the prediction is for no more than seven knots - they will be a hard team to beat in the men's 470 division.
There are very few genuine favorites to win any of the classes but this is part of what makes sailing in the Asian Games so exciting. With the sport slowly become more common throughout the Asian countries it is less a case of looking at who is going to win a medal at this regatta and more a case of seeing who might be winning medals on the international stage in the future. With the inclusion of some youth classes we may even be seeing names for the first time here that we will go on to hear over and over again in future events.
Sailing for all classes is due to start on tuesday 5 December and continues untill wednesday 13 December.
Entry List:
| | | |
| --- | --- | --- |
| Name | Nationality | Gender |
| AHMED ABDULLA Omar  | BRN | Male |
| AL DOSARI Mohanna  | BRN | Male |
| ALMAHMEED Abdulaziz  | BRN | Male |
| JANAHI Abdulla Mohd  | BRN | Male |
| JANAHI Mustafa  | BRN | Male |
| KOOHEJI Sami  | BRN | Male |
| SADEQ Ebrahim Abdulla  | BRN | Male |
| SADIQ Abdulrahim Abdulla  | BRN | Male |
| SHOWAITER Sameer  | BRN | Male |
| CHEN Lina  | CHN | Female |
| WEN Yimei  | CHN | Female |
| XU Lijia  | CHN | Female |
| YU Chunyan  | CHN | Female |
| ZHANG Lihua  | CHN | Female |
| DENG Daokun  | CHN | Male |
| NI Wei  | CHN | Male |
| SHEN Sheng  | CHN | Male |
| WANG Weidong  | CHN | Male |
| YANG Shuai  | CHN | Male |
| YAO Xinhao  | CHN | Male |
| ZENG Xiaohong  | CHN | Male |
| ZHOU Bolin  | CHN | Male |
| CHAN Wai Kei  | HKG | Female |
| LO Kin Yee  | HKG | Female |
| CHAN King Yin  | HKG | Male |
| HO Chi Ho  | HKG | Male |
| SAKAI Isamu Kendal  | HKG | Male |
| TONG Yui Shing  | HKG | Male |
| TSE Bryan Pak Yun  | HKG | Male |
| SUBAGIASA I Gede  | INA | Male |
| SULAKSANA I Gusti Made Oka  | INA | Male |
| ARVIND Amit  | IND | Male |
| BAMBOAT Xerxes Sheri  | IND | Male |
| CHAUHAN Sanjeev  | IND | Male |
| CHOUDHARY Rajesh  | IND | Male |
| DHAS Hemraj  | IND | Male |
| KAPILA Vikas  | IND | Male |
| MONGIA Nitin  | IND | Male |
| PATEL Kamlesh  | IND | Male |
| RAMCHANDRAN Mahesh  | IND | Male |
| TARAPORE Farokh  | IND | Male |
| YADAV Girdhari  | IND | Male |
| KAMATA Naoko  | JPN | Female |
| KOMIYA Haruka  | JPN | Female |
| KONDO Ai  | JPN | Female |
| ONISHI Fujiko  | JPN | Female |
| TAKAHASHI Yumi  | JPN | Female |
| TSUGAYA Kae  | JPN | Female |
| FURUYA Shingen  | JPN | Male |
| IIJIMA Yoichi  | JPN | Male |
| IITSUKA Shibuki  | JPN | Male |
| ISOZAKI Tetsuya  | JPN | Male |
| NAKAMURA Kenichi  | JPN | Male |
| YAMADA Kan  | JPN | Male |
| DALAKOV Magomet  | KAZ | Male |
| DARIGUL Galymzhan  | KAZ | Male |
| JANGAZOV Ruslan  | KAZ | Male |
| SESSOROV Alexey  | KAZ | Male |
| LEE Gyeongjin  | KOR | Female |
| SHIN Jihyun  | KOR | Female |
| BANG Kyungjae  | KOR | Male |
| JUNG Sungahn  | KOR | Male |
| KIM Daeyoung  | KOR | Male |
| KIM Hokon  | KOR | Male |
| KIM Hyeongtae  | KOR | Male |
| KIM Jangnam  | KOR | Male |
| KIM Jongseung  | KOR | Male |
| KIM Joonsik  | KOR | Male |
| KIM Sangkyu  | KOR | Male |
| KIM Sangsuk  | KOR | Male |
| KIM Taejung  | KOR | Male |
| MOON Chang Sung  | KOR | Male |
| PARK Kyutae  | KOR | Male |
| PARK Minhyeo  | KOR | Male |
| SUNG Changil  | KOR | Male |
| YOON Cheul  | KOR | Male |
| ABDULSALAM Sami  | KUW | Male |
| ALFAHAD Salem  | KUW | Male |
| ALHADAH Nayef  | KUW | Male |
| ALHAMDAN Mohammad  | KUW | Male |
| ALKANDARI Abdulaziz  | KUW | Male |
| ALQABANDI Khalid  | KUW | Male |
| ANUAR Nurul Elia  | MAS | Female |
| TAN Rufina Hong Mui  | MAS | Female |
| DERMAWAN Hazwan Hazim  | MAS | Male |
| LIM Chern Wei  | MAS | Male |
| LIM Kevin Leong Keat  | MAS | Male |
| MUHAMAD Mohd Romzi  | MAS | Male |
| YAHAYA Faizani  | MAS | Male |
| AUNG Zin April  | MYA | Female |
| SAN Nwe Nwe  | MYA | Female |
| SU Chit  | MYA | Female |
| WAI Su Sandar  | MYA | Female |
| HEIN Sai Pyae Sone  | MYA | Male |
| KYAW Nay La  | MYA | Male |
| MIN Min  | MYA | Male |
| THU Aung Myin  | MYA | Male |
| AL HABSI Safyia  | OMA | Female |
| AL-RIYAMI Fasial Ahmed  | OMA | Male |
| ALYAHYAEI Rashid  | OMA | Male |
| MASOOD Ujala  | PAK | Female |
| MIR MASOOD Ghazal  | PAK | Female |
| SAHR Maria  | PAK | Female |
| ABDUL Hameed  | PAK | Male |
| BABUR Sabahat Ullah  | PAK | Male |
| BAYRAM AVARI Xerxes  | PAK | Male |
| IQBAL Ashfaq  | PAK | Male |
| MUHAMMAD Abdur Rehman  | PAK | Male |
| NAWAZ Aamir  | PAK | Male |
| RAFIQ Mahboob  | PAK | Male |
| SADIQ Mamoon  | PAK | Male |
| YOUSAF Muhammad  | PAK | Male |
| ZAHID Rauf  | PAK | Male |
| BALLADARES Ridgely  | PHI | Male |
| CHAVEZ Rommel  | PHI | Male |
| MORENO Reneric  | PHI | Male |
| PAZ German  | PHI | Male |
| SHOUHDY Alaa  | QAT | Female |
| AHMED Amro  | QAT | Male |
| AL BAKER Hassan  | QAT | Male |
| AL HAMMADI Khalid  | QAT | Male |
| AL SAFRAN Ali  | QAT | Male |
| AL SHARASHANI Hussain  | QAT | Male |
| AL SHARSHANI Waleed  | QAT | Male |
| AL TAMIMI Abdulla  | QAT | Male |
| AL TAMIMI Ali  | QAT | Male |
| AL TAMIMI Hassan  | QAT | Male |
| AL ZAINI Mohammed  | QAT | Male |
| AL-BRIKI Saleh  | QAT | Male |
| BU SHAWARIB Ebrahim  | QAT | Male |
| SHOUHDY Amro  | QAT | Male |
| KHNG Griselda  | SIN | Female |
| LIM Tze Ting  | SIN | Female |
| TAN Li Yong Elisabeth  | SIN | Female |
| TAN Sarah Wei Lin  | SIN | Female |
| TOH Liying  | SIN | Female |
| CHENG Feng Yuan  | SIN | Male |
| CHENG Xinru  | SIN | Male |
| CHUNG Pei Quan  | SIN | Male |
| HUANG Jingjie  | SIN | Male |
| KOH Seng Leong  | SIN | Male |
| KOH Terence  | SIN | Male |
| LEE Sean Teik Ren  | SIN | Male |
| LIU Xiaman  | SIN | Male |
| SOH Khyan Tat Maximilian  | SIN | Male |
| TAN Ivan Hsiao Loong  | SIN | Male |
| TAY Junhao  | SIN | Male |
| TAY Renfred  | SIN | Male |
| TEO Wee Chin  | SIN | Male |
| WONG Ming Ho Justin  | SIN | Male |
| XU Yuan Zhen  | SIN | Male |
| JIRASINGHA Radeeka  | SRI | Female |
| DE ALWIS GOONAWARDENA Devin  | SRI | Male |
| DE SILVA Upulpriyantha  | SRI | Male |
| GUNAWARDENE Priyantha  | SRI | Male |
| JIRASINHA Akshan  | SRI | Male |
| WELANDAGODA PATHIRANAGE Janaka | SRI | Male |
| POONPAT Benjamas  | THA | Female |
| TANSAI Napalai  | THA | Female |
| DAOCHANTERK Anun  | THA | Male |
| HOMRARUEN Arun  | THA | Male |
| KORKERD Thanakan  | THA | Male |
| PHUYIM Kittisak  | THA | Male |
| POONPAT Wiwat  | THA | Male |
| RUAMSAP Phanuthat  | THA | Male |
| THAIKING Chaiwat  | THA | Male |
| THAMSOONTORN Navee  | THA | Male |
| VONGTIM Damrongsak  | THA | Male |
| VONGTIM Sakda  | THA | Male |
| WON Kai Han  | TPE | Female |
Back to top
Back to top