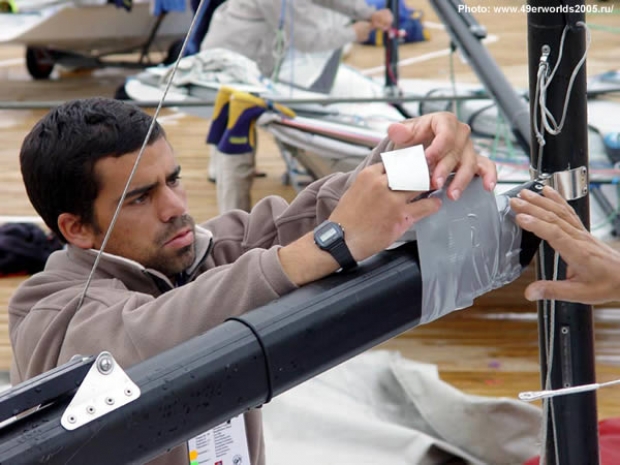 GPS takes to dinghies
GPS is well established in the world of yacht racing for position fixing, while hooking up a GPS receiver to a communications device such a satellite or cellular telephone and then displaying this information on-screen via the use of specialist race management software has revolutionised the way spectators can follow progress on the water in real-time for events from the America's Cup to Vendee Globe and Volvo Ocean Race and today many smaller events.
The Global Positioning System uses a constellation of satellites to determine - down to metre-accuracy in three dimensions - the location of a GPS receiver, this data displayed on the receiver as lat, long and height. But GPS receivers also offer a range of dynamic secondary functions such as 'course over the ground' (COG) and 'speed over the ground' (SOG). For those new to GPS it should be noted that COG and SOG are different from compass course and speed in that 'over the ground' is not the same 'through the water'. For example course/heading/bearing - whatever you want to call it - is the course you are steering, while COG is the result of this plus any tidal effects, ie the course your boat is actually heading in.
With self-contained GPS receivers becoming so small that they can be worn on the wrist - even incorporated into a watch (such as the Suunto M9) this technology is increasingly finding its place in the dinghy sailing world.
This year the use of GPS technology on dinghies has taken a step further with high profile events such as the 49er World Championship and the Finn Gold Cup in Moscow, Russia. At these GPS tracking was used to follow boat positions around the race track increasing the viewing potential for online 'spectators' around the world, in the same way as it does for major yachting events.
Although the technology is not particularly new, the principle difference between the tracking gear used on a yacht and dinghies is based on the fact that a dinghy lacks a yacht's convenient on board 12v power supply. Thus the dinghy application commonly uses road vehicle equipment with its own self-contained source of power.
For dinghy sailors, the potential benefits of using GPS technology are two-fold. The first is the opportunity to display races live on the internet thereby increasing spectator appeal, and secondly to obtain accurate data for performance training purposes. With sailing not being that regularly televise,d the internet is proving an excellent medium for showcasing the sport - and it has certainly worked for major yachting events. This comes at a time when ISAF are attempting to change the format of racing to make it more appealing to a wider audience, yet it is becoming less and less realistic for sailing to get on the TV. Thus it is important to explore new ways to enable those that want to be able to watch the sport to do so.
Stevie Morrison and Simon Hiscocks had been discussing the future of the sport after the Grand Finale issues at the 49er Europeans."I was speaking with Simon about it through the week and we think that sailing is maybe not a television sport, but it could be a great internet sport," says Morrison."When you are putting GPS on boats and you had a mark rounding feed through a website then people in their offices can get live updates at mark roundings and things like that."
49er sailor Olivier Vidal feels GPS tracking alone is not enough: "I think that just having the live feed could become a bit dull quite quickly - at the Worlds in Moscow people got bored with it after a short amount of time. I think it is important to try and combine this on the web with audio commentary or video images."
The point that Vidal makes is a valid one, as anyone who followed the America's Cup Acts on line this year will verify. Just the visual of boats' tracks through the water is dull without any explanation. It needs to be married up with either text or audio commentary or ideally video images to paint a broader picture.
The second area where GPS systems on dinghies can be used is training. As a GPS can tell you how fast you are going it can be a great way for people to make the most of a training session when there is no training partner around. Foiling Moth supremo Rohan Veal has been using a handheld GPS while sailing since early 2004 to measure his current speed, average speed, maximum speed and VMG. The UK's own Moth sailing guru Adam May regularly goes out with a Garmin Foretrex 101 on his wrist for this purpose too (other more sophisticated Garmin models are now available complete with heart rate monitors, etc).
It seems very likely in the near future we will see the way we train in this sport changed by the use of such technology. It doesn't take a tremendous leap of imagination to see a top level dinghy sailors starting to use telemetry - where boat speed, course, even heel data is transmitted back to a coach RIB, where it is logged in real time together with true wind speed and direction. This could be used to build up a set of polars or target speeds while also being useful for post-training analysis ashore.
While these end user applications are being refined, considerable effort is going into the physical technology that gets bolted onto the boats. The on board GPS tracking gear used at the 49er World Championships came in small grey boxes weighing in the region of 250-300 grams. They housed a tiny GPS receiver hooked up to a transmitter to broadcast the data but at present no self-powered miniature gizmo is available to perform both functions. But the real issue is getting the data from the GPS to land and then onto an internet site. The team in Moscow were using GPRS (the 56k data connection that enables you to view the internet on your cellphone) to transmit this data. This system works well - assuming there is GPRS coverage.
Roger Gilbert, a 49er sailor with a passion for GPS technology explains some of the issues that organisers face such as tracking a high number of fast, small moving targets racing in a small area. "The problem with GPS receivers on sailing boats is the update rate, as you only get an update every few seconds." It is clear that this would be a major problem, if you imagine a modern high performance boat travelling at around 15 knots then three seconds worth of information is a lot of information that is being missed.
Update speeds; however are not the only problem says Gilbert: "The way these transmitters work is to send a boat's position - which is easy enough - and then they send the velocity and the direction which is again not an issue. The problem is if you lose the signal then it assumes that you are carrying on at the same velocity in the same direction with each successive update on the software. People that have dropped signal often look like they are carrying on in a straight line which is a bit of a problem with the technology and it is one that is not all that easy to solve."
Particular to the difficulties of using this technology on small dinghies is positioning the equipment ie: where it a) is out the way and b) can have a clear view of the sky. Most of the places that are safe to put one in a boat - at the foot of a mast for example - tend to a perfect place for signal errors too.
"Each competitor in the Gold fleet at the 49er Worlds was given a numbered unit that they taped to their boom in front of the vang arm.They would then transmit position data which was shown in real time online and then later in the bar for the sailors to watch," explains Vidal.This is a problematic place to put the equipment as the signal is being blocked by both the vang arm and the mast, but what are the alternatives?
The method of viewing the races can be seen in picture below, which is taken from this year's 470 Junior World Championships in St Petersburg - the first Olympic class to use GPS tracking.
The number of the unit is shown on the screen and the boat that has the unit is shown down the right hand side.Although this was good to watch there are still lots of glitches in the system, for example sometimes when watching the racing it would appear that a boat had not gone around a mark at all. The reason for this is for GPS receivers to be able to calculate their position they need to 'see' a minimum of four satellites. Most modern GPS receivers have anything up to '12 channels' allowing them in theory to monitor this number of satellites constantly. In practice they will see a lot less and this, combined with the satellites in view not being at the optimum azimuth, can rapidly degrade the accuracy of the position the GPS receiver calculates to +/- 10m or worse.
If position accuracy is at the optimum, for example by using differential GPS whereby the satellite-derived lat and long is further compared with the signal from a differential GPS transmitter, then the logical next step for this sort of technology is using it for on the water judging purposes. For example you could tell if boats were over the start line.
Gilbert seems unconvinced by this idea and explains that, "to make it that accurate the reliability of the system needs to be improved. What people are doing at the moment is taking lorry tracking systems which are not really designed to work in the marine environment and attaching them to boats. They don't really attach to the boats very well so although they work and they are good bits of technology they are not really adapted for life on a 49er or on a Laser's bow or wherever you want to put it. It needs someone to put the money in something that is dedicated to sailing. They are also quite a bit bigger and chunkier than they need to be and they do not have a very high update rate. I think that we are a very long way away from being able prove people are over the line as there are too many loopholes in the system."
Watching Ben Ainslie in the last race of the Finn Gold Cup in Moscow, was an unreal experience online. Ainslie had a numbered dot, so did Kusznierewicz. Had Ainslie stitched him up at the start? Why was everyone heading to the left hand side of the course? Why were they suddenly all coming back, heading straight for harbour? And what were all the other dots around Ainslie (this turned out to be his British team-mates)? From this you could start drawing conclusions…just.
It was pretty cool to watch the final race online, but even as a knowledgeable viewer it was hard to make any real sense of it.
It seems that although the technology is now cheap enough to be realistically used in dinghy sailing there is still a way to go before we see dinghy events being broadcast over the internet and attracting lots of people to watch. Still the point is that as these technologies evolve in other sports or even in the keelboat side of sailing then it will all filter down to make sailing more appealing as a watchablesport in one form or another over the internet.
Back to top
Back to top