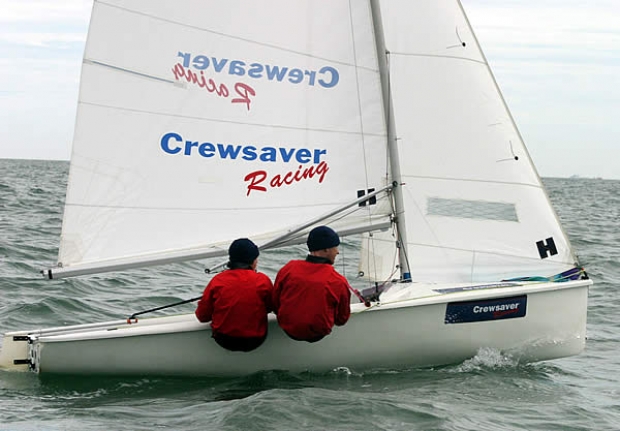 Richards and Wakefield take it
22 travellers attended the last Lark open meeting before the summer championships.
The weather was more November than July, and drysuits were the order of the day for Saturday. The race officer wasted no time in setting off the fleet on a tour of Weymouth Bay in strong winds that were gusting 25 knots. Nigel Hufton and Chris Whitehouse started well and weren't crossed on the first beat but succumbed at the gybe mark.
Sarah Richards and Nigel Wakefield took over at the front, warding off advances from Mark Ampleford and Lee Nankervis. Hufton and Whitehouse were back at the front in the second race before completing the day Ampleford-esque style by dipping the rig during a drop, this time Emma Harris and Nigel Scott pounced and took line honours.
On Sunday the wind was nearly as strong and more shifty. Hufton and Whitehouse took the lead and made no mistakes, winning with a comfortable margin.Richards/Wakefield and Harris/Scott were second and third. The course was reset after a windshift for the fourth race and sure enough the wind swung back during the first beat. Matt White and Edd McArdle were the fourth race winners of the weekend. The wind was lighter and patchier for the last race. After many place changes Richards/Wakefield took the gun
from Dougal Scott and Ruth Johnson, Harris/Scott 3rd.
Many thanks to Weymouth Sailing Club for providing superb racing and evening social.
Pos Helm Crew Points

1 Sarah Richards Nigel Wakefield 6
2 Emma Harris Nigel Scott 11
3 Nigel Hufton Chris Whitehouse 11
4 Dougal Scott Ruth Johnson 14
5 Mark Ampleford Lee Nankervis 15
Back to top
Back to top