France Blue favourite?
Calling the form on the Brewin Dolphin Commodores' Cup is always hard as for a team to be successful, all three of its boats must perform across a variety of race formats over the course of a week of racing. This team aspect, plus its lengthy duration while also being one of the premier events in the IRC calendar, make the Royal Ocean Racing Club's biennial championship for Corinthian crews one of the pinnacle international events for handicap racing. Normal 0 false false false EN-GB X-NONE X-NONE
If there is a favourite team for this the 13th running of the Brewin Dolphin Commodores' Cup, it is possibly France Blue. Fresh out of the box in 2014, Eric De Turkheim's powerful A13 Teasing Machine has since proved herself as a weapon offshore and over this year has had one of the busiest and most successful programs in international yachting. She is supported by the Prietz family's Ker 39 GOA, back for their fourth crack at this regatta having been part of teams that all finished third in 2014, 2010 and 2008. However she's clearly a star performer and as an individual boat two years ago, finished…third.
They are supported their 'small boat', Cifraline 4, and with a IRC TCC of just 1.001, the lowest rated in the regatta. A Jeanneau Sun Fast 3200 of Daniel Andrieu, the boat's designer. For Andrieu, who has served on several America's Cup design teams, this will be his first time back racing on the Solent and its surrounding waters since he won the 1989 Admiral's Cup with the British as designer of Graham Walker's One Tonner Indulgence skippered by one Eddie Warden Owen, now CEO of the Royal Ocean Racing Club.
"On paper the team leader, Teasing Machine, is a fantastic boat, but they don't have exactly the same crew because they have had to reduce the number of professional sailors. And GOA, the Ker 39 is very well sailed," says Andrieu, who is otherwise reluctant to acknowledge France Blue as favourite. "In the Solent, anything is possible," he advises.
As to Cifraline 4, the boat has this year been fitted with a new carbon mast, mainsail while the cockpit has been opened at the transom and the keel has been modernised – all to try and make the boat performance inshore, says Andrieu.
Equally strong will be France White, featuring boats from La Trinité or nearby. Emmanuel le Men's First 40.7 Pen Koent is back for third attempt, while Noel Racine's JPK 1010 Foggy Dew is a first time Commodores' Cupper but a regular in the RORC domestic series, in which she finished third overall in 2015. Also his first time at the Brewin Dolphin Commdore's Cup is Didier Gaudoux and his brand new JND 39, Lann Ael 2, (sistership to Andrew Hurst's Stamina, in France Red).
"I am here because I have a new boat and this is a competitive environment" says Gaudoux, who sails with a crew including his children and their friends. "I think it is a very good opportunity for us to sail and I enjoy the team aspects. We don't have too many opportunities to do that." As Lann Ael 2 is a new boat Gaudoux admits they are still on a steep learning curve with their boat and he hopes they won't let their team mates down. "It has a lot of potential but now we have to make progress to exploit the potential of the boat."
France Red includes another JND 39 Stamina, being campaigned by Seahorse editor Andrew Hurst, with Francois Blossier's A35 Realax and the JPK 1080, Timeline of Marc Alperovitch, competing here for the third time. However this will be his first in his new boat, bought because an example had previously won SPI Ouest France. "We are extremely happy with it," says Alperovitch. "Compared to the A35, it's much easier to handle in strong conditions downwind or shorthanded. It's quick in light conditions, but it is a very easy boat to handle in strong conditions."
As to why Alperovitch has returned to the event he says: "Firstly, it lasts eight days and there are not so many races like that now. At the Commodore's Cup you know you are going to spend some time on the water. Secondly, the fleet is very, very competitive."
One of the top 'small boats' is expected to be the A35 Dunkerque-Les Dunes De Flandre, skippered by Benoit D'halluin in the Flanders North Sea team, alongside the Goubau family's First 47.7 Moana from Belgium and the Dutch First 40 Elke of Frans Rodenburg.
Dunkerque competed two years ago and despite coming from northeast France, carries out most of its sailing in RORC races. Tactician Philippe Bourgeois, who rates France Blue, says that the Dunkerque team particularly likes the mix of inshore and offshore races and is likely to perform best if the wind is more than 15 knots.
Another region entry is the Celtic Team led by sailor/adventurer Jock Wishart and brought together by St Malo-based Scottish yacht broker Colin Sinclair, comprising two Scottish boats, Wishart's JPK 1080 Shaitan and the Corby 37 Aurora of Rod Stuart and Bill Ram and the French JPK 1010 Space Oddity acquired this season by St Malo-based owner and former Class40 skipper, Gregory Bertrand.
"It is a top event, the top IRC event in Europe," explains mainsheet trimmer Pierre Boue of why they are competing. "It is a very good opportunity to race alongside the best and to learn fast. I expect to increase our level quickly."
Team Israel has chartered three of the top UK IRC boats, all recently renamed – Andrew Williams Ker 40 Keronimo is now Dan, Israel, Peter Morton's JND 35 Salvo is now Daniel, Herzliya while David Franks' JPK 1010 Strait Dealer is now Carlton, Tel Aviv.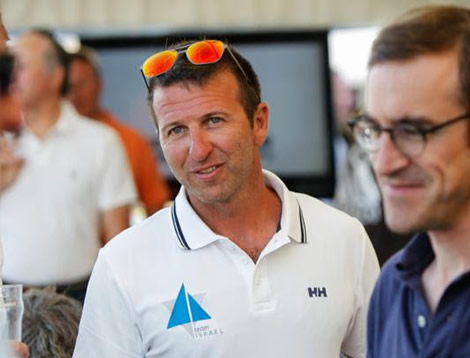 Israeli team leader, Omer Brand, who is on Carlton, Tel Aviv says that they have been putting in a lot of training to try and integrate their Israeli crew who are typically good dinghy sailors with the British crews, who are big boat experts. The Israelis have been putting in a lot of training both in Israel and in the UK where they recently competed in the Lymington Cup and have been out on the water all the week. Among the crews are top Solent tacticians Kevin Sproul, David Bedford and James Gair who also are helping to cohese the crews while training up the Israelis.
"We are aiming very high," says Brand of their prospects. "That is quite unusual for a country coming for the first time. We are not here to come second!" As to the favourites here, he also reckons France Blue. "The French is always strong - they look quite scary."
Team GBR is fielding two teams with RORC Admiral Andrew McIrvine's leading GBR Red with his First 40 La Réponse, sailing alongside the similarly rated Alice, the much refined Mumm 36 of Simon Henning and with the J/35 Bengal Magic, as its small boat.
While McIrvine and Henning are both old Commodores' Cup hands, Bengal Magic is sailing its first. "It's very excited," says skipper James Chalmers. "It's a race we've always followed and we're very lucky to get the opportunity to do it." While the boat is more than 20 years old, this is Chalmers and his crew's fifth season campaigning her, having previously won their class in the IRC Nationals and in the Round the Island Race and several other leading events.
Bengal Magic is also competing because the widening of the rating band for permissible boat has widened on this occasion and they are not even the lowest rated boat. Chalmers says that previously they have focussed on inshore racing, and have had to re-equip Bengal Magic to race offshore.
As to next week's event, Chalmers says he is most concerned about the team aspect: "Before we've only really ever sailed for ourselves, so if you go out and have a bad day, you just go the bar, have a beer and not worry it. But if you've got two other team members who've put a lot of energy, effort and expense into it, you have to do well for other people. But maybe that's the attraction of it."
Finally there is GBR Blue which comprises the Blair family's King 40, Cobra, and two of the highest rated boats – Tom Kneen's JPK 10.80 Sunrise in the 'small boat' class and James Neville's HH42 Ino XXX, which is the fastest boat in the event by some 28 points.
"We are very excited about the Brewin Dolphin Commodore's Cup because of the mix of inshore and offshores and the opportunity to race against a different group of boats. Hopefully being the biggest boat this time, we'll have a better chance to get away," says Neville, who competed her two years ago with his previous Ino, a Corby 36. "Watching the Ker 40s last time was what drove me to get a bigger boat," he admits.
As to what it means having two of the 'fastest' boats in their team, Neville says that it should benefit them if the breeze is up. But equally if the wind shuts down and they have to kedge, then it won't. "We'll have to see what happens."
Racing gets underway tomorrow with three inshore races scheduled, starting at 1030 BST.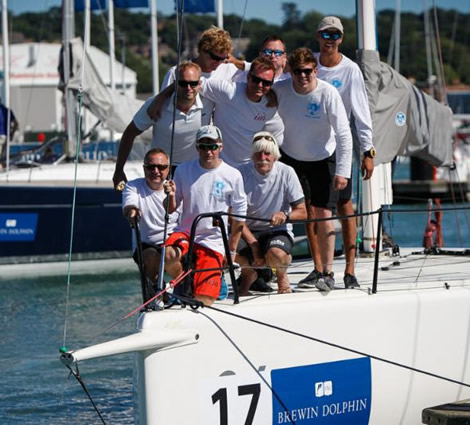 | | | | | |
| --- | --- | --- | --- | --- |
| Team | Yacht | TCC | Sailed By | Type |
| Celtic | Aurora | 1.094 | Roderick Stuart | Corby 37 |
| Celtic | Shaitan | 1.049 | Jock Wishart | JPK 10.80 |
| Celtic | Space Oddity | 1.002 | Gregory Bertrand | JPK 10.10 |
| Flanders | Moana | 1.113 | Mathieu Goubau | First 47.7 |
| Flanders | Elke | 1.087 | Frans Rodenburg | First 40 |
| Flanders | Dunkerque - Les Dunes De Flandre | 1.029 | Benoit Dhalluin | A35 |
| France Blue | Teasing Machine | 1.169 | Eric De Turkheim | A13 |
| France Blue | Goa | 1.119 | Samuel Prietz | Ker 39 |
| France Blue | Cifraline 4 | 1.001 | Daniel Andrieu | Sun Fast 3200 |
| France Red | Stamina | 1.129 | Andrew Hurst | Jnd 39 |
| France Red | Realax | 1.027 | Alexandre Korniloff | A35 |
| France Red | Timeline | 1.048 | Marc Alperovitch | JPK 10.80 |
| France White | Lann Ael 2 | 1.117 | Didier Gaudoux | Jna 39 |
| France White | Pen Koent | 1.044 | Emmanuel le Men | First 40.7 |
| France White | Foggy Dew | 1.004 | Noel Racine | JPK 10.10 |
| GBR Blue | Ino XXX | 1.230 | James Neville | HH42 |
| GBR Blue | Cobra | 1.116 | Michael Blair | King 40 |
| GBR Blue | Sunrise | 1.048 | Thomas Kneen | JPK 10.80 |
| GBR Red | La Réponse | 1.085 | Andrew McIrvine | First 40 |
| GBR Red | Alice | 1.076 | Simon Henning | Mumm 36 |
| GBR Red | Bengal Magic | 1.016 | James Chalmers | J/35 |
| Israel | Keronimo | 1.202 | Andrew Williams | Ker 40 |
| Israel | Salvo | 1.060 | Peter Morton | Jnd 35 |
| Israel | Strait Dealer | 1.017 | Graham Sunderland | JPK 10.10 |
Back to top
Back to top