Musandam-Oman Sail nails it
After just over a day and a half of sailing, an historic new record for the fastest-ever sail-borne-lap of Ireland and for the Volvo Round Ireland Yacht race have been set.

The Sultanate of Oman's flagship trimaran Musandam-Oman Sail completed the 704 mile course in just 38 hours, 37 minutes and 7 seconds smashing their own 2015 record by 2 hours, 14 minutes and 50 seconds.

The boats set off from Wicklow Bay at 13.10 on Saturday an, incredibly, all three of the MOD70 trimarans arrived back into Wicklow within minutes of each other, all breaking the 2015 record. Lloyd Thornburg's Phaedo 3 came home just 2 minutes and 32 seconds astern of Musandam-Oman Sail with Concise 10 a further 10 minutes behind.

Team Concise was out front for most of the race with Phaedo 3 overtaking her in the early hours of Monday morning, and it looked certain one of the two would take line honours. However Musandam-Oman Sail took advantage of an inshore track and manoeuvred ahead in the final hour.

Difficult seas meant 12 of the 63 yachts that set off on Saturday have since retired from the race. The remaining 48 are still making their way around the Irish coast.
Arriving back in Wicklow Bay, Sidney Gavignet's crew were exhausted but exhilarated by their victory and the new record, which they had set themselves last year beating Steve Fossett's longstanding Lakota record from 1993.

Racing with just six crew, including Oman's three leading offshore sailors Fahad Al Hasni, Yasir Al Rahbi and Sami Al Shukaili, Musandam-Oman Sail claimed line honours while Phaedo 3 were hot on their heels and arrived six minutes later with the third MOD70, Concise 10 trailing by a single minute.

The final few moments turned their race upside down, said Gavignet, since for most of the time, they had been chasing the other boats until an opportunity came up to take the lead less than a mile from the end.

"It feels fantastic because at times we were slower than the other boats and I was thinking we might finish last and lose our record but a few minutes before the finish we had a bit of luck and were close enough to the others to take advantage.

"The guys showed real commitment – we had no watch system so didn't sleep much and didn't use the bunks to keep more weight at the back so they were sleeping on the floor and on wet sail bags. They have been grinding a lot and worked really hard so they are exhausted but happy."

It had been without question the most demanding race he had ever done, added Irishman Damian Foxall as he stepped off the boat, but coming out on top represented a new high in his long career.

"I have done a few round the world races but this was up there as one of the best," he said. "Racing with six meant one or two less than the other boats so we only had one hours sleep each at the most but being so close to the other boats was so motivating and intense.

"We knew at times we were off the pace but we kept pushing hard and found opportunities to come back into the race. There was a reasonable chance we were going to lose our record so Sidney was fairly tight-lipped coming down the east coast but it is very satisfying to win AND set a new record because this race is not for the faint hearted."

Al Hasni, who shared helming duties with Gavignet and Foxall agreed it had been tiring but rewarding: "We are really happy with this result; it makes me very proud to raise the Omani flag in Ireland for the second time with this world record - we dedicate our win to the Sultanate of Oman.

"In the last few miles, we were aware that there were potential passing lanes near the coast so we moved into position which worked and we were able to gain the advantage when it mattered most.

"It was really hard and we thought we had missed our opportunity but those last few minutes turned it round so we are very happy."

The crew will return to training immediately after food and sleep in preparation for the delivery to Quebec, Canada, where they will set off on the Transat Quebec – St Malo Race across the Atlantic on July 10, returning to Europe for an action-packed summer season of events.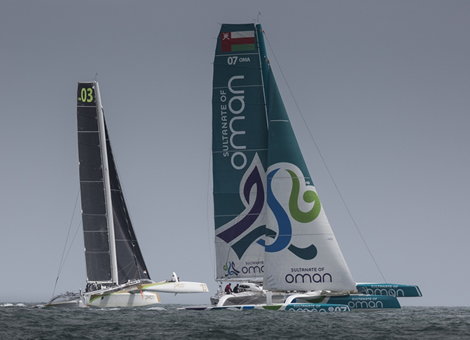 Back to top
Back to top