Edmond de Rothschild second
At 15:06:49 UTC Seb Josse and Edmond de Rothschild crossed the finish line of the Transat New York – Vendée in Les Sables d'Olonne. With a race time of 9 days, 19 hours, 26 minutes and 49 seconds, Josse claimed second place, just 2 hours 28 minutes behind winner Jérémie Beyou and Maître CoQ. In so doing, Josse earns another podium place aboard the most recent of the Gitana fleet to complement his victory in the Transat St Barthélémy-Port La Forêt in December 2015. Some five months before the Vendée Globe start on 6 November, this latest results reflects the work of a whole team.

"We've made it into Les Sables d'Olonne on a boat in very good condition, following a crossing that has given us the opportunity to size up our performance in relation to the competition. To finish second just a few months before the Vendée Globe is really positive," admitted Josse, shortly after crossing the finish line. "It's important to finish races, especially well placed. The Vendée Globe is something you win or lose, but you're not on your own. For Gitana Team, this result reinforces our goal of playing to win in the Vendée Globe, though it is also an adventure and you have to finish what is the toughest course there is…"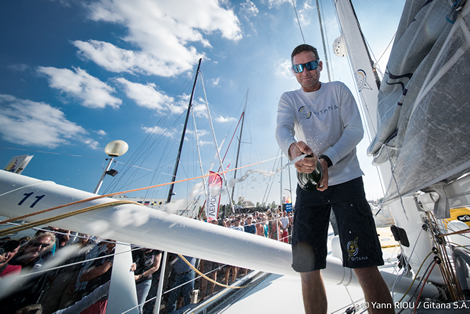 From Wall Street to the famous passage into Les Sables d'Olonne in France, the competitors have had to contend with virtually all the different types of weather conditions. Following on from the unique atmosphere off Manhattan at the start of the race to the thick fog off the New England coast, gale force winds in the mid-Atlantic and a lead into the finish that saw the winds fade away to nothing in the Bay of Biscay.

Thomson on Hugo Boss led for most of the race, and took a more northerly option out into the Atlantic, however Sébastien Josse and Jérémie Beyou's less risky option ultimately paid dividends. From start to finish, the skipper of Edmond de Rothschild made it clear that he was competing in this event with the ultimate ambition of the solo non-stop round the world race at the end of the year and with this in mind his idea was to find the "right Vendée Globe mode", to try to strike a balance, happy to set a more conservative pace than his rivals.

"I'd like to congratulate Jérémie (Beyou) on his victory. We crossed the Atlantic together and always with similar routes, so it's been a really great battle. Unfortunately, we lost part of the fleet shortly after the start as a result of damage or a collision. It was an intense race. We had strong winds, medium breeze and calm conditions at the end, which isn't the easiest thing to get a handle on and you have to be able to sail the boat well in all these different ranges. It was certainly a fantastic exercise. In the end, we have three 'foilers' on the podium (Maître CoQ, Edmond de Rothschild, Hugo Boss). It's clear to see that we perform increasingly well downwind, but also upwind and we can still improve a lot more."

A month ago, Edmond de Rothschild was forced to stop off in Spain due to technical breakage and retire from The Transat bakerly. Naturally this came as a disappointment for the skipper and his team, who were fully committed to this preparation for this winter's upcoming round the world race. As a result, everyone rallied together to enable the monohull to make her delivery trip to the United States, which validated a large percentage of the technical data. After sailing 3,000 miles, it was then necessary to get the boat back into the optimum configuration in New York to take the start of this return sprint to France's Vendée region less than 10 days ago.

"The work accomplished by the team has borne fruit", admits Cyril Dardashti, General Manager of the team founded by Baron Benjamin de Rothschild. "Everyone has put in 200% effort and, given everyone's commitment, this second place is a just reward. Though we're seeking victory in the Vendée Globe, we've taken another positive step forward on that journey. When you suffer breakage and have to retire, it's very frustrating for Sébastien of course, as well as for each of the members of Gitana Team. You have to look at it more as a stage rather than a failure. We all have a great deal of trust in one another and there is a very real cohesion among the group. We know that technical issues are the name of the game, particularly on such complicated boats packed with innovations. We also know that we can't avoid all the potential problems and that the same is true of our rivals. As such, when that happens, you have to talk about it, exchange ideas, dissect what's going on and understand and find solutions in order to bounce back straightaway and above all make progress for the future. In this latest race, we operated in "Vendée Globe" mode, both in sporting and technical terms, so this podium is very positive."

Launched 10 months ago, on 7 August 2015, the most recent addition to the Gitana fleet has started of four transatlantic races. Two return transatlantic races, which have resulted in one victory, one second place and two retirements due to damage, albeit minor but enough to force the sailor off the racetrack.
Among Gitana 16's closest rivals, and notably those bidding for the highest steps of the podium in the Vendée Globe, they too have had their fair share of successes and disappointments. These two spring races have brought a few certainties to bear and notably the fact that humility prevails. The "foilers" have certainly shown what they're made of: the winner of both events sport these famous "moustaches": Banque Populaire VIII and Maître CoQ, but the form remains very open, especially for a race around the world.
Back to top
Back to top