Israel optimistic for Brewin Dolphin Commodores' Cup
In the Volvo Ocean Race they say that the first team to announce often wins the race. If this proves true of this year's Brewin Dolphin Commodores' Cup then it will the fledgling Israeli team that takes home the trophy on 30th July from the Royal Ocean Racing Club's premier biennial event for Corinthian three boat teams.

Since last October when Richard Loftus, well-known owner of the Swan 65 Desperado, announced their participation in this year's Brewin Dolphin Commodores' Cup, it has been a busy time for the Israeli team. Omer Brand, one of Israel's few professional big boat sailors was recruited as Team Captain.

The team has since secured three of the top British IRC race boats to represent them:
David Frank's 2012 IRC National Championship-winning JPK 10.10, Strait Dealer
Peter Morton's 2015 IRC National Championship winning JND 35, Salvo
Andy William's Ker 40 Keronimo, 'big boat' in the winning British Brewin Dolphin Commodores' Cup team in 2012.

While the owners of these three boats will be on board for the regatta, the majority of their crew will be Israeli sailors. As Omer Brand, for five years a Southampton resident, states: "This is the first time that an Israeli team will be sailing in an event like this, and we want to use it as a platform to promote yacht racing in the country."

Israel is strong in Olympic sailing, especially windsurfing with Gal Fridman winning Bronze and Gold in Atlanta and Athens and Shahar Tzuberi claiming bronze in Beijing, plus the likes of Udi Gal in the 470 Men and Gil Cohen in the 470 Women, the Shental brothers, Erez Shemesh and Shai Bachar.

The aim of the British Brewin Dolphin Commodores' Cup campaign is also to start getting Israeli teams to compete in bigger events internationally.

However the Israeli team is currently on a steep learning curve. To rally Israeli sailors, Brand went on a recruitment drive through sailing clubs and sailing schools and via all relevant social media in Israel: "We had over 60 applicants. We selected our team according to our team goals and targets: The sailors were selected for their sailing skills, but we also wanted to see that they could help improve sailing in Israel."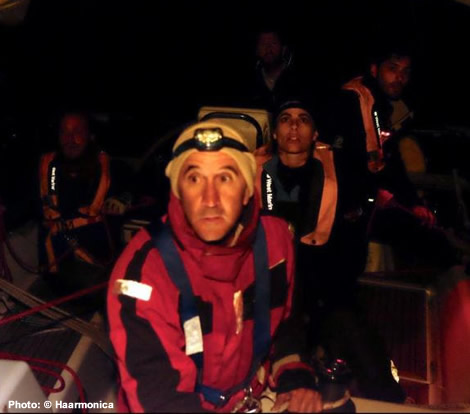 The applicants had to submit their CVs, come for an interview and then were trialled on board two training boats supplied by the Via Maris sailing school and club in Herzliya, just north of Tel Aviv. Among the successful applicants were dinghy sailors, a few keelboat and cruising boat sailors, who were deemed by the selectors to have shown enough potential.

The squad has now been finalised and is 15-strong. Among them are former 420 and 470 sailor turned Paralympic coach Alon Dagan; Valerii Sushko, formerly with the Ukrainian 470 national team and now living in Israel and Bar Halevy, once Brand's 49er crew. Also in the team are two women: Dana Gur and Tal Eitan who have previously campaigned a 470 and Laser Radial respectively.

Currently the team is in a training phase out of Via Maris. According to Brand one of the main issues is getting the sailors used to big boats as well as developing the vital teamwork necessary to race competitively.

As he admits: "In Israel we have a good base of dinghy sailors, particularly in the 470 and 420s, but apart from myself no one has continued to go racing in big boats. I am trying to introduce this knowledge and culture to Israel and hopefully it will develop here, because we have good conditions and people with money and the will to do it. People are starting to be more and more interested as they see it online and on TV."

For this Brewin Dolphin Commodores' Cup, six World Sailing Group 3 professional sailors are allowed in each team, but unlike previous editions of the event, it is up to each team how they are distributed across their three boats.

Among the Israeli teams Group 3 sailors are Brand, who is provisionally sailing on Strait Dealer with David Bedford, while Scottish sailmaking legend Kevin Sproul is aboard Keronimo.

Brand also recognises that to be successful they need to integrate the Anglo-Saxon and Israeli crews. To develop this they are coming to the UK to train and race in June, and will be returning to the UK in mid-July for more of the same prior to the main event.

The campaign is being funded by benefactors in both the UK (such as Team Principal, Richard Loftus) and in Israel.

So how does Brand expect them to get on? "I think we will be the dark horse. We have got good boats and good people and I believe in being the first and starting to work as the first team gives us a great advantage. I really think we can aim very high. I am not sure we can win it, but I believe we can aim for a podium position. We are not coming to play!"

Organised by the Royal Ocean Racing Club, the Brewin Dolphin Commodores' Cup is the club's biennial grand prix for amateur crews. Racing takes place over 23rd-30th July on a mix of inshore and offshore courses in the Solent and around the English Channel.
Back to top
Back to top