IMOCA 60s in The Transat bakerly
Six IMOCA 60s will set sail across the North Atlantic from Plymouth, England in The Transat bakerly this Monday at 1430 BST in what promises to be one of the toughest tests the skippers will face prior to this winter's Vendée Globe.
In few events is the old adage 'to finish first, first you must finish' more appropriate than for a non-stop singlehanded round the world yacht racing marathon like the Vendée Globe. From the very first moments of each boat's design and engineering and on, there is the constant compromise between performance and reliability, strength versus speed. Despite huge computer horsepower being available to simulate the loads each boat will endure, nothing reveals bugs like like time at sea, in the yachts' natural environment, especially if it involves competing in a full bore long distance yacht race.
| | | | | |
| --- | --- | --- | --- | --- |
| Boat | Skipper | Nat | Year-designers | Foils |
| PRB | Vincent Riou | FRA | 2010 VPLP-Verdier | Straight, outboard, toed in |
| 44 | Richard Tolkien | GBR | 2008 Groupe Finot | Straight, inboard, toed out |
| Banque Populaire VIII | Armel Le Cléac'h | FRA | 2015 VPLP-Verdier | Lifting foils |
| Edmond de Rothschild | Sébastien Josse | FRA | 2015 VPLP-Verdier | Lifting foils |
| St Michael Virbac | Jean-Pierre Dick | FRA | 2015 VPLP-Verdier | Lifting foils |
| SMA | Paul Meilhat | FRA | 2011 VPLP-Verdier | Straight, outboard, toed in |
For those skippers looking for the ultimate shake-down before the Vendée Globe, The Transat bakerly represents the ideal test. For example Banque Populaire skipper Armel Le Cleac'h remembers that battling 50 knot winds in the last Transat in 2008 stood him in good stead when the Vendee Globe fleet received a similar battering on their first night at sea out of Les Sables d'Olonne later that same year. "It was good training," he acknowledges. "Because I'd been through that, the boat was okay, I chose the right sails etc." In fact 50 knots was more wind than he saw in the entire duration of the 2012 Vendée Globe…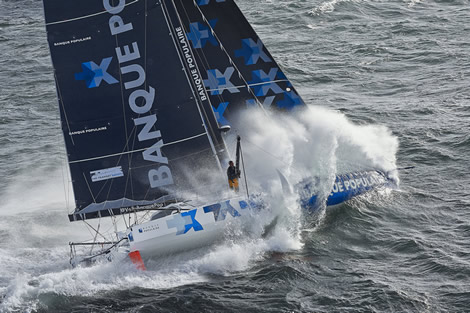 However the The Transat bakerly has a fierce reputation and even among the six IMOCA 60 skippers competing, there have previously been mixed fortunes. In what was one of his first ever singlehanded races in The Transat in 2004, Jean-Pierre Dick experienced possibly the only ever occasion an IMOCA 60 has been rolled. The 360° turn demolished his boat's mast and boom.
"It was a disaster. For sure - I need to turn this page to do this race again," admits Dick. Fortunately 12 years on, he now has five non-stop round the world voyages under his belt and is more confident.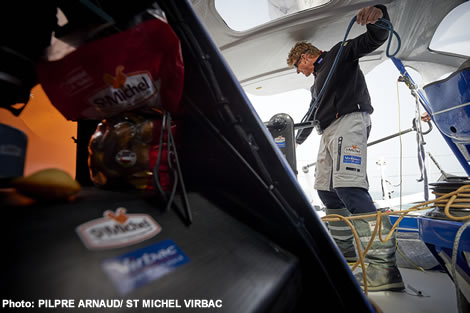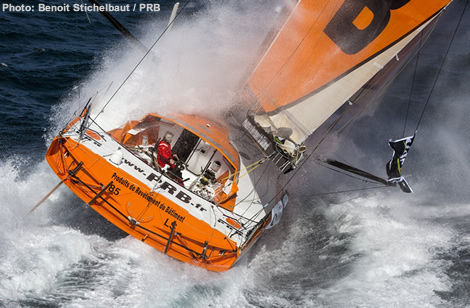 Even the unflappable PRB skipper Vincent Riou has come acropper twice in this race. In 2004 his boat dismasted and four years later he collided with a whale damaging the forward bearing of his yacht's canting keel. He was rescued by the race's eventual winner, Loick Peyron on Gitana Eighty.
So why is The Transat bakerly so hard? Typically weather systems in this area leave the USA and travel east or northeast across the North Atlantic. The Transat bakerly skippers are travelling west, in the opposite direction to their systems, so unlike the Transat Jacques Vabre or the Route du Rhum, where they might encounter two or three systems before getting into the tradewinds, instead they are not only bombarded by new weather systems every day or so, but find themselves much closer to the system's centres.
"I like it because it is a very interesting race, a very hard race," says Riou. "You need to get through all the weather systems which arrive very fast and you need to make a lot of gybes and tacks and get the routing right. I think the best man will win the Transat, not the best boat."
Nonetheless who has 'the best boat' is a debate presently raging in the IMOCA class, and The Transat bakerly will be only the second occasion that the new generation foil-assisted IMOCA 60s will, en masse, go up against 'conventional' boats such as Riou's PRB and Paul Meilhat's SMA.
To date the 'conventional' older generation IMOCA 60s have proved superior upwind, downwind and in light weather, so if there are typical conditions on this year's The Transat bakerly, then PRB and SMA could well prevail.
However they will be up against three of the six new generation VPLP-Verdier designs, including some favourites for Vendee Globe victory: Jean-Pierre Dick's St Michel-Virbac, Armel le Cleac'h on Banque Populaire and Sebastien Josse on Edmond de Rothschild.
Of all the IMOCA 60 competitors in this race Banque Populaire's Armel Le Cleac'h, holds the best result when he finished second in 2008 (the same position as he ended up in the last two Vendée Globes). He acknowledges what a brutal race it can be: "It is not easy because after five or six 6 days the weather gets really cold and there are bad conditions for the end of the race. Plus fog, fishing boats and ice! And you are against the Gulf Stream which can be very bad if you get wind against it."
While Banque Populaire was the only new generation IMOCA 60 to make it to the finish of last year's Transat Jacques Vabre…finishing second again… Edmond de Rothschild won the return race back, the OSM-organised Transat St Barth-Port La Forêt. In the Transat bakerly, Edmond de Rothschild is the only boat using larger, second generation foils. Banque Populaire had fitted some, but broke one in training two weeks ago and have had to revert to last year's set.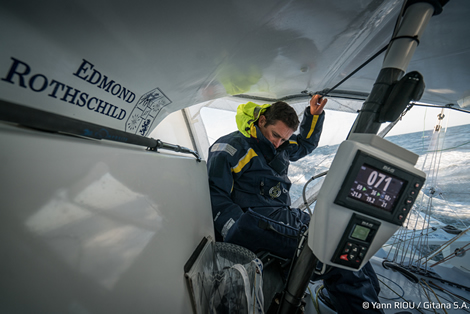 The new foils are bigger, longer, wider... "They're a lot faster and much better upwind," says Josse. "They're not as fast as PRB, but we've closed the gap."
During the Transat St Barth-Port La Forêt, Edmond de Rothschild saw a top speed of 33.4 knots, but with the new foils Josse is expecting more, and more importantly some outrageously high daily runs, averaging as much as 27-28 knots (ie 648-672 miles). "Today the biggest problem is to make sure it's strong enough. The performance is good but now we have to prove we can cross the Atlantic."
While The Transat bakerly is a tough race, it is also the oldest singlehanded transatlantic race, first held back in 1960. More importantly, it was the vehicle with which Eric Tabarly helped turn solo offshore racing into the great sport and industry it is today.
SMA skipper Paul Meilhat explains: "The Transat for me is like a memory in black and white pictures from when I was a child – it was the beginning of singlehanded offshore racing. So for me it's about Eric Tabarly. It's still really hard race and there are not a lot of boats that get to cross the finish line, and for me that is the target."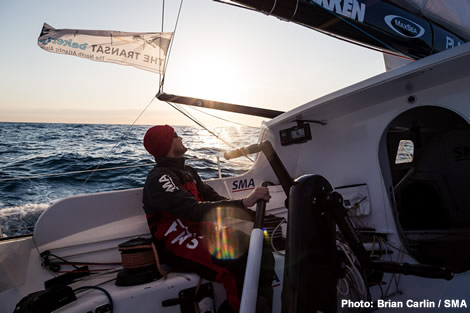 He may be sailing his first The Transat bakerly, Meilhat has already experienced the savagery of this part of ocean when he sustained an injury and was forced to abandon his boat northeast of the Azores last December in the Transat Saint Barth–Port la Forêt. His boat drifted for three weeks unattended before she was recovered. She has since been undergoing a total refit, with only her mast, hull and deck original.
While the other five IMOCA 60 skippers focus on line honours and Vendée Globe preparation, British skipper Richard Tolkien is on the start line principally because he loves the race. With the exception of Loick Peyron, he also has the longest association with the race of all of this year's competitors: He first competed in 1988 aboard Williams Lea, the trimaran that as Umupro Jardin V had four years earlier won the race with French skipper Yvon Fauconnier. Unfortunately he was forced to retire when the forestay chainplate broke. Four years later he raced on board his new IMOCA 60, ENIF and was sixth monohull to finish, despite sailing without a mainsail for the last part of the race. In 2000 he participated on the former Fujicolor III IMOCA 60, but had to retire with sail and gear damage.
After a foray into the Class40, Tolkien is back with the 2000-generation Groupe Finot design that was originally Thomas Coville's Sodebo and sailed the last Vendée Globe as Italian Alessandro Benedetto's Team Plastique.
"It is a great race and I am here to participate," says Tolkien. "I am not competing with the five other IMOCA boats."
The boat is named 44, the dialling code for the UK but is currently Finnair branded as Finnish competitor Ari Huusela has it entered in next month's OSM-organised Transat New York–Vendée (Les Sables d'Olonne) - the next event in the IMOCA Ocean Masters World Championship - as Flying with Finnair.
The Transat bakerly sets sail at 1430 BST (1330 French time) on Monday 2 May.
Back to top
Back to top