Podium position for Enda O'Coineen
Sunday December 20th 2015, Author:
James Boyd
, Location: none selected
In an exceptional performance, Ireland's Enda O'Coineen aboard his IMOCA 60 Currency House Kilcullen completed the podium in the IMOCA Ocean Masters Transat St Barth-Port la Forêt, the third event of the IMOCA Ocean Masters World Championship 2015-2016.

Currency House Kilcullen crossed the finish line off the Breton harbour at 13:19:55 today (Sunday), with a race time for the 3,375 mile course of 13d 22h 19min 55s. In fact O'Coineen was forced to start the race just over a day later than the rest of his competitors after his boat experienced problems with her engine's saildrive unit. As a result the actual elapsed time for Currency House Kilcullen's passage across the North Atlantic was 12d 21h 49m and 55s, less than the 12d 23h 57m and 42s time of second placed Fabrice Amedeo who arrived yesterday on Newrest–Matmut.
"My hair is wet from a magnum of champagne - it was a great arrival," said Currency House Kilcullen's jubilant 60-year-old skipper after he'd docked in Port la Forêt. "I could have got here sooner, but when I realised I was under no pressure I took the last two days easy, rather than trying to catch the other boat."
While there were seven starters, the race has been a war of attrition thanks to the severe winter gales, which have frequently brought storm force gusts to the fleet over the last week. At present only one boat is left on the race course – Morgan Lagravière's Safran which was around 870 miles astern when Currency House Kilcullen finished this afternoon.

During one gale early last week, O'Coineen said he saw 46 knots of wind and he experienced similar gusts once past the Azores islands on Thursday night. "You are humbled by that ocean out there. It is an animal! I don't think the storms are getting any easier with globe warming - some of those storms were outrageous. You got used to the wind being 'only 30 knots', all the time," recounted O'Coineen. He paid tribute to the boat that British round the world veteran Mike Golding sailed to sixth place in the 2012-3 Vendée Globe: "She is a great boat - very well thought out. I think she is easier to sail than some of the other boats. The keel and self-steering are all in great shape."

The only issue were some sails, which O'Coineen admitted were destroyed due to him pushing too hard early on. "I sailed the boat quite aggressively, because I really wanted to catch up, but probably too aggressively because after four or five days in fairly quick succession, I blew out the A7 and the J2 sails."

He expended a lot of energy recovering and dropping the broken sails forcing him to have a quiet day to recuperate. "I got back into the race again and got a bit more confident. All I wanted to do was finish, so to be in a podium position is a fantastic result for me, who is a gifted amateur with a day job. I think age does add a certain factor - you have the benefit of experience…and then there's luck."
The result of having taken it relatively easy over the last couple of days while the wind has been 'only 20 knots', O'Coineen was in good shape when he arrived in Port la Forêt.

In completing this race, O'Coineen and Currency House Kilcullen have now qualified themselves for the 2016-7 Vendée Globe, but O'Coineen says he hasn't made up his mind if he is doing the famous singlehanded non-stop around the world race which leaves next autumn from Les Sables d'Olonne, France: "I am taking it in stages and this is the first stage. I am having serious meetings with myself and myself! It is a very personal thing, another stage in life. But now it is nice to know it is an option."
If he did do the Vendée Globe, O'Coineen would be Ireland's first ever entry in the race which over the years in the UK has made sailing stars out of Ellen MacArthur, Sam Davies, Alex Thomson and Brian Thompson among others.

Ranking on 20 December at 16:00 GMT

1. Edmond De Rothschild - Sébastien Josse: Finish on 17 December at 20h 18min 17s in 10d 5h 18min 17s
2. Newrest-Matmut - Fabrice Amedeo: Finished on 19 December at 14h 57min 42s in 12 d 23h 57min 42s
3. Currency House Kilcullen - Enda O'Coineen: Finish on 20 December at 13h 19min 55s in 13d 22h 19min 55s
4. Safran - Morgan Lagraviere: 842.4 miles from the finish
5. Le Souffle du Nord – Thomas Ruyant: 1128.4 miles from the finish
Retired O Canada - Eric Holden
Retired SMA - Paul Meilhat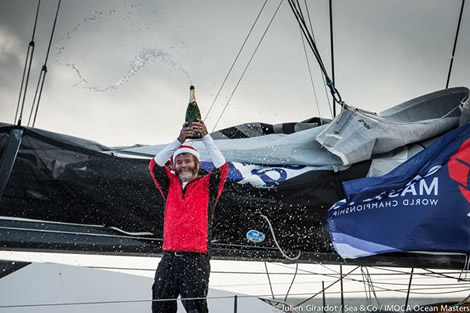 Back to top
Back to top