Early line-up for The Transat
The 2016 edition of The Transat, from Plymouth to New York City, will feature some of the top names in world professional solo ocean racing.

On the opening day of the Paris Boat Show, OC Sport, revealed that 15 skippers have now entered the race with more to be confirmed in the next few days.

Herve Favre, Offshore Sailing Events Director for OC Sport, said he was delighted with both the quality and depth of field for what promises to be a world-class renewal of the race in 2016.

"We are already seeing some of the top names in the sport coming back to The Transat and we are confident that more of the most competitive skippers in each of the four classes represented in the race will add their names to the start list."


For the first time, The Transat in 2016 will feature a fully-crewed and non-timed Prologue leg from St Malo to Plymouth. A race village will be open in St Malo for four days prior to the departure of the fleet and journalists and guests of sponsors will get the chance to sail on board the boats en route to Plymouth.
"We're delighted the race organisers decided to have a pre-start phase in France, because there are so many French teams and we're going to make sure it works," said Claude Renoult, Mayor of St Malo.

Among the high-profile skippers who have entered The Transat 2016 are the IMOCA sailors Seb Josse on Edmond de Rothschild, Jean-Pierre Dick on St Michel-Virbac, Armel Le Cléac'h on Banque Populaire and Paul Meilhat on SMA.

Paul Meilhat commented: "I know many IMOCA skippers see The Transat as a training ground for the Vendée Globe and the truth is, it's important to have as much training as possible and you know what they say… if you want to be a good sailor in 30 knots of wind you had better learn to sail in 40 knots and that's the opportunity The Transat gives us."

In the Ultime maxi-multihull class, two skippers have committed so far Yves Le Blevec on Actual and Thomas Coville on Sodebo.

Coville commented: "I think The Transat, for me, represents history. I remember going with my Dad way back and it was a turning point for me. When I participated in The Transat in 2004 I remember battling through to the very end and when I arrived in the United States I was just so relieved. I didn't win but I knew I had it in me to cross the North Atlantic alone and that was good enough.

"It's going to be a very hard race. You don't mess around with the North Atlantic and there are a lot of risks involved and this is one of the hardest races around. People just don't realise it."

The Transat will also feature Class40 monohulls and the Multi 50 multihulls. Five Class40s have entered so far, including two female skippers in Britain's Miranda Merron on her new Campagne de France and German skipper Anna-Maria Renken on Nivea.

The Multi50 fleet includes Pierre Antoine on OLMIX Sailing Team and Lalou Roucayrol on Team Arkema.

Another unique feature of the 2016 race will be the participation of three time race winner Loïck Peyron. He will sail the course outside auspices of the race on Eric Tabarly's Pen Duïck II. This was the yacht on which Tabarly won The Transat (then known as the OSTAR) back in 1964, inspiring a generation of French solo sailors as a result.

"We call The Transat, The Transat because it was the first. I am honoured to be taking part on board Eric Tabarly's boat Pen Duick II. I will be doing this old-school," explained Peyron. "I will have all the necessary safety equipment I need but I will be doing this with sextants and other, what some might call 'archaic', equipment. I'd just like to thank Jacqueline Tabarly for giving me this opportunity."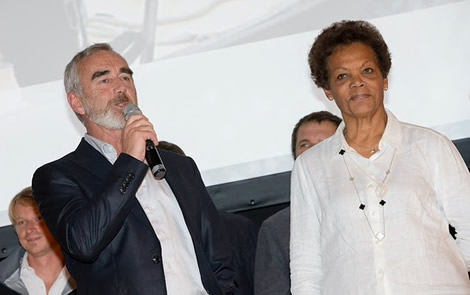 Entries for The Transat are open until January 8th, 2016.

Entrants for The Transat 2016 so far:

Ultimes
Thomas Coville - Sodebo
Yves Le Blevec - Team Actual

IMOCA 60
Sébastien Josse - Edmond de Rothschild
Jean-Pierre Dick - St Michel Virbac
Paul Meilhat - SMA
Armel Le Cléac'h - Banque Populaire VIII

Multi 50
Pierre Antoine - Olmix
Gilles Lamiré - French Tech Rennes – St Malo
Erwan Le Roux - FenetrA
Lalou Roucayrol - ARKEMA

Class40
Brieuc Maisonneuve - Cap des Palmes
Anna Maria Renken - NIVEA
Miranda Merron - Campagne de France
Vincent Lantin - Le Slip Français
Thibault Vauchel - Camus Solidaires en Peloton – ARSEP
Maxime Sorel - V&B
Back to top
Back to top