Joyon presents his Jules Verne Trophy crew
The latest IDEC SPORT (ex Groupama 3), Francis Joyon's new maxi-trimaran was christened today in La Trinité-sur-mer, two weeks before the team goes on stand-by on their attempt on the Jules Verne Trophy. The boat was christened by Professor Gérard Saillant, co-founder of the Brain and Spinal Cord Institute (ICM), who has been appointed the boat's 'godfather'.
The boat, which has spent the summer breaking records in Europe and the Pacific as Lending Club, has spent one month in refit at Multiplast in Vannes.
Joyon chose this opportunity to present his crew of five sailors, plus his shore-based router, plus a substitute sailor.
Joyon is obviously hoping that his minimalist approach will be a match for Spindrift racing, Dona Bertarelli and Yann Guichard's team that will be making a Jules Verne Trophy attempt at the same time in the substantially larger (40m) Spindrift 2, which, as Banque Populaire V, set the present record of 45 days, 13 hours, 42 minutes and 53 seconds back in 2012.
All of Joyon's crew are top class sailors, half are French, and half from elsewhere - a very international crew, bringing together experience and youth.
"I'm only taking skippers with me," said Joyon, explaining why on board everyone needs to know how to do everything as they will all be taking turns at the helm of the big trimaran. "Unlike the bigger crews, where there are lots of sailors specialising in one area, we'll be setting off with strong all-rounders on IDEC SPORT."
For a 105ft trimaran, six does represent a small crew. In fact only the first winner of the Jules Verne Trophy, Bruno Peyron and Commodore Explorer, dared to set off with less - five - back in 1993. Since then, the attempts have always been with crew of between 10 and 14 sailors. When as Groupama 3 this boat set the Jules Verne Trophy record back in 2010, it was sailed by Franck Cammas and a crew of nine.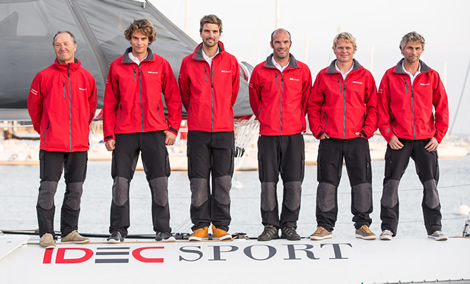 The crew of IDEC SPORT

Francis Joyon (FRA), skipper
Bernard Stamm (SUI), helmsman-trimmer
Gwénolé Gahinet (FRA), helmsman-trimmer
Alex Pella (ESP), helmsman-trimmer
Clément Surtel (FRA), helmsman-trimmer
Boris Herrmann (GER), helmsman-trimmer
-
Marcel Van Triest (HOLL), router on dry land
Roland Jourdain (FRA), substitute
Bernard Stamm (SUI) 51

It's hardly worth presenting this expert round the world sailor, the only member of this IDEC SPORT commando unit to have already won the Jules Verne Trophy (in 2005 aboard the maxi-catamaran Orange II). Bernard has won no fewer than three round the world races on a monohull: two wins in Around Alone sailing solo and once in the Barcelona World Race sailing double-handed. He has also taken part three times in the Vendée Globe. This highly talented tough guy can bring his wealth of experience acquired over the past thirty years on all the world's oceans. Bernard Stamm : "Things have changed since I took part in the Jules Verne Trophy in 2005. The boats are different, and the record is harder to get. But the principle is still the same –you have to get around the world as quickly as you can. I think the record can be beaten, otherwise I wouldn't be here! "

Gwénolé Gahinet (FRA)
youngest member of the team is the son of an ocean racing legend, who unfortunately is no longer with us: his father Gilles was one of the rare sailors to beat Eric Tabarly in a transatlantic race and to have won the Solitaire du Figaro twice. It has been in the Figaro class too that Gwéno has made a name for himself in the past few years with some excellent results, after previously winning the Mini Transat. An engineer in boat design, this attractive youngster worked a lot for VPLP, the team which designed IDEC SPORT. This is his first round the world voyage. He has so much to offer with his youthfulness, technical knowledge and talent. Gwénolé Gahinet : "I've done quite a bit of sailing on Orma trimarans and on Multi 50s, but I have a lot to learn about these giant multihulls. I'm going to be watching closely and recording everything. I'm very keen to discover the Southern Ocean, It's a universe that you really want to discover."

Alex Pella (SPAIN) 42

Born in Barcelona, this lively sailor from Catalonia was first known for his excellent preparation of big multihulls – particularly in The Race – before beginning a remarkable career starting in the Mini 6.50 (2nd in the transatlantic race), then Class 40 (winner of the Route du Rhum) and then all sorts of big boats, on one or more hulls. Fourth in the 2011 Barcelona World Race, he has also sailed a lot on multihulls and knows the Southern Ocean. He can do just about everything. Alex Pella : "I had no hesitation when Francis contacted me for the Jules Verne Trophy. It's a great adventure, especially in this configuration with a small crew and atried and tested boat. This will be my second round the world voyage and will be twice as fast on the 60-foot IMOCA. "

Clément Surtel (FRA) 36

The nephew of another great sailor - Franck-Yves Escoffier – but above all a fan of multihulls, Clément has a huge amount of experience of big trimarans in general and IDEC SPORT in particular. He prepared her, when she was in the hands of Franck Cammas. Apart from all his trips with top crews (several records with Orange in particular across the Atlantic and the 24-hr record), Clément has been involved in two previous Jules Verne Trophies in 2005 and 2010, but was then ashore. This time, he will be aboard. He knows the boat perfectly and apart from his qualities as a skipper, he will be extremely useful for the technical aspects. Clément Surtel : "I have spent years sailing on these big multihulls and now I'm getting my first chance to sail around the world and discover the Southern Ocean. IDEC SPORT is a fantastic boat that reliable and well prepared to complete the voyage in less than 45 days. We'll be pushing her hard all the ! way starting with a big transatlantic crossing."

Boris Herrmann (GER) 34

Two round the world voyages and three roundings of Cape Horn: Boris Herrmann certainly knows the world's oceans. He has just sailed through the North East passage aboard the former IDEC now in the hands of the Chinese sailor, Guo Chuan. In 2009, he became the first German to win a round the world race: the Global Ocean Race. He too is a strong all-rounder on everything from small monohulls to giant multihulls, with a lot of experience of the hostile Southern Ocean. He is German, but a Swiss army knife that can do anything. Boris Herrmann : "For my third round the world voyage, I'm pleased to be going aboard this boat aboard which I have already sailed this year. Our motivation is very clear: we are setting off to smash the record ! As for the adventure aspect, that is a bonus, but the competition comes first.…"

Roland Jourdain (FRA) 51 (substitute)

Top teams always have a joker up their sleeve as a substitute. Just in case, Bilou is there to set off, if one of the five men has to pull out at the last moment. Like Francis Joyon and Bernard Stamm, it's hardly worth presenting him, as he is already so well known. A hero from the Vendée Globe, the Figaro, the Route du Rhum and giant multihull racing, his huge experience reassures everyone. Roland Jourdain : "I love being out on the water and sailing a long way away: the Jules Verne Trophy is therefore something that attracts me. I have done a lot of multihull sailing this year. I'll be really pleased if Francis needs me. If not, I'll be supporting the lads from ashore."

Router back on dry land: Marcel Van Triest (NED), 51

From his home in the Balearics in front of his computer screens around the clock, Marcel Van Triest will be the weather expert for IDEC SPORT. The Flying Dutchman is one of the best routers in the world. He is also a great sailor, who has already raced around the world five times. His little notes will be carefully studied by Francis Joyon several times a day. He will be attempting to beat his own record (he was behind Banque Populaire's 45 and a half day record) and attempt to beat his fellow weather expert and friend, Jean-Yves Bernot, who will be the router for Spindrift, IDEC SPORT's rival in this Jules Verne Trophy. His huge knowledge of the ice in the South will also be a useful asset. Marcel Van Triest : "…"

Francis Joyon (FRA), 59: the boss

The only sailor in the world to have held all four major solo ocean records at the same time – the round the world, North Atlantic, 24-hour and Columbus Route records - Francis Joyon is moving to crewed sailing for this attempt aboard a boat he has dreamt of for a long time. After receiving dozens of applications, he chose his crew based on two major criteria: strong all-round abilities and motivation. "We're setting off as if we were a commando unit. The crewmen are going to have to invest a lot and will be spending a lot of time out on deck. They all know that and that is what attracts them to this challenge."

The Jules Verne Trophy

The record to beat: 45 days, 13 hours, 42 minutes and 53 seconds set by Loïck Peyron and his crew of 13 in January 2012 on the Banque Populaire V trimaran (40 m)
Average speed to beat: 19.75 knots
Course: Round the world via the three capes, Good Hope, Leeuwin, the Horn.
Distance via the Great Circle Route: 21,600 miles
Start and finish between Ushant (Créac'h Lighthouse) and the Lizard (Cornwall).

The trimaran IDEC SPORT

Designers: VPLP
Previous names: Groupama 3, Banque Populaire VII
Initial launch: June 2006
Length: 31.50 m
Beam: 22.50 m
Displacement: 15.5 t
Draught: 5.70 m
Mast height: 33.50 m
Structure: carbon-nomex
Upwind sail surface: 411 m2
Downwind sail surface: 678 m2
Back to top
Back to top