Introducing the new Hugo Boss
Alex Thomson Racing has today launched its new Hugo Boss racing yacht, as it starts to build momentum in the run up to the Vendée Globe, part of the Ocean Masters World Championship.

The brand new racing yacht, which has been two years in the making, is 5% lighter than the team's previous racing yachts and includes a number of totally unique design features. The yacht build, which involved many of the same techniques and technologies applied in Formula One, took place at Green Marine in Southampton and had a team of 30 working full-time on the project.

World renowned industrial designer, Konstantin Grcic, has worked with the Alex Thomson Racing Team on the VPLP/Verdier-designed Hugo Boss racing yacht creating the black aesthetic design. Grcic, whose work forms part of the permanent collections at both the Museum of Modern Art (MoMA) in New York and the Pompidou Centre in Paris, has also assisted in the ergonomic design of part of the interior of the yacht, focusing on the navigation and sleeping area to ensure maximum amount of comfort without sacrificing speed and weight.

Speaking about the launch of the new yacht, Gerd von Podewils, Senior Vice President Global Communication at Hugo Boss said, "The new Hugo Boss is a perfect illustration of technology and innovation combined with outstanding design. We are very grateful to Konstantin for his support on this, which led to such an exceptional result. Having established valuable, successful partnerships with both Mercedes-Benz and the Alex Thomson Racing Team, we're delighted we had the chance to join forces and work on this project together."

It's not just the interior of Hugo Boss that has had special treatment. Extensive hydrodynamic research and computational fluid dynamics studies were carried out to determine the optimum dimensions of the new yacht and its major parts. Several different options were shortlisted and then their performance on the Vendée Globe route calculated using historical weather data. Once the ideal proportions were chosen, detailed studies were carried out on all elements of the boat, to help achieve the best possible performance levels.

Skipper Alex Thomson finished third in the last 2012/13 race, breaking the British record for the fastest solo navigation of the world on an IMOCA 60 in the process. With his new boat, Thomson has his sights firmly set on the top step of the podium next time around.

The new Hugo Boss will get its first taste of competitive sailing when Thomson takes part in this year's Transat Jacques Vabre from Le Havre, France to Itajai, Brazil, which starts on 25 October 2015. This will be closely followed by the transatlantic race B2B starting in St Bart's on 6 December.

Speaking about the launch of his new boat, Thomson, who has been sponsored by Hugo Boss since 2003, said: "We are all very excited about the new Hugo Boss. The attention to detail that has gone in to every stage of the design and build has been taken to the next level and if she's as fast she looks we will be in good shape.''

"It has been really fantastic to have Konstantin's input too. From the moment he stepped on to my previous yacht and we started talking, I knew he understood the challenges involved in designing and then building an IMOCA 60 racing yacht which had to prioritise speed and durability above everything else. The areas of the yacht he has designed do just that, but he has also managed to achieve a level of comfort I am not used to! When I am alone at sea for long periods of time, I will be incredibly grateful for that."

"Hugo Boss also looks incredible. The bold, black colour scheme is not like anything we've ever seen before. Normally the boats are predominantly white because of the heat reflecting properties of white paint, but our yacht is black. This is because we have used a specially created black paint which reflects heat rather than absorbing it. I want to thank BASF as a new partner who have really helped us innovate in this area. I now can't wait to get out there and race. After coming third in my last Vendée Globe, I have my sights firmly set on the top spot for 2016/17. If I am to win, this is the yacht I am going to do it on."

As part of the launch of the new Hugo Boss the team have been announcing a number of new partners. Stewart Hosford remarks: '' Alongside Hugo Boss we are now working closely with our new technology partner Mercedes-Benz which we hope will enable us to continue to drive performance using the capabilities of the whole Daimler Group.'

The new Hugo Boss weighs approximately 7.5 tonnes. It has a top speed of 35 knots, includes 2.5km of rigging and a total of 633sqm of sail.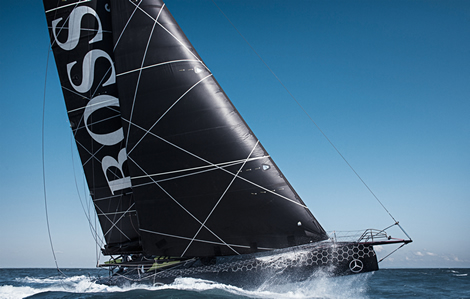 Back to top
Back to top