World first
Tuesday September 15th 2015, Author:
James Boyd
, Location: none selected
After 13 days' racing through the treacherous waters of the North East Passage for 3240nm, Qingdao China, led by Chinese skipper Guo Chuan, finally crossed the finish line on the Bering Strait at 16.48 UTC 15 September, Guo Chuan and his five crew from Germany, France and Russia made it! For the very first time in history, a racing trimaran sailed non-stop successfully through the Arctic Ocean Northeast passage from Murmansk to Bering Straits.
Departing from Murmansk at around noon on 3 September, Qingdao China crossed the start line at 13.41 UTC and started the attempt to set the first non-stop sailing world record across Arctic Ocean North East Passage. The start of the voyage was treacherous as strong winds were expected for the first three days and Chuan chose to direct the trimaran on a more southerly route into the Kara Sea.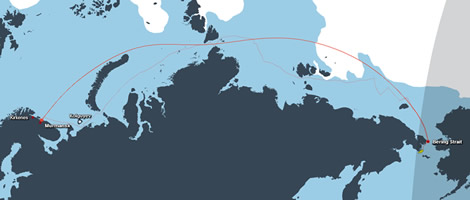 After sailing among growlers and icebergs across the Laptev Sea, the crew experienced the extreme coldness and gusts on the East Siberia Sea. Sunshine welcomed them on the Chukchi Sea and it took them only over a day to reach the finish line between the Cape Dezhnev and the Big Diomede Island on the Bering Strait.
As soon as they crossed the finish line, all crew jumped with joy and pride. For celebration, they prepared a special ceremony. German crewman Boris Herrmann took out a white board and Guo Chuan wrote the historic moment onto it, "Arctic Ocean, Northeast passage, World Record, 15 September, 2015."
The Chinese skipper was so excited that he could not hold back his emotions. "I'm so on the top of the world. It's such an unbelievable moment. Even two months ago, I wouldn't have imagined I could have a moment like this. It is a moment that could only happen in a dream."
Looking back the 13 days' voyage, Chuan said, "I feel very proud of myself and my crew. It is a challenging and tough journey, especially we were surrounded by ice and gusts under the extreme cold weather. The boat was bumping like roller-coaster sometimes and seemed totally out of control. For several times, when we were in a very difficult situation, I suspected whether we could go further. But thanks to our determination and all brave and excellent crew, we overcome the difficult time together and finally made it."
As a Chinese skipper leading five international crew, Chuan said it was not only a special experience for him as a leader but also carries the symbolic significance of "peace and sport". "This is an international team, our crew are from China, France, Germany and Russia. Obviously we come different cultures, but we still work together and made a great voyage successfully. As the only Chinese champion for 'Peace and Sport', I want to spread the peace message to more people. Now in the world, there are still nations at war, but we want to show to the people that people from diversified background can do things together."
Guo Chuan received the congratulations from Peace and Sport the first moment after crossing the finish line. "No matter the difficulty of the journey through the wind and ice, you and your crew faced it all, showing commitment to your objectives, your passion and to the core values of sport. It is a true example for the world and I am very proud to count you among Peace and Sport's Champions for Peace." Joel Bouzou, chairman of Peace and Sport wrote in the congratulations letter to Guo Chuan.
Obviously it would be another exceptional achievement for Guo Chuan, who is the iconic face of Chinese offshore sailing. Lingling Liu, Managing Director of Guo Chuan Racing has been receiving many congratulations from world sailing industry. "This is a project led by a Chinese skipper and managed by Chinese professional, and supported by experts from all over the world. We are so proud that we made it!"
Weather expert Christian Dumard said: "It was like the first race around the world or the first person to climb at the top of the Everest."
Yves Le Blévec, skipper of the Ultime trimaran, Actual added: "I'm watching Guo Chuan's challenge closely. Making your way through such an extreme zone on this size of trimaran is clearly a huge challenge. Guo Chuan and his crew did a great job. "
Kito de Pavant, skipper of the 60-foot IMOCA Bastide Otio and an expert in multihull racing said: "This is a very interesting course and the challenge is bound to be tricky. But Guo Chuan is sailing perfectly reasonably. His performance is opening up new routes. Other sailors may well want to follow in his footsteps. We can even imagine that one day races will pass through there. It's something we need to keep an eye on."
Benoit Cabaret, co-designer of the Qingdao China trimaran (former IDEC) said: "As the boat's designer, I was surprised to learn that an Ultime trimaran was going to attempt this tricky passage. New challenges are not that common today, which makes Guo Chuan and his crew's performance all the more remarkable."
The Arctic Ocean Northeast passage non-stop sailing world record is the second world record Guo Chuan has achieved. In 2013, he set the world record of solo non-stop circumnavigation in a Class 40 monohull. And maybe he has made one more.
14h00 UTC 8 September, Qingdao China touched the waters furthest north that any unpowered racing boat had ever reached reaching at 78°33'25N, only 1271 km (686 miles) from the North Pole.
During the whole voyage, Qingdao China reached maximum instant speed of 37 knots on 4 September, and covered 466 miles during one 24 hour stretch during the Arctic Ocean World Record Challenge, over the 24 hours starting on 4 September at 11:04, at an average speed 19.43 knots.
Details of Qingdao China's voyage will be delivered to World Sailing Speed Record Council for ratification.
CHUANS OCEAN 10 from Big Ape Media on Vimeo.
Back to top
Back to top