Gitana 16 launched
After an 11 month long build at Chantier Multiplast in Vannes, the IMOCA 60 Edmond de Rothschild was launched on - the third latest generation IMOCA 60 to touch the water and the newest member of Baron Benjamin de Rothschild's Gitana fleet.
Designs by VPLP-Verdier in close collaboration the Gitana team's in house designer, the new Edmond de Rothschild boasts a powerful planing hull and a very high volume bow to enhance the boat's performance, plus considerable tumblehome reducing the beam at deck level, lowering her centre of gravity, reducing freeboard, as well as a flat deck… she has a number of similar features to the other latest generation IMOCA 60 from VPLP-Verdier, Safran and Banque Populaire.
However, particularly in terms of her hull shape below the waterline, there are a number of features that make her unique. These include her very open, lowered cockpit, inspired by the deck layout seen in the VO65s and VO70s that Sébastien Josse was keen on, as well as the shape of the foils, which replace the straight or curved daggerboards of previous generation IMOCA 60s. Finally, the cockpit ergonomics as well as the interior fit-out have all been tailored to Josse's requirements.
Josse explains: "This monohull was created and built for the Vendée Globe, because even though we're competing in races that are part of the IMOCA circuit in 2015 and 2016, the round the world race is our primary objective. The entire philosophy of the project is based on this premise: A lightweight boat is an obsession for all offshore racing teams as it is synonymous with efficiency and hence performance. However, from the outset of this project, and given the nature of the major race we're targeting, reliability has been our priority and formed the opening position with the specification. My last experience in the Vendée Globe resulted in a retirement following technical damage, so I know full well that in order to win a race, first you have to finish it!"
Friday morning, a year long design and build phase, the new IMOCA 60 was launched and will now start her R&D phase of sea trials, prior to the Transat Jacques Vabre, starting on 25 October when Josse and co-skipper Charles Caudrelier, will make their race debut in the boat.
Though the Gitana and Multiplast teams have been working together throughout the build, particularly in the final completion phase, the launch marks the end of construction phase. To mark the occasion, Cyril Dardashti, Gitana's Director commented: "I want to thank all the teams for their commitment, their rigour and their availability throughout the construction; they've really put in the hours to ensure we hit the water despite a tight schedule. My thoughts of course go to the members of Gitana Team and to Yann Penfornis and his Multiplast team. From the moment we began drawing up the project, we wanted a partnership rather than a service from the construction yard and that's exactly what we've had, accompanied by a high level of expertise and quality. I think this collaboration has taught both parties a great deal. The constant exchanges with our in-house design office, under the leadership of Pierre Tissier who has done an incredible job, have today given us a highly optimised boat."
10,000 hours of R&D, 150 plans, 30,000 hours in construction, nearly 100 people involved in the project… these numbers show the complexity of creating a latest generation IMOCA 60 like Edmond de Rothschild, (Gitana 16). Pierre Tissier, who joined the Gitana Team in 2014 as Technical Director, monitored the project. "The boat is fantastic and we're really happy to be able to launch her in what is an acceptable timeframe for Sébastien with a view to the Transat Jacques Vabre. It's a complex, optimised prototype and it hasn't always been an easy task, but we've been able to rely on the expertise and reactiveness of both Gitana Team and the team at Multiplast so as to live up to the expectations and demands for quality of this project. Today a new phase begins. There is still a huge amount of work to be done but I believe the foundations are solid."
Yann Penfornis, General Manager of Multiplast added: "In Gitana Team, whether its management, engineers, technicians or the skipper, everyone knows what's really important. There is no time or energy wasted on what doesn't directly contribute to the quality of the boat. Indeed, to make a good boat, you need good people to liaise with and we've been really spoilt in that regard with this team! Whether it's with Cyril Dardashti or with Pierre Tissier, we've always made our decisions collectively so as to improve reliability and speed. On a technical level, Pierre, with whom we've already manufactured three boats, is incredibly competent and boasts vast experience in a series of winning projects. On a human level, he has been rubbing shoulders with our technicians for several years and knows how to get the best from them. Finally, to have a client who is renewing thier trust in us for another boat before the first one has even been launched is a rare privilege."
The new Gitana maxi-multihull is also to be built by Multiplast, starting from October 2015, to a design by Guillaume Verdier.
Edmond de Rothschild, with Sébastien Josse at the helm, st off from Vannes shortly after 10:00 GMT, bound for her home port of Lorient. Once there, the boat will have her keel fitted and then her mast stepped over the coming days. She will also undergo the relevant stability tests for any new boat (180° righting test, etc…) before her first sea trials offshore.
"The Vendée Globe starts today," continues Seb Josse. "This event is something we prepare for over the long term and right now, with the launch of the boat, it will be on our minds on a daily basis. I say we because its teamwork that brings together a trio of elements: the team, the boat and the skipper… The guys have worked superbly well to enable us to have a machine such as this and now it's down to me to fulfil my part of the bargain. The work goes on because there's still a long way to go to optimise her and fine-tune her. It's going to be full-on until the start of the Vendée on 6 November 2016 but we're privileged to be here!"
Cyril Dardashti concludes: "Thanks to the support of the boat's owners – Ariane and Benjamin de Rothschild – and the 2,700 associates that make up the Edmond de Rothschild Group, we can enjoy days such as this with the launch of an exceptional boat. We say it over and over again but we're well aware how incredibly lucky we are to be in this position and the whole team gives the very best to make it all happen."
Technical characteristics

LOA: 20.1m
Waterline length: 18.28m
Beam: 5.70m
Air draught: 29m
Water draught: 4.50m
Displacement (weight): 7.6 tonnes
Weight of keel bulb: 3 tonnes
Maximum upwind and downwind sail area: 290m2 / 490m2
M2 of living space: 10m2
Number and type of daggerboards: 2 foils
Source of energy production on-board: generators coupled to the diesel engine + hydrogenerators
Naval architects: Verdier / VPLP
Yard: Multiplast (Vannes)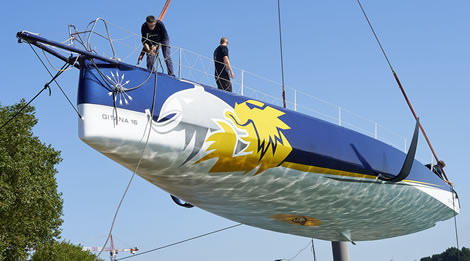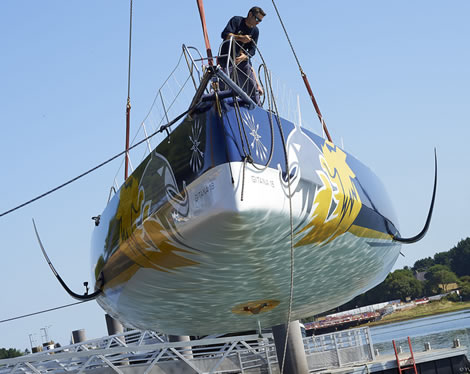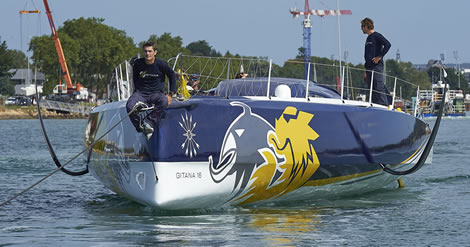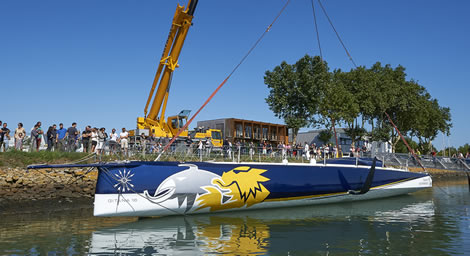 Back to top
Back to top