Victory for Troussel and Pruvot
Nicolas Troussel and Félix Pruvot took Normandy Channel Rce line honours on their Humphreys-designed Class40 Bretagne-Credit Mutuel crossing the finish line off Ouistreham at 16:59:50 GMT. They competed the course in 5 days 2 hours 50 minutes 50 seconds at an average of 7.86 knots. The Breton crew sailed a faultless race, taking the lead on the first day and never relinquishing it.
While Bretagne-Credit Mutuel dominated the race, her crew didn't have it easy, having to battle all the way with the wind and tide. The Cherbourg peninsula in particular was tricky and Bretagne-Credit Mutuel could only watch as their lead melted away, diminishing from 38 to 11 miles.
Nicolas Troussel commented: "I'm so happy with this victory. It was a superb race! We fought hard from start to finish; trying to put in the best possible tacks the whole time. We didn't once let up, constantly stacking, all the way to the finish! It worked well because with every passing position report, we saw that we were edging away, mile by mile. Strategically the course was very interesting. Félix helmed very well and helped me a great deal with regards info about the effects of a particular location and strategy."
"'Keep pressing hard to the end' - that was our motto aboard," added his co-skipper Félix Pruvot.
Bretagne-Credit Mutuel was followed by Le Conservateur and Solidaires en Peloton - ARSEP. Since Fastnet Rock, Le Conservateur, the Tizh40 design, sailed by Yannick Bestaven and Pierre Brasseur seemed to go into overdrive.
"We're smoking", said Bestaven this morning. "We're constantly underwater, we're making fantastic speeds in 30 knots of breeze and some great surfing. My Tizh40 handles brilliantly when there's some breeze. We didn't break any gear and though we did have a few scares with broaches, all's well. We don't really believe we can do it now but we're working hard to catch our mates!" Yannick didn't know how right he was, reducing the deficit in relation to the leader from 38 to just 12 miles at the finish!"
In third, Thibault Vauchel Camus and Victorien Erussard on Solidaires en Peloton - ARSEP arrived with a beautiful sunset as a backdrop. The blue and white Class40, which is being used to raise funds for research into multiple sclerosis, completed the podium. On his arrival Victorien Erussard said: "It's a superb event the Normandy Channel Race. It's my first time and I'm delighted! It was the perfect event to trial the boat. From the outset it was a great match, with constant contact and real intensity from the beginning to the end. It feels like we only left yesterday!"
Thibault Vauchel-Camus add: "It also feels as if we've done a lot of uphill skiing (beating to windward for a long old while) and ended with a session of schussing down (a little spot of downwind)!"
Next up, Teamwork and Carac - Advanced Energies match raced to the finish with the former winning by just five minutes. Teamwork 40 skippered by Bertrand Delesne and David Raison and the crew from Lower Normandy, Louis Duc and Christophe Lebas on Carac - Advances Energies had an epic sprint for the line, with the former just gaining the upper hand to finish around 5 minutes ahead!
Hot on their heels, just over 30 minutes later, in sixth place was Tony Lawson's Concise 8, sailed by Ned Collier Wakefield and Wouter Verbraak on Concise 8.
Coming home in ninth place was second Briton and first woman, Miranda Merron and her co-skipper Halvard Mabire on Campagne 2 France, who sailed a great race, given that they weren't able to use their medium 'fractional' spinnaker.
Finishers at 0645 UTC
| | | |
| --- | --- | --- |
| Pos | Boat | Finished… |
| 1 | BRETAGNE CREDIT MUTUEL ELITE | 29/05/2015 18:59 in 5d 2h 50m 50s at 7.86 knots |
| 2 | LE CONSERVATEUR | 29/05/2015 19:41 in 5d 3h 32m 20s at 7.81 knots |
| 3 | SOLIDAIRES in PELOTON - ARSEP | 29/05/2015 20:50 in 5d 4h 41m 0s at 7.74 knots |
| 4 | TEAMWORK 40 | 29/05/2015 21:49 in 5d 5h 40m 10s at 7.68 knots |
| 5 | CARAC - ADVANCED ENERGIES | 29/05/2015 21:54 in 5d 5h 45m 30s at 7.67 knots |
| 6 | CONCISE 8 | 29/05/2015 22:30 in 5d 6h 21m 10s at 7.64 knots |
| 7 | SERENIS CONSULTING | 29/05/2015 23:23 in 5d 7h 14m 30s at 7.58 knots |
| 8 | L'EXPRESS | 30/05/2015 00:22 in 5d 8h 13m 40s at 7.53 knots |
| 9 | CAMPAGNE 2FRANCE | 30/05/2015 00:40 in 5d 8h 31m 50s at 7.51 knots |
| 10 | ZETRA | 30/05/2015 03:00 in 5d 10h 51m 10s at 7.37 knots |
| 11 | FORTY SHADES OF GREY | 30/05/2015 05:58 in 5d 13h 49m 0s at 7.21 knots |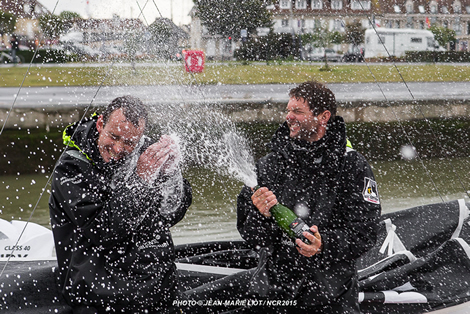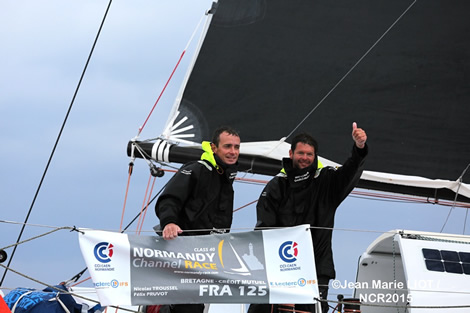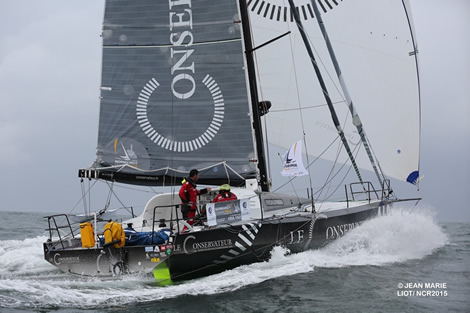 Back to top
Back to top