Comanche versus Rambler 88
Wednesday May 27th 2015, Author:
James Boyd
, Location: none selected
While it may not be the event's ultimate prize, the monohull battle for line honours in the Rolex Fastnet Race is always hotly contested, coming with considerable bragging rights. This year's race from Cowes to Plymouth via the Fastnet Rock, coinciding with the 90th anniversary of the event's organiser, the Royal Ocean Racing Club, will see the world's two very newest maxis jockeying for this prize. Both belong to American captains of industry and both were launched last autumn.
Favourite is the 100ft long Comanche owned by Jim and Kristy Hinze Clark. Clark, the Silicon Graphics and Netscape founder, has owned several high profile superyachts and the magnificent J-Class yacht, Hanuman, but his latest craft is a state of the art ocean racer designed by VPLP-Verdier, best known for their IMOCA 60 designs. In fact Comanche strongly resembles a scaled-up version of MACIF, winner of the last Vendee Globe, with a powerful hull, canting keel, twin daggerboards and rudders and numerous other go-faster features.

"The Rolex Fastnet Race is one of the goals for Comanche as one of the 'Great Races' around the globe," Clark explains. "Comanche was built to do two things: Win line honours and, if Mother Nature cooperates, try to break records. Let's hope that we succeed with both, but I know there will be lots of very strong competition!"

If Comanche is to break the Rolex Fastnet Race monohull race record, she will have to complete the 603 mile long course in less than 1 day 18 hours and 39 minutes - the time set by the Ian Walker-skippered VO70 Abu Dhabi Ocean Racing in 2011.

On paper, Comanche should have a clear run at the line honours title as she's 12ft longer than George David's latest maxi - Rambler 88, designed by Juan Kouyoumdjian. David observes: "No doubt Comanche is the bigger boat and rates accordingly. We're a little off Comanche's speed through the water, but it's too soon to tell after only four day races together." To date the boats have only lined up at Les Voiles de St Barts, but in July they will compete in the Transatlantic Race 2015, between Newport, RI and the Lizard.

David is a great fan of the Rolex Fastnet Race: "It's a great blue water race - full of tradition and with a great turning mark at Fastnet Rock. We have done the race twice before and are delighted to be coming back." And this is despite his close shave with death during the 2011 race when the keel fell off his Rambler 100, leaving him and a group swimming in the Celtic Sea. Did he think twice about returning? "It's like being chucked off a horse. You get back on," David retorts.

In terms of their performance, America's Cup legend Brad Butterworth, who is sailing master and tactician on board, reckons Rambler's strengths versus Comanche are upwind and VMG downwind. This could bode well for the Rolex Fastnet Race's typically large windward-leeward course.

But to help her prospects, Rambler 88 is currently being fitted with a secret weapon in a Dynamic Stability Systems-style lifting foil. This retractable lateral foil, is deployed on the leeward side of the boat below the waterline (like a wing), to provide lift to leeward and a gain in righting moment, like having extra crew on the weather rail. This 'turbo charger' could reduce any deficit they might have against Comanche.

"They look pretty cool," says Butterworth of the new foils. "I think that any time we are over 14 knots reaching they should make a difference. It might light the thing up. The boat certainly has a lot of sail area. It will be interesting."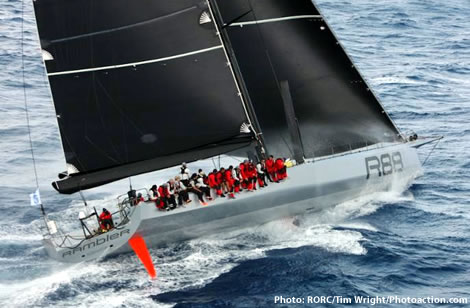 While all eyes will be on the latest hardware, also in the mix will be Mike Slade's Farr 100 Leopard, the maxi which claimed line honours in the 2007 and 2009 Rolex Fastnet Races.

"It is an amazing fleet with Comanche and Rambler and a few Mini Maxis," observes Leopard's skipper Chris Sherlock. "It will be very tough to get on the podium - the best we can hope for against those two new boats will be third."

Owner Mike Slade intends to run a 'corinthian' campaign this season and will not be chartering the boat for the Rolex Fastnet Race. However on board will be the usual all-star cast, led by veteran America's Cup and round the world sailor, Paul Standbridge.

At present Leopard is in refit in Hamble Yacht Services. Among her upgrades for 2015 is a modernisation of her rig including the fitting of a deflector backstay arrangement in place of her multiple backstays and checkstays.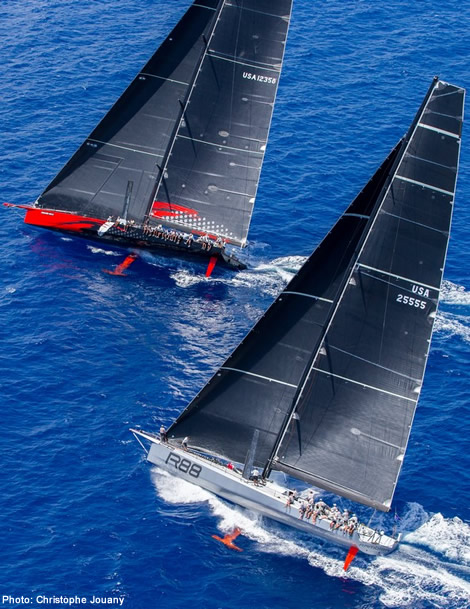 Back to top
Back to top