Match race into Newport
In the match race to the Newport finish line of the Volvo Ocean Race's sixth leg, Dongfeng Race Team managed to fend off overall Volvo Ocean Race leader Abu Dhabi Ocean Racing to win the 5,177 mile leg from Itajai, Brazil by just three minutes and 25 seconds after 17 days, nine hours and three minutes of racing.
Charles Caudrelier's Franco-Chinese team has led for the majority of the long leg north up the Atlantic but near came acropper as Dongfeng and Ian Walker's UAE team were neck and neck tacking up the west side of the exclusion zone, 10 mile short of the finish line with Abu Dhabi Ocean Racing slipping momentarily into the lead.
The result for Dongfeng Race Team marks a fantastic turn-around after they were forced to retire from leg five when the top of their mast broke on the approach to Cape Horn. Caudrelier paid tribute to his shore crew who managed to fit the replacement spar in under a week in Brazil and prepare the boat for the next leg.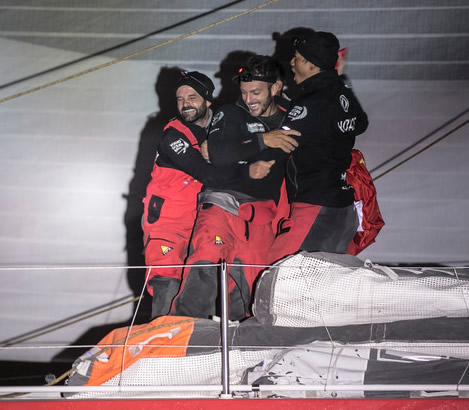 "I would like to dedicate this victory to the shore team," said Caudrelier. "It started in Ushuaia with the shore crew, when first they delivered the boat to Itajai and then fixed the boat and put in a new mast in less than one week. They worked so hard to have the boat ready – I am very proud of them. Everyone on the boat for this leg did a fantastic job and that was the key to winning, for sure. All the team deserves this victory. All the crew have improved, the Chinese improve, we get stronger and stronger each time. To beat Abu Dhabi Ocean Racing shows we have become a great team."
Dongfeng's hopes of bouncing back looked to be in serious jeopardy just two days into the leg, when their watermaker broke down. Caudreler said that if his crew had not been able to repair it, they would have had to make a 12-hour stopL 'We wouldn't have had to retire, but we would have had to stop and fix it. When you stop in this race, you see the difference between the boats, and that means the leg is over because it means you lose at least 12 hours. That would have meant another leg where we would have finished last."
Fortunately the indefatigable Kevin Escoffier (Mr Fixit) managed to make a repair that lasted.
Caudrelier continued: "It was a complicated leg. We had a big advantage in speed sometimes. It was not easy to make the right tactical decisions all the time, so speed was so important. We had something like ten lead changes. We gained slowly a small advance but every time the other guys came back. Abu Dhabi sailed very well – we made a mistake one or two nights ago – we were 10 miles ahead but they got ahead again and we lost a lot. And then they were ahead of us just two or three hours ago when we hit a light spot. It was just crazy but we had a nice fight with them!"
At the end of leg six, Abu Dhabi Ocean Racing still leads the Volvo Ocean Race overall, but Dongfeng Race Team's victory cuts her deficit to six points.
Upon finishing, Walker paid tribute to Caudrelier's team: "We were within a couple of lengths of getting over them at Block Island - literally three or four boat lengths from rolling them - but they held on and dug deep. Very well deserved win."
Team Brunel completed the podium, finishing just over 55 minutes after Dongfeng. "It's always good to be back on the podium. But the race is lost for us, we have to tell the public about that, because Abu Dhabi has an inaccessible lead now compared to us," said skipper Bouwe Bekking.. "Dongfeng still has a good chance. They sailed an excellent leg, congratulations to them. And to Abu Dhabi too – they both sailed very well. We will aim for the overall second place in Goteborg now, we want to win the overall in-port series and of course we still want to win legs! The guys sailed well, but it's a bummer we didn't win. It was a really close call at the finish line again. Unfortunately the leg didn't last a little bit longer."
During the leg, Team Brunel took over the lead from Abu Dhabi Ocean Racing as the boats passed Puerto Rico. However, thanks to a collision with a large fish, Bekking's team was unable to maintain this lead for long. "We suddenly heard a dull thud and our speed dropped immediately," reported onboard media reporter Stefan Coppers from the boat. "A brief inspection showed that one of the two rudders had speared a big fish. We pushed the fish off the rudder with a spare batten. Unfortunately, the fish did not survive the collision." In this part of the ocean, the team also had to cope with the problem of seaweed, which made sailing at night practically impossible. "We tried to keep the rudder blades and keel free from seaweed by manoeuvring and jerking the helm," said Gerd-Jan Poortman.
MAPFRE, with Xabi Fernández back in the driving seat followed Team Brunel home in fourth in an elapsed time of 17 days 10 hours 34 minutes and 25 seconds.
Leg 6 finish times

Pos
Boat
Skipper
Finish time
1
Dongfeng Race Team

Charles Caudrelier

(FRA)
17d 9h 3m 00s
2
Abu Dhabi Ocean Racing
Ian Walker (GBR)
17d 9h 6m 25s
3
Team Brunel
Bouwe Bekking (NED)
17d 9h 56m 40s
4
MAPFRE
Xabi Fernandez (ESP)
17d 10h 34m 25s
5
Team Alvimedica
Charlie Enright (USA)
6
Team SCA
Sam Davies (GBR)
Photos below from Billie Wiess and Ainhoa Sanchez / Volvo Ocean Race, Ian Roman / Abu Dhabi Ocean Racing, Maria Muina / MAPFRE
Back to top
Back to top