Florence Arthaud killed in helicopter crash
It was with great sorrow that we heard the news this morning of the death of Florence Arthaud. The 57-year-old French yachtswoman was one of ten people killed when two helicopters collided in western Argentina, where Arthaud was one of the celebrity contestants taking part in the survival show Dropped for French television channel TF1.
Over the course of offshore sailing's history there have only been a handful of women who've really made their mark. In the 1970s there were Clare Francis and Dame Naomi James, who both made their names principally in shorthanded racing, James being the first woman to sail around the world singlehanded via the Great Cape, while Francis was the first woman to skipper a yacht in the Whitbread Round the World Race. However Arthaud took competitive women's sailing to another level.
Arthaud was one of many leading French sailors, able to ride the crest of the shorthanded offshore sailing wave in France, following the mass interest in the sport generated by Eric Tabarly's OSTAR victories.
Arthaud was born into a maritime environment - her father was a sailor and head of the publishing house that brought the books of Tabarly and Bernard Moitessier to our shelves. She took to sailing from an early age, crossing the Atlantic for the first time aged 19. At 21, she competed in the first Route du Rhum, an event that ultimately made her name.
Thoughout the 1980s she was was a regular competitor on the French offshore sailing circuit, the pinnacle of her career coming when aboard her golden ORMA 60 Pierre 1er, she won the 1990 Route du Rhum. This formidable achievement saw her beat the 1986 winner and race favourite Philippe Poupon by eight and a half hours, finishing well ahead of the likes of Laurent Bourgnon, Mike Birch, Lionel Pean, Paul Vatine and Francis Joyon. Aboard Pierre 1er she went on to establish a women's singlehanded west to east transatlantic record with a time of 9 days 22 hours and 5 minutes.
Since then Arthaud's track record in women's shorthanded offshore racing has only been eclipsed by one person - Ellen MacArthur, who won Open 50 class in the 1998 Route du Rhum, won the 2000 OSTAR outright in the IMOCA class and subsequently challenged the eminent Michel Desjoyeaux for the lead of the 2000 Vendee Globe and went on set a new singlehanded non-stop around the world record aboard her trimaran B&Q Castorama.
Arthaud was also notable for being one of the founders of the Jules Verne Trophy.
While Arthaud retired from sailing, she still made occasional forays back into it in the Figaro and Class 40, competing in the 2006 Cannes-Istanbul race in the former and in the 2007 Transat Jacques Vabre in the latter, both with Philippe Poupon's brother Luc.
A sad day for the shorthanded offshore sailing world.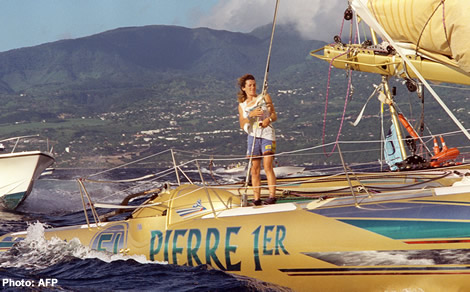 Back to top
Back to top