Two more past the Horn
Sunday March 8th 2015, Author:
Helen Fretter
, Location: none selected
Powerful dreams came true and ambitions were realised when We Are Water and One, Planet One Ocean & Pharmaton rounded Cape Horn last night and very early this Sunday morning. The Garcia brothers shared a unique moment on We Are Water. Aleix Gelabert and Didac Costa on One Planet, One Ocean reflected on sailing in the wake of so many famous sailors. But amid all the excitement, the fact remains that there is just 36 miles between the fourth and fifth placed boats in the Barcelona World Race and an exciting match race up the Atlantic is expected between the two, close friends as well as rivals.
Willy, younger of the two brothers on We Are Water, remembered: "When I was young I read the all books of the master sailors like Knox-Johnston, the sailors that sailed around the world, and also sailors who sailed on the round the world races like the BOC, Vendée Globe and the Whitbread. Always Cape Horn was the very important passage of the route and so you always think 'one day I want to be there', but I never really thought that one day I would be here and sailing with my brother non stop from Barcelona, that is so important for me. It was a magnificent experience, a very, very important day in a sailor's life."
We Are Water passed Cape Horn at 2206. Only four hours and 55 minutes later One Planet, One Ocean & Pharmaton followed. We Are Water was 7 days 9 hours behind GAES Centros Auditivos at Cape Horn and 10 days 21 hours and 13 minutes astern of race leader Cheminées Poujoulat. Both boats enjoyed relatively benign conditions off the Horn.
Gelabert, who worked as shore crew with Dee Caffari and Anna Corbella for the last race, said: "I can't really remember the first time I wanted to go to Cape Horn. I only remember that I was very young. I always wanted to do a round the world race. And so to do it of course you need to sail here, to Cape Horn. I have wanted to do it since I was quite young. Sailing round Cape Horn is really, really exciting. We have been very lucky with the weather conditions. It is very exciting and very emotional."
With the breeze north of west, the two IMOCA 60s are routing east of the Falklands. One Planet, One Ocean & Pharmaton - formerly Ellen MacArthur's 2000 Vendee Globe steed, Kingfisher - were hard on the heels of We Are Water this afternoon, even still very slightly quicker than the Barcelona brothers.
Gelabert once again underlined their 'gentleman's' approach, almost apologetic for being so close to his rivals: " We Are close to We Are Water, but we are not always trying to catch them. We only try to sail fast but we have had really good conditions to be close to them. But I think they are doing a very good race. They only had two months to prepare for this race. I think if we thought two months ago they would be sailing at Cape Horn.......well I think they are doing a very good race."
Images below (click to enlarge) courtesy of Expedition and Predictwind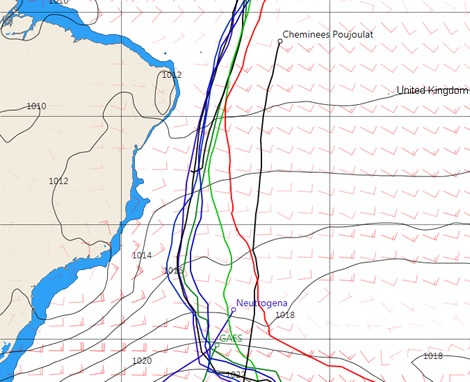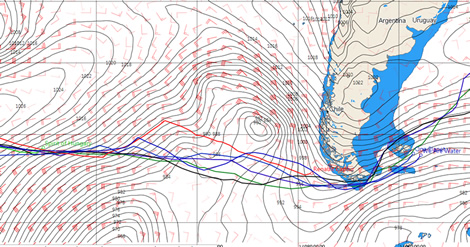 Meanwhile Cheminées Poujoulat continues to enjoy pleasant, not too stressful 15 knot trade winds at the head of the fleet, her crew contemplating the Doldrums where they are due in around 24 hours time.
On Neutrogena, Guillermo Altadill and José Munoz continue to outsmart the forecasts and make good speed, nicely widening the gap ahead of third placed GAES Centros Auditivos. Altadill and Munoz crossed their outboard track today.
Next due at Cape Horn will be Renault Captur. Jorg Riechers and Seb Audigane were making excellent progress today, having racked up the biggest mileage of the fleet over the last 24 hours. After three days of strong, stormy winds, the southwesterly breeze they have been seeing has eased to 27-30 knots. Currently they are less than 600 miles to the Horn and made 375 miles in the last.
The outlook for Spirit of Hungary is very much better. They have averaged 12 knots over the last 24 hours and are now nearly half way between Bluff, where they pit-stopped, and Cape Horn.
Positions at 1400 UTC

1 Cheminées Poujoulat (B Stamm – J Le Cam) at 3398 miles to finish
2 Neutrogena (G Altadill – J Muñoz) + 1426 miles to leader
3 GAES Centros Auditivos (A Corbella – G Marin) + 1629 miles to leader
4 We Are Water (B Garcia – W Garcia) + 3348 miles to leader
5 One Planet One Ocean & Pharmaton (A Gelabert – D Costa) + 3384 miles to leader
6 Renault Captur (J Riechers – S Audigane) + 4075 miles to leader
7 Spirit of Hungary (N Fa – C Colman) + 5948 miles to leader
ABD : Hugo Boss (A. Thomson - P. Ribes)
Back to top
Back to top