First new generation IMOCA 60 launched
Today at Chantier CDK boatyard in Lorient, Safran, the new IMOCA 60 to be skippered by Morgan Lagravière, was launched for the first time. After a year of construction in Port La Forêt and then Lorient, the VPLP-Verdier designed boat is the first of the new generation of IMOCA 60 to be launched to a new generation rule and built for the 2016 Vendée Globe.
Morgan Lagravière, who will take over the reigns from Marc Guillemot as skipper of the new Safran commented: "2014 was a year of transition for me. I immersed myself in the construction of my boat, while dreaming of the time when I could get into the optimisation and competition phase. Now, I can't wait to sail this boat - the moment is almost here."
Since 2013, the Safran Sailing Team and designers Guillaume Verdier and Vincent Lauriot-Prévost from VPLP, have been working on this project to create an innovative boat with maximum performance, within the confines of the new IMOCA rule. Safran has a powerful hull with considerably volume forward, but in particular she is fitted with new generation foils that when deployed will not only prevent leeway but also provide lift, reducing drag and increasing speed. The rotating wingmast is stepped further aft and the cockpit is both deeper and better protected.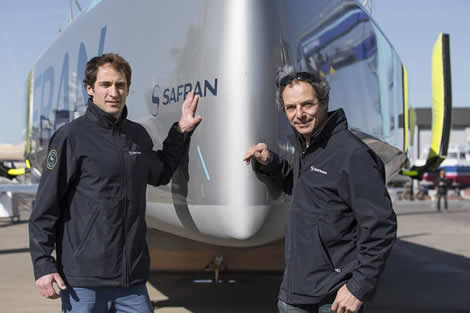 Lagravière continued: "The new rule, which requires all boats to have one design keels and masts [wing or fixed], was ultimately not a constraint, but a way to innovate again. For my part, I worked especially on the cockpit. The two transats I did onboard the first Safran gave me experience to do this ."
Marc Guillemot had a major role in the development of the new IMOCA 60, and was able to bring his 30+ years of experience in competitive offshore racing to the project. "It was two years of hard, but really rewarding work," Guillemot said. "I think the design of the new Safran would not have been the same, without my experience. I remember having lots of discussion about it during the last Transat Jacques Vabre. I'm very pleased to have been part of this project."
The launch of the 18.28m long by 5.80m wide new Safran, which has the sail number 25, was a crucial moment for all the team at Chantier CDK and the Safran Sailing Team.
Lagravière added: "I didn't expect to feel so much emotion during this launch. I've just taken the helm of Safran for the first time and I had the feeling of already having a connection with my boat. It's a huge pleasure for me, but also for the whole team who have built a magnificent boat. I've just experienced a very important moment in my life as a sailor."
Vital statistics
LOA: 18.28m (60ft)
Beam: 5.80m
Draught: 4.50m
Mast: Rotating wing with deck spreaders
Mainsail: 160m²
Gennaker: 280m²
Solent: 150m²
Staysail: 100m²
Back to top
Back to top