South Atlantic options
Sunday March 1st 2015, Author:
Helen Fretter
, Location: none selected
After the limits imposed by the combination of the weather systems of the Southern Ocean and the Antarctic Exclusion Zone, the Atlantic is opening up for the top trio of the Barcelona World Race.
On this 60th day of racing since leaving Barcelona, each of the top three are dealing with their own different options.
On race leader Cheminees Poujoulat, Bernard Stamm and Jean Le Cam are working strong westerly and southwesterly winds. But with the dominant high pressure to their west and moving east off the South American coast they are currently riding the top corner of a Roaring 40s-style low. The combination is pressing them ever further east.
Image below (click to enlarge) courtesy of Expedition and Predictwind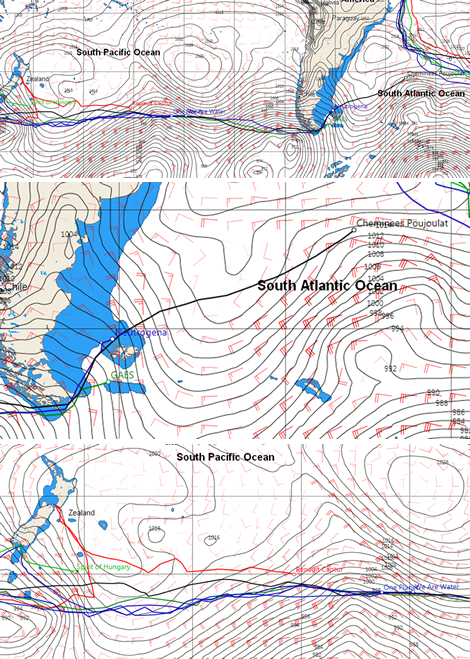 Later this Sunday evening the breeze for the race leaders will drop away until they gybe tomorrow into the stronger downwind flow. While the Swiss-French duo had lost over 100 miles to the chasing pair, Neutrogena and GAES Centros Auditivos who were both fast coming into Cape Horn yesterday, the net gain today is back to Cheminées Poujoulat, returning their advantage above 1000 miles again today.
Neutrogena, in second, is heading west of north. Sailing upwind, they have tacked this morning and again early this afternoon and are making a steady 9.6 knots, just northwest of the Falkland Islands. Crew Guillermo Altadill and José Munoz are set to have light upwind conditions right through tomorrow and so their deficit on the leader will increase.
Having been as close as five miles apart in the south Pacific, now Anna Corbella and Gerard Marín on third placed GAES Centros Auditivos are 150 miles due south of Neutrogena, the Falkland Islands driving a wedge between the two Farr designeds. GAES Centros Auditivos leaving the south Atlantic island group to port, trying to stay with the stronger wind pressure for longer.
1800 miles of the Pacific, or about five to six days racing, stand between the Garcia brothers Bruno and Willy on We Are Water and their ever first Cape Horn passage. They are set to be the race's first Cape Horn first timers. They are 194 miles ahead of One Planet, One Ocean & Pharmaton and the brothers have sailed the fastest in the last 24 hours with an average of 17.1 knots with 413.2 miles traveled.
The chances for Renault Captur to be on their coat tails by the left turn at Cape Horn seemed to have diminished since Jorg Riechers and Sébastien Audigane have slowed as they seek a solution to their rudder problems which seem to be an ongoing source of stress.
Riechers explained: "It can be a concept or an adjustment problem from the beginning. We could do nothing about it before because we knew nothing about it. We are really cautious not to break the other rudder, because where we are now we don't want to have any breakages. We have rudder problems again. On starbord tack it is unsteerable. That is why we are so slow at the moment. When we gybed, the rudders were always stalling to the point of broaching. The only solution was hoisting the J3 and sailing with two reefs in the mainsail. That is really, really slow. We have to wait for daylight to find a solution."
Rest has been part of the main agenda for Nandor Fa and Conrad Colman who were very tired when they left Bluff, NZ after a very intense but fruitful technical pitstop. But now Spirit of Hungary is eating up the miles, making 16 knots in 20-25 knots northerlies.
Positions at 1400
1 Cheminées Poujoulat (B Stamm – J Le Cam) at 5543 miles to finish
2 Neutrogena (G Altadill – J Muñoz) + 1005 miles to leader
3 GAES Centros Auditivos (A Corbella – G Marin) + 1151 miles to leader
4 We Are Water (B Garcia – W Garcia) + 3237 miles to leader
5 One Planet One Ocean & Pharmaton (A Gelabert – D Costa) + 3431 miles to leader
6 Renault Captur (J Riechers – S Audigane) + 4055miles to leader
7 Spirit of Hungary (N Fa – C Colman) + 5532 miles to leader
ABD : Hugo Boss (A. Thomson - P. Ribes)
Back to top
Back to top