Final meltdown
Friday February 27th 2015, Author:
James Boyd
, Location: none selected
The Volvo Ocean Race leaders can all but smell New Zealand now with North Cape from 50 miles off to starboard off the race leaders and with Cape Brett, effectively the next turning mark of the course now just 73 miles from Abu Dhabi Ocean Racing.
Over the last 48 hours, the lead in leg four has become a three-way tussle between Ian Walker's team, Dongfeng Race Team and MAPFRE as they have been making good progress beam-close reaching SSE in solid easterlies. Yesterday morning (UTC) the trio were three abreast with Dongfeng a nose ahead, some three miles off Abu Dhabi Ocean Racing's starboard bow with MAPFRE some seven miles off the UAE boat's port aft quarter. By the mid-morning sched Abu Dhabi Ocean Racing had nominally taken over the lead in terms of distance to finish.
Image below (click to enlarge) courtesy of Expedition and Predictwind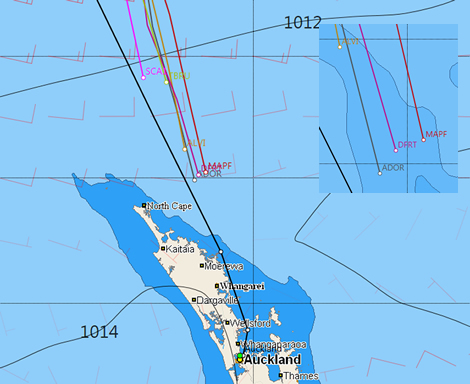 Yesterday afternoon Dongfeng and ADOR began to put slightly more south into their heading, diverging from MAPFRE, which was sailing in slightly more pressure but on a tighter heading. Late yesterday evening (UTC) ADOR crossed ahead of Dongfeng with all three boats now on a similar heading of around 170 but with ADOR now furthest west, on the right side of the race track with Dongfeng in the middle. MAFPRE's tactics appears to have payed off, and in fact are still paying. The Spanish team dropped back to more than 10 miles off the lead yesterday evening but by virtue of being furthest east has been enjoying better pressure than her rivals and at the latest sched she was back to 4.7 miles behind ADOR and less than a mile behind Dongfeng. It is a great testamental to the new one design that with less than a day to go to the finish of this long, long leg we are still discussing 'fraction of a mile' distances between the leaders.
Dongfeng Race Team skipper Charles Caudrelier indicated what cost them the lead: "Tonight we've been the victims of a cruel squall, which destroyed in 30 minutes the three days of effort we've made to catch up and overtake Ian and his men. Without wind for 30 minutes, we went backwards against the swell while Azzam sped up to 18 knots, three miles from us."
However while they are now distinctly on the home straight, there is a final hurdle... Since around midnight the wind has been constantly dropping. For ADOR, the 15 knots she was enjoying at around midnight is now down to 8 knots and, alarmingly, MAPFRE does seem to be in better pressure 12 miles out to the east.
The reason for this drop in pressure is due to a ridge that is blocking their path to the finish line. The centre of this ridge is somewhere in the vicinity of Cape Brett, the GRIB files showing the wind doing two 360s over the next 24 hours! So while ADOR may be bow forward at this stage, it is still early to tell who will be luckiest with this next roll of the dice. Perhaps it is MAPFRE's turn finally for some Volvo Ocean Race glory.
Special mention should also be made of Team Alvimedica. The race restart earlier in the week left the US-Turkish team back with the tailenders, but, making the most of the reaching conditions over the last 48 hours they have clawed their way back from 60 miles astern on Friday morning to 32 at the latest sched. This is likely to reduce further as the ridge causes another park up.
Back to top
Back to top