Safran IMOCA 60 first glimpse
A week before her launch, the colours of its latest generation IMOCA 60 have been revealed by Safran. Gone is the grey/orange, to be replaced by grey/turquoise. The new boat is to be launched on 4 March and christened on Saturday, 7 March in Lorient.
The Safran Group's new flagship, will have at its helm not the team's long term skipper Marc Guillemot, but his protege, the talented Figaro sailor Morgan Lagravière, who will participate in an extensive program of offshore racing, in the build-up to the 2016 Vendée Globe. The choice of colour scheme of the new IMOCA 60 is symbolic of this change.
"We wanted to mark the change from the previous Safran, plus we are beginning a new adventure with Morgan Lagravière," explains Christine Orfila, Safran's Director of Brand and Marketing. With a metallic grey base, evoking the high-tech credentials of Safran, the orange decals of the old monohull this time are in turquoise, while the appendages are in a fluorescent lime green.
"We entrusted the livery to Isabelle Keller," Orfila continues. "She worked on the sails of the previous boat and we liked her proposals for the new project. We've kept to the principle of the previous design of the sails, which beautifully showcase our brand. In addition, with the turquoise, the boat will be highly visible on the water on a cloudy day."
Fully immersed in the conception, design and construction of the boat, Morgan Lagravière also participated in the choice of colour scheme: "I like it a lot," Lagravière enthuses. "From the start, I wanted clear and bright colours. Turquoise makes the project more 'fun'. It will cheer me up while I'm sailing in the Southern Ocean. For the sails, I wanted bright colours to make it easier to check the trim at night."
As well as the technical aspects related to performance, the branding of a boat is also its identity, it stresses or softens its form.
"On the hull, the 'midnight blue' line accentuates the bilges and we added the turquoise on top to make the hull warmer," Isabelle Keller says. "With the metallic grey, there will also be nice effects of light between the sky and the sea."
The boat proper will be revealed next Wednesday, at the Keroman submarine base in Lorient, before being christened in Lorient on the following Saturday.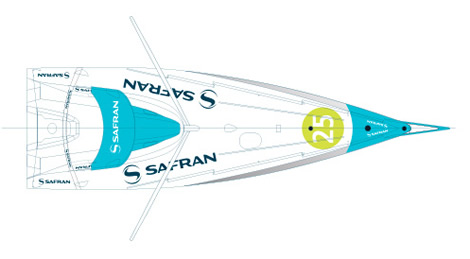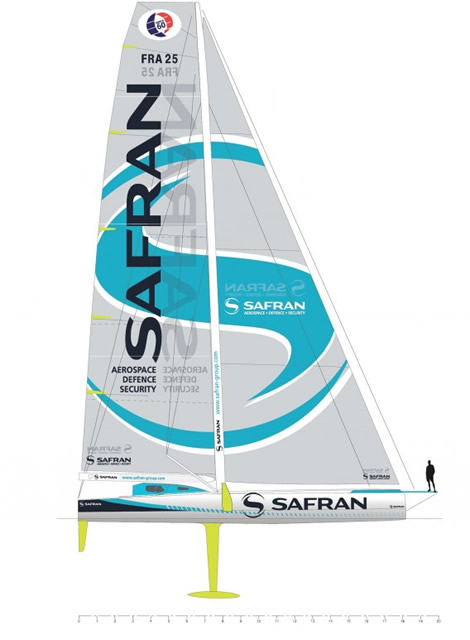 Back to top
Back to top