New RORC Caribbean 600 record
Lloyd Thornburg's MOD 70 Phaedo3 (formerly our round the Isle of Wight record holder Foncia) has set a new course record for the RORC Caribbean 600. The electric lime trimaran crossed the finish line off Antigua at 20:35:30 AST last night overing the course in a time of 1 day, 9 hours, 35 minutes and 30 seconds. This demolished the course record set by Claude Thelier and John Burnie's ORMA 60 Region Guadeloupe by 6 hours, 35 minutes and 35 seconds.
"Fast, really fast," commented a shattered looking owner Lloyd Thornburg as Phaedo3 tied up in Falmouth Harbour.
"Sailing with Michel Desjoyeaux has been an incredible experience. When I was driving, he pushed me out of my comfort zone and then got the guys to wind on the sails even more and the speed just kept climbing and my confidence and experience with it. Surfing at over 30 knots for hours is just an incredible experience. A big thank you to Brian Thompson for putting this all together in such a short period of time. This is right up there; a totally amazing experience!"

Jules Verne record holder, Brian Thompson added: "We only left France two weeks ago, so this has been a whirlwind preparation for the race, but I always knew that a MOD70 would be an absolute weapon on this course. And what a welcome when we arrived; the superyachts blasting their air horns and hundreds of people on the dock making a lot of noise. It was like finishing the Vendee Globe!"

Michel Desjoyeaux has never done the RORC Caribbean 600 before: "I had never heard of this race before, but it is a great course for multihulls and I hope to be back. It would be even better if there were a number of multihulls racing, that would make it really special. As we rounded Redonda, I saw some yachts heading for Guadeloupe, they were only half way to the finish and I thought about the Figaro teams who have so far to go - aaaagh! That must be hard for them."

The crew of Phaedo3 were Lloyd Thornburgh, Romain Attanasio, Samuel Bason, Pete Cumming, Michel Desjoyeaux, Warren Fitzgerald, Sam Goodchild and Brian Thompson.
Phaedo³, RORC Caribbean 600 2015 finish from Ocean Images on Vimeo.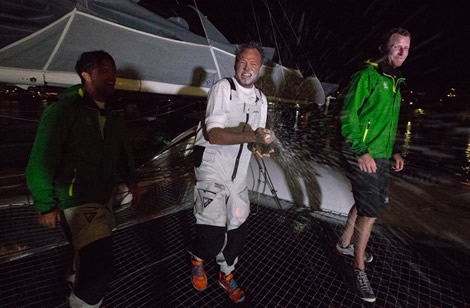 Back to top
Back to top