Renault Captur heads for NZ
Following damage to their starboard rudder which became obvious over Sunday and Monday, Jorg Riechers and Sébastien Audigane on Renault Captur have made the decision to reroute to New Zealand to undertake a technical pit stop to try and make a more effective repair.
Renault Captur, lying in fourth place in the Barcelona World Race, was 585 miles southeast of the southerly tip of New Zealand's South Island at 0500 UTC this morning. They have yet to specify where they will put in to, but Invercargill was 650 miles northwest of their position when they notified Race Direction of their intentions, and Wellington 750 sailing miles.
Riechers and Audigane believe it will take them about three days to reach a suitable landfall, sailing in mainly favourable southwesterly and southerly winds, which look set to become lighter as they close on New Zealand.
The German-French duo have attempted two repairs to the rudder blade so far, but the boat has still proven uncontrollable at higher speeds. Rather than risk damage to the other rudder and the possibilty of arriving at Cape Horn with very compromised steering, the crew have made the prudent decision to make their own safety and that of their IMOCA 60 top priority.
"We are not abandoning the race - we are looking to find a solution," explained Audigane. Renault Captur was gunning for third place, less than 200 miles behind GAES Centros Auditivos.
Audigane added: "Unfortunately downwind Renault Captur can no longer be controlled in the waves. The helm is extremely heavy and the boat veers to port and to starboard, broaching or luffing up. We have to reduce sail and drop our speeds, the boat not so flat and we are having to work hard at the helm.
"In addition to the rudder problem, we also have a recurring problem with our keel and yesterday, in addition to the lack of stability of the boat, we had to work for three hours to set up the keel after the gybe, with the invaluable help of Bruno [Behuret, Renault Captur technical team) on the phone (he did not get much sleep that last night).
"After discussion with the technical team, we had to face the facts, for the safety of the boat and us: We have decided to head for New Zealand which we will reach in about three days. During this time we are investigating solutions to rebuild the starboard rudder. We do not abandon the race, we will try to fix it.
"This decision has been difficult to make, but it is a question of our safety and that of the boat. With my past experience in these seas and on different boats, it would be unwise to continue with a boat without reliable steering. We know that in the Pacific Ocean rescue is very difficult or non-existent; We do not want to find ourselves stuck in trouble at Cape Horn, with a faulty rudder in a big seas. We also don't want to risk breaking the other rudder because it undergoes similar loads in these conditions.
"We both have family, a team, a sponsor and a racing organization who support us in our adventure but we do not take take unnecessary risks. We are going to protect ourselves and in the meantime think about how to fix this."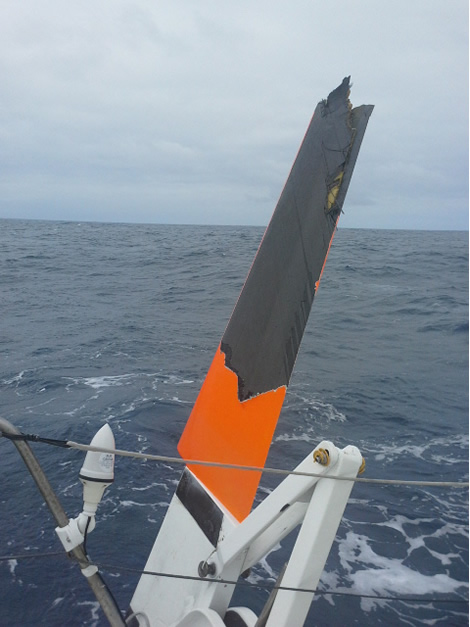 Back to top
Back to top