Honours but no record
Testing conditions prevailed for the 32nd edition of the Pineapple Cup–Montego Bay Race, a biennial 811 nautical mile flight south from Port Everglades, Florida, to Montego Bay, Jamaica.
With speeds that were furiously fast at the start, but frustratingly slow at the end, George Sakellaris's defending 72ft Mini Maxi Shockwave took line honours, plus overall victory. Plans for an IRC division were, by consensus, scratched before the start, and the 12-boat fleet sailed under PHRF handicap for the purpose of overall scoring.
Organisers called the start on Friday, 6 February, a "raucous affair," with one competitor over the line early, two others pushing port/starboard boundaries, and every boat carrying shortened sail on the first leg that would take them to the Bahamas.
A tough slog across the Gulf Stream got everyone into race mode right off the bat, especially Shockwave, which looked on course to break the race record, set in 2005 by Titan 12. In the end she fell 40 minutes short of it, finishing just after midnight on Monday with an elapsed time of 2:11:05:03, but an improvement on their 2013 result when they fell 58 minutes short of it.
"They were well ahead of the record early in the race," said Race Coordinator Evelyn Harrington, "but that's the thing with this race…it's typically fast all the way to the North Coast, and if you come inshore at night, you can lose your breeze. Shockwave's last expected two hours of racing turned into four as the wind died."
Shockwave's Reggie Cole said his team was ahead of its 2013 pace by six hours at Eleuthera and five hours ahead at Cuba. With just 20 miles to go, the team was still one hour ahead.
"We were going 10.5 knots, reaching with the spinnaker up, when a cloud line appeared and killed the wind," he said. "We took a header and had to beat the last way to the finish." Cole added that wind speeds reached up to 25 knots at times with boat speeds reaching 15-16 and his team did an "excellent job at pushing the boat."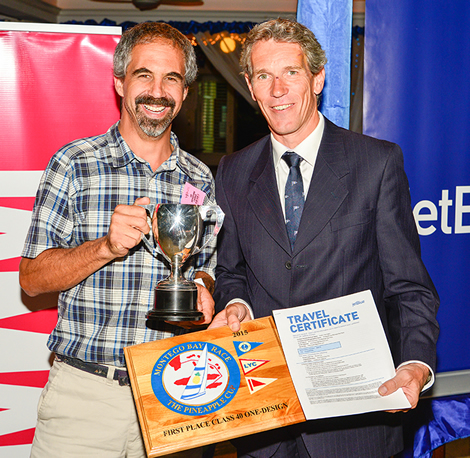 Also dialled in to win was MacKenzie Davis/Brian Harris's Class 40 AMHAS, which claimed Class 40 honours in a class of four, with an elapsed time of 4:05:56:40 and impressively finished second within the fleet on corrected time. The team finished just after 1900 on Tuesday night just in time for the Early Bird Party at Montego Bay Yacht Club.
Oakcliff Racing/Bodacious Dream finished about four and a half hours later and her crew the first doublehanders to finish. Canadian Liz Shaw, co-skipper with New Jersey's Jeffrey MacFarland, described the race as a "challenging experience through 10 latitudes, eight of which were sailed on the same port tack, in heavy air and seas." She added that it was an experience the left side of her body would never forget.
Undoubtedly the most anticipated arrival was that of the J/120 Miss Jamaica; its mostly local crew included Montego Bay Yacht Club Commodore Nigel Knowles and his 16-year-old daughter Zoe Knowles, who is Youth Commodore for the club. On Thursday, just after 1300, the hometown team, a.k.a. Team Easy Skanking, crossed the finish line to close out the finishers and join the jubilant celebrations with family, friends and local hosts at Montego Bay Yacht Club.
Two boats retired: the J/120 Tampa Girl, which suffered steering failure 30 miles into the race and the doublehanded Class 40 First Light, which made it as far as Cape Maisi and chose to discontinue racing.
The Pineapple Cup – Montego Bay Race is endorsed by the Jamaican Tourist Board and managed by the SORC. JetBlue is the Official Airline of the race and sponsors include the Montego Bay Yacht Club, Storm Trysail Club, and Lauderdale Yacht Club along with Appleton Estate Rum, SelectBrands, Doctors Cave Bathing Club, Budget Rental Car and Café Blue.
Results:

PHRF (12 Boats)
1. Shockwave, Mini Maxi, George Sakellaris, Framingham, MA, USA, 2:11:05:03, 3:17:16:17
2. AMHAS, Class 40, MacKenzie Davis, Mill Valley, CA, USA, 4:05:56:40, 4:08:25:21
3. Renegade, Santa Cruz 52, Tom Slade, Ponte Vedra, FL, USA, 4:12:21:55, 4:10:33:47
4. Oakcliff Racing/Bodacious Dream, Class 40, Jeffrey MacFarland, Oyster Bay, N.Y., USA, 4:10:23:21, 4:12:52:02
5. Vortices, J 145, Chris Saxton, Plymouth, MI, USA, 4:14:11:04, 4:16:39:45
6. Dragon, Class 40, Michael Hennessy, New York, NY, USA, 4:14:20:53, 4:16:49:34
7. Miss Maris, J 122, Mark Jordan, Mount Pleasant, SC, USA 5:04:01:57, 4:20:35:54
8. Senara, Farr 395, Eamonn deLisser / Jim Bill, Miami, FL, USA 5:11:52:00, 5:00:22:39
9. Hot Ticket, King 40, Jim Hightower, Temple, TX, USA, 5:14:47:29, 5:09:23:05
10. Miss Jamaica, J 120, Team Easy Skanking, New York, NY, USA 5:23:57:15, 5:12:14:
RET Tampa Girl, J 120, William Terry, Tampa, FL, USA
RET First Light, Class 40, FK Day, Chicago, IL, USA

Class 40 (PHRF - 4 Boats)
1. AMHAS, Class 40, MacKenzie Davis, Mill Valley, CA, USA, 4:05:56:40, 4:08:25:21
2. Oakcliff Racing/Bodacious Dream, Class 40, Jeffrey MacFarland, Oyster Bay, N.Y., USA, 4:10:23:21, 4:12:52:02
3. Dragon, Class 40, Michael Hennessy, New York, NY, USA, 4:14:20:53, 4:16:49:34
4. First Light, Class 40, FK Day, Chicago, IL, USA, RET
Back to top
Back to top