Ian Walker on the Volvo Ocean Race pt 2
Friday February 6th 2015, Author:
James Boyd
, Location: none selected
This article follows on from part 1 here
Boat yard
The advent of the new one design has also meant that in ports there is an odd division of labour between what each team's shore crew is allowed to do and what work the Volvo Ocean Race's Boat Yard carries out.
Ian Walker explains: "We have to take the boat out of the water and put it in. The biggest jobs we have to do are all the paint work, cleaning, polishing, repaints of the bulb, fin, keel, rudders and then the deck. We service all the deck gear and we have to service the rig as well and take the rig down. There is a lot that we have to do.
"Volvo has someone who looks over the engines and there's someone from Harken who looks over the winches. Cariboni is there to service the hydraulics and keel stuff. Someone from Southerns is here to oversee the work on the rigs - even though they don't actually physically do the work on the rigs. There are people here from the rigging company - you are only allowed to buy rigging from the one supplier, but they are here if you need anything. The sail work is all done by Volvo, but there is still work to be done – you still have to put cables in sails, do branding and fix bags and make bags."
And obviously if there is damage to the boat, then Volvo have boat builders on hand to effect repairs. Non-destructive testing of the boats - ultrasound, etc - also takes place during the stopovers.
So there is still a requirement for each team to have its own shore crew. Abu Dhabi Ocean Race has six, led by the capable Guy Barron, and this compares to 16 the team had for its VO70 last time around. "Ah ha – a cost saving!" you might think. However each team has to pay the organisers 1.3 million Euros towards the Boat Yard program and the maintenance of the boats for the race. As Walker points out "you can hire a lot of people for that." Added to this issue is the fact that prior to arriving in Alicante each team still requires its own a full-scale shore team.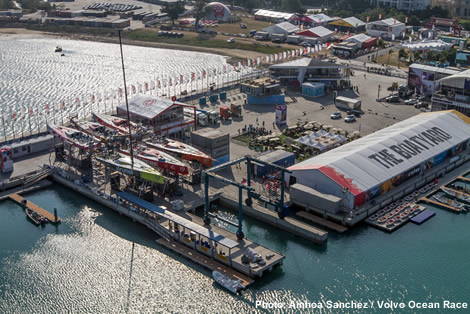 "In the broad spectrum, they have done very well," Walker says generally of the latest race. "If they hadn't made these changes there wouldn't have been a race - I have always been a supporter of what they have done. Are there things they could have done better and differently? Of course there are. There is a big discussion about whether you need such a big Boat Yard and what is the team's responsibility and what's the VOR's responsibility. I have always maintained that there is an amount of work to do and it doesn't matter whether we employ the people or they do. What you have to do is to reduce the amount of work - which is hard on high performance boats."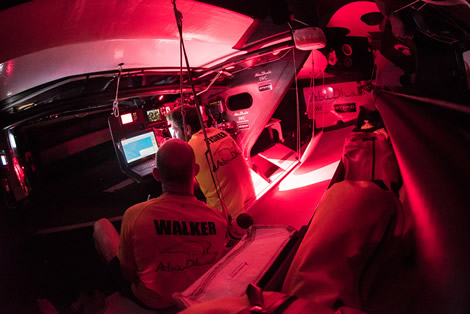 Looking ahead

While Team Brunel, MAPFRE and ADOR were favourites going into this Volvo Ocean Race, Dongfeng Race Team is surpassing expectations, with a boat that was hull #1 and a crew that includes two Chinese trainees. Her victory into her homeport was of course great for the team but also for Volvo the company itself – which is Chinese-owned these days.
"I'm not that surprised," says Walker of Dongfeng leading at present. "I was the one who put in writing before the start of the race, not to underestimate Dongfeng. I know how good Charles is and I know he has got some good sailors and they have got two Chinese, who have done quite a lot of sailing now and they are strong and fit and keen, so that is not going to hold them back too much. They are one of the teams that started earliest and they are doing well.
"When you look back at it - they could easily have caught us on leg 1 and they could very easily have won leg 2 – they were ahead of Brunel just before the finish. So it's not like they just jagged the last leg - they are definitely strong.
"The last leg, I don't know what to think - they wriggled away when there was pretty much no wind at all and then basically sailed around in different wind. I don't feel like we even raced them in the last leg, but that is not to say that they didn't sail brilliantly or aren't very fast. If I am honest, I haven't sailed alongside them since the end of leg one. We never saw them on leg two.
"Leg 2 - they sailed alongside Brunel for days and days and Brunel actually drew away from them and got comfortably ahead of them, until the whole thing turned inside out at the top of the Musandam Peninsula. It didn't look like Brunel had a problem with them for 2000 miles, so I honestly don't know what to think.
"The race has been predominantly very light and downwind and they are definitely very good downwind in the light, although I think we are also quite good at that now. So - who knows? We do a lot of upwind out of here and I could see SCA going a lot better than they have been, because it is just different."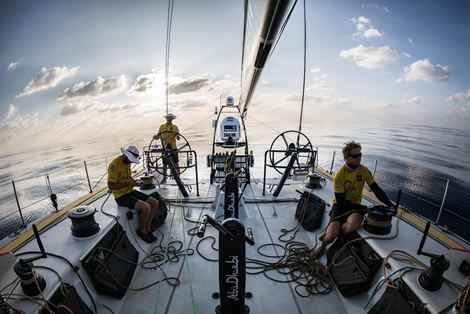 And what has Team SCA got to do? "I haven't sailed alongside SCA at all for the whole race. My impression is that they just seem to struggle a little bit for pace, whether that is mode changing or straight line or consistency. They just bleed a few miles and then suddenly fall behind and 8 miles becomes 10 and 10 becomes 20 and then you are at the back and it is in the lap of the Gods as to whether or not you can catch up again. I suspect it is nothing major, just a few little things."
While the racing has been close so far in this Volvo Ocean Race, Walker observes that in fact to date, despite the new one design, there haven't been finishes as close as ther were in the last race between the VO70s, such as Telefonica and Camper's arrival into the Maldives, or the fleet's finishes into Auckland and Marstrand. "What is different this time is the gap between first and last is much reduced. Everyone is finishing on the same day whereas before they were often three days apart."
As mentioned, we think fliers will become more prevalent later in the race when teams at the bottom of the pile have nothing to lose and everything to gain. However Walker points out that Abu Dhabi Ocean Racing split from the pack – and in particular Dongfeng - on the first leg when they and Brunel gybed west, leaving the Cape Verdes to port, while Caudrelier's team sailed through the African island group. "That won us the leg. We were next to Dongfeng, then us and Brunel went west of the Cape Verdes and we came out ahead of them. That is the closest we've come to a big decision rather than continuing on along either side of the group. So the interesting thing will be who dares to go with their convictions and separate from the group and when and whether they are right or not.
"There are still a lot of unanswered questions and my own personal feeling is that you are never that far from having a bad result or a breakage or something. Every leg we can cross off finishing in the top three and avoiding that has got to be good at this stage, and then the race will be won in the Atlantic where half the points are.
"If you think about it – we are three legs in and Vestas is out, SCA is clearly struggling, MAPFRE has had three disappointing results. Alvimedica is improving – so that is a lot of 'carnage', if you like, in just three legs. Maybe it will be us who trips up next…. I still see it a bit like an Olympic regatta, where you need to try not to lose the regatta in the first half of the races and then you try and win it in the back end. So you might get into the Atlantic, and change your risk management slightly."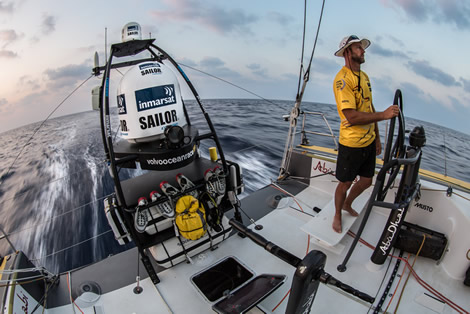 Back to top
Back to top