The hard miles
Thursday February 5th 2015, Author:
Helen Fretter
, Location: none selected
To sail 15,000 miles around the Southern Ocean is a marathon achievement, and five weeks after they set off, the seven teams in the Barcelona World Race are acutely aware of the fact that they are not yet halfway. After the survival conditions of the low pressure system which threatened the leaders, and the hair-wrenchingly frustrating light winds which ensnared GAES Centros Auditivos, the Indian Ocean is now testing the 14 skippers' patience.
Cheminées Poujoulat was this morning sailing at 18 or 19 knots in 30 knot northwesterlies. Conditions have eased a couple of knots this afternoon, but look set to build back up to around 28-30 knots for their final push to the second 'Great Cape', Cape Leeuwin on the southwestern tip of Australia, about 350 miles away. Bernard Stamm and Jean Le Cam are expected to pass to the south the Cape tomorrow morning. Second-placed Neutrogena is shadowing the leaders at around 180 miles to the west, in slightly more westerly pressure.
Image below (click to enlarge) courtesy of Expedition and Predictwind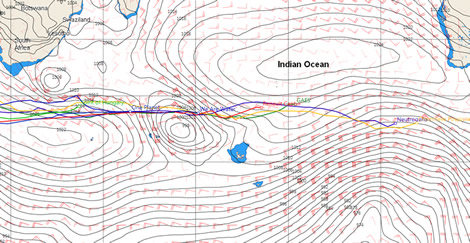 Weight lifting
For GAES Centros Auditivos and Renault Captur it has been a particularly demanding 48 hours, with both boats putting in an intense series of gybes in 25 knot westerlies.
GAES' Gerard Marín reported: "Honestly, it is so much better [to be back in strong winds]. We are calmer, more relaxed. We are sailing fast and well and we have pressure right behind us, so we are moving quite quickly. Things have changed a lot.
"The regatta is very long and there are all kind of situations, both good ones and bad ones, and you need to accept that. Nowadays, what we have to do is start moving faster again, try to attack the ones in front of us and keep control of Renault Captur, who is not very far from us. But we are confident and if we sail correctly, we will keep going on.
"In a calm zone, obviously, you can rest as much as you want. In the last 24 hours we had strong winds and we could start moving faster and that's a little stressful and we are hanging onto a bit of fatigue. I suppose that we will slowly get used to that rhythm and we expect it to not decrease. That's our job from now on.
"We have always said that all we want to do is sail a smart and conservative regatta. The leaders are very good sailors, they are 1,000 miles in front of us and catching them would be very difficult. They are sailing very well, they are better than us and if we want to reach them we would have to force the boat, possibly breaking it. Looking behind? That doesn't concern us. I believe that if we sail as we have done it before; the ones who are behind us [Renault Captur] will not reach us. It would be very different if we had bad luck with a leg, we broke something or something unusual happens. But in that sense we are not worried."
GAES' nearest rivals, fourth-placed Renault Captur around 300 miles behind, is also locked into a punishing series of manoeuvres.

Sebastien Audigane last night explained why the gybe was so demanding on a two-handed IMOCA 60: "I offer a brief explanation of how to gybe (or jibe) on an IMOCA 60: "First, be sure that it's worth it because the manoeuvre is hard work. Then, starting with the stack, i.e. shifting from left to right (or vice versa) all the stored gear: the sails, tools and spare parts, the personal kit, the food in 15kg bags (15 bags of it); a total of some 500kg all-inclusive. Obviously downwind you have to keep the bags and sails at the back of the boat, in the bowels of Renault Captur, to prevent the boat from nose-diving into the waves. So, to be well organised, you can first count on doing a quarter of an hour of weight training.
"Oh yes, I forgot, before you start, take off your waterproofs, polar layers and other warm gear. At the end of this stacking session, a quick refreshment and then it's time to start again on the preparation of the cockpit: Bring the mainsail almost in line (with the wind), ease the traveller, centre the mast rotation, prepare the new windward running backstay in the wind.
"So, it's ready. We get into position – one at the helm, and the other ready to trim at the pedestal grinder.
"Ready? Here we go: disconnect the autopilot and bear off to 150° downwind; re-check everything out of the corner of my eye and centre the keel; bear off, and at the same time ease the gennaker sheet, allowing the sail to go to leeward as fast as possible; push the wheel over (if possible while catching a surfing wave) and stay in the downwind axis, balanced to give the mainsail time to cross from one side to the other. Then trim on the gennaker; ease the mainsail; sheet in the running backstay hard for power. Then reconnect the auto-pilot; go to the pedestal winch to finish sheeting in the gennaker; then put the keel back to the windward side; tidy up the cockpit; trim the sails for the right heading; grab the helm and get ready to go! All in all it's 30 minutes for the manoevure. This is competitive, but very good!"
The upwind slog
Fifth-placed We Are Water was this morning benefitting from some of the most stable conditions on the course, reaching in 18-20 knot northwesterlies.
Bruno Garcia reported: "Today the boat is shaking again but we have had two days of truce, all quiet but fine. The truth is we had time to fix everything on board and we are gaining m iles step by step.
"The next days we will, basically, have to deal with an active front from now and for the next 24 hours, because we are in the pre-frontal zone and we have some movement. The front is moving more than expected so it will be entertaining: a lot of wind, a lot of sea (waves) but I'm not complaining because although it's upwind at least we will cover a lot of miles with it.
"Every single day and night my brother is here with me and I feel like I have a companion. The truth is we are enjoying it and discovering a lot of new things. The relationship with my brother, who is a friend, is now a super-friend… we are having a good time!
"The truth is that with Willy we've done a lot of things together but lately we've been doing more in the mountains than at sea, and now we reunited at sea. We have a similar way of thinking. We do very fluid manoeuvres. We share the tasks naturally. He is more agile, he is younger and I'm older and so... We distribute the tasks like this. Even more, I'm surprised about how well we understand each other!"
One Planet One Ocean Pharmaton and Spirit of Hungary have spent much of the past 24 hours beating their way upwind. After a brief respite with some southerlies this morning, Didac Costa and Aleix Gelabert on One Planet One Ocean looked set to face more southeasterly headwinds and 4m waves this evening, while Spirit of Hungary has experienced near-constant 18-20 knot easterlies, giving Nandor Fa and Conrad Colman more challenges to try their patience and boat maintenance skills.
Colman reported: "We are currently bouncing our way over a lumpy sea upwind with fluky unstable winds, which is about as fast and exciting as being pulled down a bumpy cart track by a lame mule. Spirit of Hungary is enjoying the conditions almost as much as we are, banging on every wave and dipping the side of the deck in the water in the occasional gust.
"We did have one moment of excitement when a larger thump sent the boat rearing into a confused and unexpected tack. With the keel and ballast and all the material inside stacked to one side to improve our performance the boat wallowed drunkenly with the sails pushing on the wrong side and heeled over dramatically.
"I eased the sails and put on the other backstay to secure the mast and eventually got us on our way again, but discovered that the wind information was al l screwy. The thumping had flicked one set of wind instruments off the mast, leaving us with just the one backup for the rest of the way around the world!
"Between Nandor and I, one crew is always regulating the power in the boat with a ready hand on the traveller but this still allows the other to catch up on sleep or domestic pleasures. I took a sponge bath in the relative warmth of the day and I am reading Robert Louis Stevenson's account of cruising amongst the coral islands in the tropical Pacific. Oh, my kingdom for a coconut!"
Positions at 1400 UTC
1. Cheminées Poujoulat (B. Stamm - J. Le Cam) at 13,914.0 miles to the finish
2. Neutrogena (G. Altadill - J. Muñoz) + 189.5 miles to the leader
3. GAES Centros Auditivos (A. Corbella - G. Marín) + 1,145.2 miles to the leader
4. Renault Captur (J. Riechers - S. Audigane) + 1432.7 miles to the leader
5. We Are Water (B. Garcia - W. Garcia) + 2,014.5 miles to the leader
6. One Planet, One Ocean & Pharmaton (A. Gelabert - D. Costa) + 2,660.1 miles to the leader
7. Spirit of Hungary (N. Fa - C. Colman) + 3,126.6 miles to the leader
ABD Hugo Boss (A. Thomson - P. Ribes)
Back to top
Back to top