Leaders split
Tuesday January 20th 2015, Author:
James Boyd
, Location: none selected
Yesterday conditions were looking evil for the frontrunners in the Barcelona World Race with areas of high pressure blocking their path to the Southern Ocean to the southeast, south and southwest. Fortunately a reprieve has been granted with the arrival of their first Southern Ocean depression, delivering a welcome band of pre-frontal northwesterlies and with it an open door to the Roaring Forties.
Despite having stuck together like glue for most of the passage south down the Atlantic, yesterday morning finally split gybes. Both boats by this stage had turned their bows east, completing their detour around the western side of the St Helena High, but at around 0900 UTC Guillermo Altadill and Jose Munoz on board Neutrogena opted to gybe south in order to get into the strongest breeze ahead of the front the fastest, while the wily Bernard Stamm and Jean le Cam on Cheminees Poujoulat, opted to hold their easterly course, which Stamm yesterday explained was principally for reasons of boat preservation.
Positions at 0830 UTC

Pos
Boat/crew
Lat
Long
Spd
Crs
Spd2
Dist
DTF
DTL
30 min av
24 hour av
1
Cheminées Poujoulat
Bernard Stamm / Jean Le Cam
34°40.99'S
18°13.55'W
16.5
93°
16.4
393.6
19452.3
0
2
Neutrogena
Guillermo Altadill / José Muñoz
39°05.50'S
24°33.91'W
20.7
128°
12.3
295.3
19607.1
154.8
3
GAES Centros Auditivos
Anna Corbella / Gerard Marín
35°03.74'S
24°10.49'W
11.7
145°
10.2
245.3
19698.1
245.8
4
Renault Captur
Jörg Riechers / Sébastien Audigane
27°11.97'S
26°42.19'W
6.9
137°
7.5
181.2
20061.8
609.5
5
We Are Water
Bruno Garcia / Willy Garcia
26°30.00'S
32°12.85'W
9.4
152°
8.3
198.5
20324.7
872.5
6
One Planet, One Ocean / Pharmaton
Aleix Gelabert / Dídac Costa
24°09.51'S
35°35.73'W
10.2
178°
10.8
258.4
20555.9
1103.6
7
Spirit of Hungary
Nandor Fa / Conrad Colman
13°48.47'S
31°22.26'W
15
197°
12.8
306.1
20769.4
1317.1
RET
Hugo Boss
Alex Thomson / Pepe Ribes
Image below (click to enlarge) courtesy of Expedition and Predictwind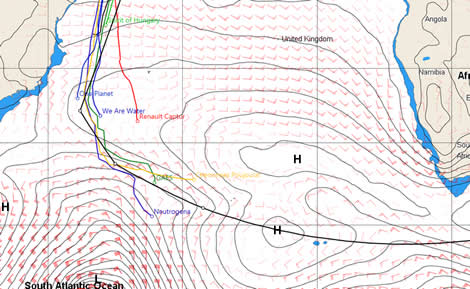 At the latest sched there is now 400 miles of separation between the two leaders but with Neutrogena into serious pressure and making 20 knots, some four knots faster than her rival. However by virtue of being further east and further down the race track it is Cheminees Poujoulat that holds a lead of 154 miles.
Looking ahead Neutrogena's crew is keeping the pedal to the metal in order to stay ahead of the front for longest for when the front passes the wind will back into west or WSW, the wind shift creating a confused sea that will damage the boat if they remain pressed. To achieve maximum time ahead of the front they will probably gybe back to the east. If the forecast is accurate, Cheminees Poujoulat's crew see the breeze building this morning and by being further north and west they will be able to stay ahead of the front for longer. However the easterly strategy, while conservative, isn't looking that fast come Thursday-Friday when their corridor of favourable northwesterly becomes compacted on either side by high pressure.
Meanwhile the mid-fleet and backmarkers are desperately hoping to get south before an area of high pressure, currently forming over Argentina drifted east out on the race course potentially blocking their path this weekend.
Conrad Colman reports from Spirit of Hungary (currently off Salvador de Bahia)

Day 20. Position: in the South Atlantic, lattitude of the Brasilian State of Sergipe. Heading 198°.Speed, 14,3 knots.
Here its just crazy crazy hot, but I know that I won't get much sympathy from my friends in northern hemisphere who are still settling in for a long winter. Now that we are well and truly in the southern hemisphere we have the sun directly over head and its power is frightening. I have had to put on shoes to walk on the deck because I was at risk of blistering the soles of my feet and we need to be delicate where we sit to steer the boat otherwise we'll do likewise with our behinds! The regular dousings on the foredeck as we change from the J1 big jib to the Code 0 reaching sail are a cooling relief.
These sail changes are sporty affairs, even for the drops. Imagine doing the foxtrot with a wriggling python, as thick as your thigh and 30 metres long and heavier than you are while dancing on a blistering hot, slippery foredeck that is tilted at 10 to 20 degrees and you have some idea of what we go through several times per day. Outside of these jousting sessions our days are rather calm at the moment and I have taken to doing squats, push ups and sit ups during the night watches to stay limber for the coming excercise in the rougher southern legs but also to make sure I can still walk in April when the race stops. We are almost constantly in motion but never leave the confines of our 60 foot fenced in paradise so "strolling" is not really a thing we do currently. As I might have previously mentioned, I am participating in a medical study with the race hospital about the long term effects of stress, sleep deprivation and the physical toll of ocean racing. The theory is that in the first few weeks of intense activity we should thin out, dropping fat, but after a month or so this should stop and maybe reverse as the body realises that its fighting for the long haul.

I am measuring fat at the hip every week with a pair of special pliers and will let you know if sailing around the world is a valid alternative to Weight Watchers!
The other side of the equation is of course, food! Before leaving Clara prepared a small plastic bag with a calculated measure of calories to be eaten each day. This is comprised by two freeze dried meals, three for the south, breakfast cereal, museli bars and some chocolate if its a good day. Futhermore, we looked at where the hot and cold zones are during the race and as such I am eating taboule and lighter dishes now and will be fortified by stews and curries when the mercury drops. All of these day bags, 99 in all, are packed up in 100% waterproof bags by Overboard, a requirement on board for when wet sails and wet gear, to say nothing of driving spray, can bring significant wetness into our living spaces.
Back to top
Back to top