Into the Strait of Malacca
Monday January 19th 2015, Author:
James Boyd
, Location: none selected
Having ticked 'Bay of Bengal' off their list, the Volvo Ocean Race boats have now entered the Strait of Malacca between the Malay Peninsula and the Indonesian island of Sumatra.
Perennial leader of this leg, Dongfeng Race Team passed the Pula u We turning mark off Sumatra's northernmost tip at around 0300 on Sunday morning, followed by second placed MAPFRE around nine hours later, the boats having spent Saturday night on the wind, the breeze piping up to 20 knots as they approached the Indonesian island. At the time the mid-fleet remained impressively close with just 11 miles separating MAPFRE from fifth placed Team Alvimedica, with Team SCA bringing up the rear, back to being 23 miles astern of the US-Turkish VO65. All of the boats took a long unfavourable starboard tack northeast into the Strait before tacking back, virtually in unison at around 2200 UTC last night.
Images below (click to enlarge) courtesy of Expedition and Predictwind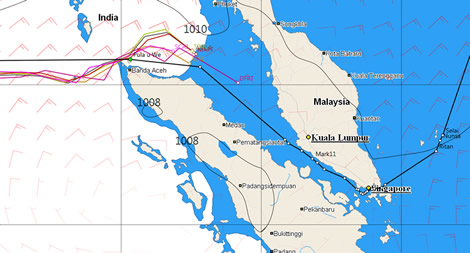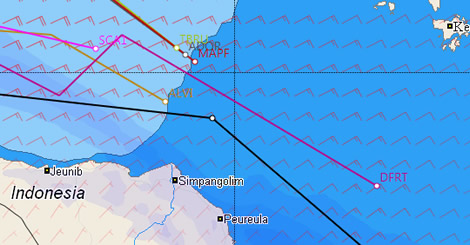 This morning the wind remains in the ENE. Following the manoeuvring of the last 24 hours Dongfeng has done an impressive job in adding yet more miles to her lead - up from around 66 to 106 at the latest sched. In the context of the one design racing in this Volvo Ocean Race, this could now be counted as a 'comfortable' lead, even though there still remains 1500 miles of tricky sailing to be done.
While in recent years the focus of piracy has been on Somalia, before this, the Strait of Malacca was the world's no1 piracy hotspot, with 150 attacks taking place on ships in 2003. However since then increased policing on the Strait has substantially reduced this number.
Matt Knighton reports from Abu Dhabi Ocean Racing:
Jumping up on deck at dusk last night, to our left [right???!] was the lush mountainous coastline of Indonesia and to our right [left???] Brunel and Alvimedica were small silhouettes, outlined by the setting sun. The red of MAPFRE's main was getting brighter in front of us as we all set up to tack around the tip of Sumatra.
You could see the tidal currents moving between the Bay of Bengal and the Malacca Straight in the water as if they were drawn on a map. All nine of us were on deck as an awesome tacking duel began to unfold through the black lumps of islands dotting the horizon.
Playing the currents, it was extremely difficult timing tacks along the coast, even going 30 seconds too late sometimes meant you'd be headed by 10° and loose mileage to the boats in front and behind.
After several hours we finally found ourselves in a 'Mexican Standoff' with Brunel and MAPFRE – that classic scene from the movies where everyone is pointing a gun at everyone else, waiting for someone to flinch first. All of us had been on a tack northeast, waiting to see who would turn down the Straight first; the thought being that the rest of the boats would simply tack under them and gain. We waited nervously. We desperately wanted to start sailing down the course to maximize the predicted wind angles but would we have to go first?
Finally we got a break. Up on deck we saw Brunel stuck under a cloud sailing at 2.2 knots and took advantage of the moment – we tacked first. They tried as hard as they could but didn't have the speed to keep up.
The range between us opened rapidly. The real win will be in a few days: if we can exit the Straights with the same luck we entered them with.
Francesco Vignale reports from MAPFRE:
It's great to be sailing between the islands here, like Sumatra. I never imagined I'd ever sail here, I only ever saw this place in epic surfing videos. It's an enormous satisfaction to see the scenery here and actually realizing that this place exists for real, a place so far I had only seen on TV!
We got here without any major issues and got quite close to the shore so as to be able to make the most out of the wind and to make the right tacks.
We spent around 15 hours on deck tacking and making strategical decisions, which left us in a good spot as to head south east through the waters between Indonesia and Malaysia.
We decided to head north at the entrance of the Strait for we saw there was more wind in that area. The fleet stuck together and tacked one after the other. Alvimedica was the only boat that dared to make a move and got in the channel ahead of us. Let's hope it doesn't work as they expect for that could help them pass us.
The sea traffic isn't as heavy as it'll be in the near future. We see cargo far away, but nothing we need to worry about, or which we need to be over attentive to. There's always someone at the navigation desk looking at the AIS and watchfully looking at any ship which could get in our way.
Right now we are broad reaching on our J1 and doing 15 knots, heading towards the exclusion zone.
"A podium finish in this leg would be really important. We won't let our position slip away and keep our eyes on Dongfeng," says Xabi Fernández.
A good breeze, a bit of spray, a cup of coffee every once in a while, chit-chat about what we'll do when we get to China, and the food we'll eat there.
From somewhere I only dared to dream about some time ago, we greet you all and wish you a great week!
If you think it's going to be hard, just pay attention to ours. The leg will be decided here, and in front of us lays quite a busy exclusion zone with lots of dangers
Amory Ross reports from Team Alvimedica:
It seems at least a little ironic that our first day in the AIS-hectic Malacca Strait is the first day of this leg we break from convention and consciously sever our own AIS dependencies; we've split with the fleet and can no longer see the competition on the computer.
It is as much a belief in the early game plan as it is a bit of good fortune from a beneficial wind shift last night that was too good to pass up.
For the time being we're enjoying the risks of sailing alone. The potential gains are exciting, but equally as rewarding is the concept of pushing hard in a direction of your choice, of having the confidence to 'break trail'.
Of trusting your boatspeed and of being rewarded - even if only for a few skeds — for the extra work everyone's been putting in. It's energizing and makes the trip south to Singapore, rife with obstacles and hurdles, less chore and more opportunity.
We sense we're fast upwind and if we can get to Singapore near the front of the fleet, in the words of Alberto- the feelings are good - for the remaining leg north to Sanya.
There is very little wind in the middle of the Strait and we'll probably stick to the sides where more predictable sea and land breezes reside. All bets are off at night though as thunderstorms intrude on the instability.
The fleet could stay separated to opposite coasts at which point progress becomes tough to judge until Singapore, or we may well end up on top of each other again—as per the usual. If there's one thing this race has shown thus far it's that navigators are happier sailing as a pack, and as much as we're willingly parting with that tradition, the others may be focused on minimizing our new leverage.
Suddenly the six hours between skeds feels like a very long time. Exciting!
Back to top
Back to top