Eating up the miles
Wednesday January 14th 2015, Author:
James Boyd
, Location: none selected
Having passed Recife, the easternmost tip of Brazil, early afternoon yesterday, the Barcelona World Race frontrunners are this morning approaching the latitude of Salvador de Bahia, for many years the familiar Brazilian finish port of the Transat Jacques Vabre. Now that the northeasterly trades have kicked in properly, boat speeds are good, with Hugo Boss sailing in slightly more pressure and averaging about 1.5 knots more than both Neutrogena and Cheminees Poujoulat who, since exiting the Doldrums have been holding a position further west than the race leader. At present there is around 65 miles separating the tracks of Hugo Boss from the chasing pair.
Thanks to the westerly position of the St Helena High, the frontrunners are having to sail a more westerly route through the South Atlantic than their crews would prefer and this will add many miles to their route. Because they are currently sailing more or less 90° off course, the official leaderboard is all skewed and in fact Alex Thomson and Pepe Ribes on Hugo Boss hold a 60 mile lead over their 5 West team mate Neutrogena, sailed by Guillermo Altadill and Jose Munoz, which is in turn just eight miles ahead of Cheminees Poujoulat, being sailed by ol' timers Bernard Stamm and Jean le Cam. Fourth placed GAES Centros Auditivos is a further 60 miles astern in fourth, but is 'technically' second by virtue of her being further east.
The circuitous lap of the South Atlantic is a necessary evil to avoid the light winds in the high. At present it looks like the front runners still have around 900 miles to sail before the crews can even think about putting any east into their respective headings, by which time they will be some 400 miles southeast of Rio. Unfortunately by then (Friday night) high appears to have developed two distinct centres, one to the east of the boats and another due south of it. Fortunately the latter is due to slink off to the southeast by Saturday morning, seen off by the next Southern Ocean front coming through, and - assuming the forecast is accurate - this will enable the front runners to turn the corner finally.
This scenario may offer some reprieve for those behind who may find themselves able to take shorter route through the South Atlantic, depending on how the high pressure is positioned next week.
Image below (click to enlarge) courtesy of Expedition and Predictwind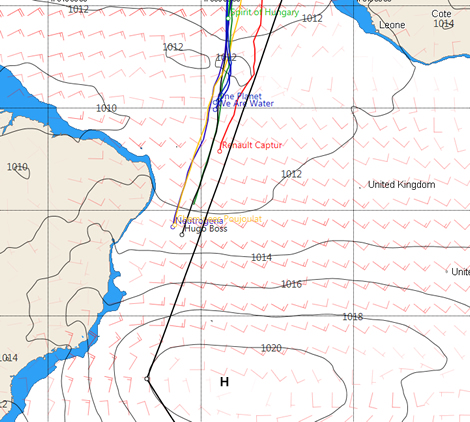 Back to top
Back to top