Hugo Boss breaks east
Tuesday January 6th 2015, Author:
James Boyd
, Location: none selected
Image above courtesy of Expedition and Predictwind
The Barcelona World Race boats are now into the Trade Winds and at present the crew are showing their hands as to their various strategies to go around or through the Canary Islands.
While the majority have chosen the passage between Lanzarote and Gran Canaria, Hugo Boss yesterday evening split gybes from GAES Centros Auditivos and their team mates on Neutrogena, the British IMOCA 60 heading south on port gybe, while their rivals continued southwest on starboard. Despite putting in a short hitch to the west shortly after midnight, Hugo Boss then returned to plan A and is alone in leaving Lanzarote to starboard.
Alex Thomson and Pepe Ribes' tactics have paid off. At the 0400 sched this morning Hugo Boss had extended her lead to 13 miles and at the latest update (0900 UTC) this has further increased to 26 miles. Clearly Hugo Boss has found better or more regular pressure to the east of Lanzarote, however GAES, Neutrogena, followed by Cheminees Poujoulat are soon to see the breeze substantially increase as they enter 'the acceleration zone', with the trade winds funnelling between the islands.
Taking this route seems to be something of an about turn for Bernard Stamm and Jean le Cam on Cheminees Poujoulat - until yesterday evening they were the most westerly boat and looked like they were aiming to leave all the Canary Islands to port, however at around 2300 they gybed back to the south, presumably wanting to 'stay with the pack', falling in behind GAES and Neutrogena.
It will be interesting to see how the dice fall over the next 24 hours or so. For although it is tempting to sail through the islands, the wind shadow of the mountainous Canaries can extend a long way down the course. So if the Hugo Boss is able to remain east, then she should be able to avoid this more than those that have chosen to sail through the islands.
Thankfully the northwesterly Trade winds are forecast to fill in across the race course, which will be welcome news for Nandor Fa and Conrad Coleman on tailender Spirit of Hungary which, already 569 miles off the lead, has only just managed to crawl out of the Med.
Positions at 0900 UTC
Pos
Boat/crew
Lat
Long
Crs
Spd
Crs2
Spd3
Dist
DTF
DTL
30 mins
24 hrs
1
Hugo Boss
Alex Thomson / Pepe Ribes
27°55.91'N
13°39.14'W
205°
16.1
195°
10.2
244.1
22297.2
0
2
GAES Centros Auditivos
Anna Corbella / Gerard Marín
28°42.86'N
14°29.90'W
199°
14.5
207°
9.3
223.7
22323.3
26
3
Neutrogena
Guillermo Altadill / José Muñoz
28°43.33'N
14°16.73'W
211°
14.5
207°
8.9
212.7
22327.5
30.3
4
Cheminées Poujoulat
Bernard Stamm / Jean Le Cam
29°06.10'N
14°30.19'W
201°
15
201°
8.9
213
22345.3
48.1
5
Renault Captur
Jörg Riechers / Sébastien Audigane
30°05.03'N
14°25.61'W
200°
12.4
215°
7.9
188.7
22402.9
105.7
6
One Planet, One Ocean / Pharmaton
Aleix Gelabert / Dídac Costa
31°00.44'N
14°35.19'W
185°
11.4
222°
7.4
177.6
22454.4
157.2
7
We Are Water
Bruno Garcia / Willy Garcia
31°32.21'N
11°57.95'W
237°
11.3
218°
9.1
218.7
22530.2
233
8
Spirit of Hungary
Nandor Fa / Conrad Colman
35°22.27'N
06°40.14'W
253°
1.3
247°
3.4
81.3
22866.3
569.1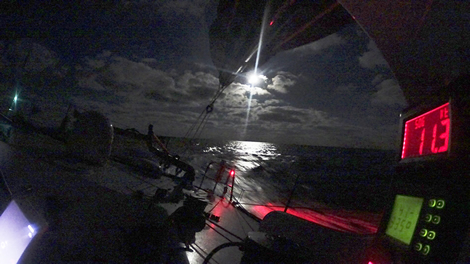 Back to top
Back to top