Barcelona World Race - runners and riders
| | | | | |
| --- | --- | --- | --- | --- |
| Boat | Skipper 1 | Skipper 2 | Formerly known as… | Designer |
| Hugo Boss | Alex Thomson (GBR) | Pepe Ribes (ESP) | ex Virbac Paprec 3 | VPLP-Verdier |
| Cheminees Poujoulat | Bernard Stamm (SUI) | Jean le Cam (FRA) | ex VG 2008 winner Foncia, then MAPFRE | Farr |
| Neutrogena | Guillermo Altadill (ESP) | Jose Munoz (CHI) | ex BT, Veolia Environnement, Hugo Boss | Farr |
| Renault Captur | Jörg Reichers (GER) | Sebastien Audigane (FRA) | ex Britair, ex Votre Nom | Finot |
| Spirit of Hungary | Nandor Fa (HUN) | Conrad Colman (USA/NZ) | New | Fa |
| We Are Water | Bruno Garcia (ESP) | Willy Garcia (ESP) | ex Virbac Paprec 2, ex Estrella Damm | Farr |
| GAES Centros Auditivos | Anna Corbella (ESP) | Gerard Marin (ESP) | ex Gitana 80, ex Renault, Synerciel | Farr |
| One Planet, One Ocean & Pharmaton | Didac Costa (ESP) | Aleix Gelabert (ESP) | ex Kingfisher, Educacion Sin Fronteras, | Humphreys/Owen, etc |
Eight doublehanded IMOCA 60s will set off tomorrow to sail non-stop around the world on the Barcelona World Race. Compared to the Vendée Globe which regularly attracts fleets of more than 20 (the record to date was 30 boats in the 2008-9 race), the line-up is light, but is in fact similar in size to the IMOCA fleet in the Route du Rhum. The Route du Rhum ranks alongside the Vendée Globe as France's premier offshore event, and yet only nine IMOCA 60s competed in this autumn's event.
Credit deserves to be given to the Barcelona World Race's organisers and hosts, the Fundació Navegació Oceànica Barcelona (FNOB), as in cash-strapped Spain, it seems a miracle that a race like this can take place at all. But despite it being a most worthy yacht race, this edition being its third running, plus it now being one of the two top events in the new IMOCA Ocean Masters World Championship, it has still yet to attract as powerful a line-up as the Vendée Globe. The consensus is that this is partly because it doesn't start and finish in France, but also because IMOCA teams typically haven't worked two round the world races per four year cycle into their budgets. It may also be because some skippers aren't keen to compete in a round the world race every two years or that most of the A-list IMOCA teams are up to their ears at present (and as they always are at this stage of the IMOCA four year cycle) developing their new boats, which are all due for launch between the spring and summer of 2015.
However it may also be indicative that IMOCA and its Sir Keith Mills-owned marketing and sponsorship wing, OSM, have some way to go to entice IMOCA 60 teams to compete on the IMOCA Ocean Masters World Championship circuit in its entirety, rather than considering their waterborne efforts as Vendée Globe campaigns, preceded by a number of training events.
Also to be commended is the large number of nationalities featuring in this year's race: the 16 sailors herald from eight countries, with the majority from Spain, but also including Hungary and Chile.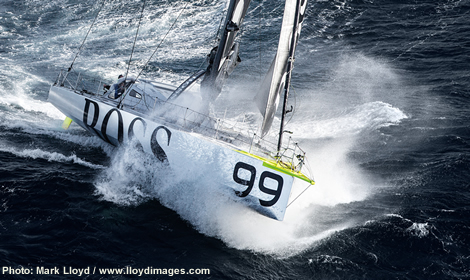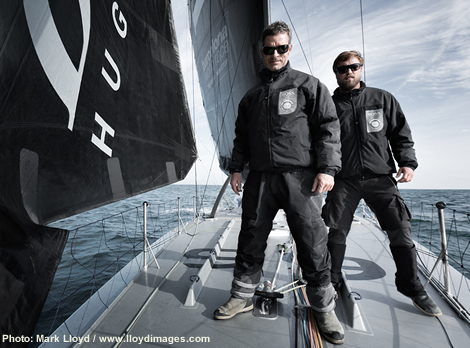 Favourite for this year's Barcelona World Race is Alex Thomson and Pepe Ribes on board the silver-hulled Hugo Boss. Hugo Boss won the doublehanded IMOCA Ocean Masters New York to Barcelona Race earlier this year (but with Ryan Breymaier standing in for Thomson, the race coincided with the arrival of his second child) and the VPLP-Verdier design is also the only last generation (ie built for the last Vendée Globe) boat in the fleet. The boat also comes with good credentials for this race as it is the former Virbac Paprec 3, winner of the 2010-11 Barcelona World Race when it was sailed by two time winner Jean-Pierre Dick and the eminent Loick Peyron.
Personally Thomson scored his best ever result in an IMOCA race when he and Andrew Cape finished second in the 2007 Barcelona World Race. Having been in the IMOCA class for more than a decade Gosport-based Alex Thomson Racing (ATR), which runs the Hugo Boss campaign, is now one of the longest standing teams in the IMOCA class and also one of the most experienced, even though this has all-too-frequently come about as a result of recovering from disaster. Nonetheless Thomson came good in the last Vendée Globe when he finished on the podium, beating several skippers racing newer generation boats. ATR acquired its latest Hugo Boss (its fourth…) this spring and Ribes – a four time Volvo Ocean Race competitor, who finished the last Barcelona World Race in fourth place (on Estrella Damm with Alex Pella) - and Thomson have enjoyed more time to train and develop their boat than most of the other teams.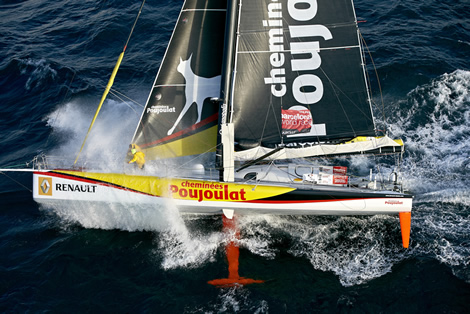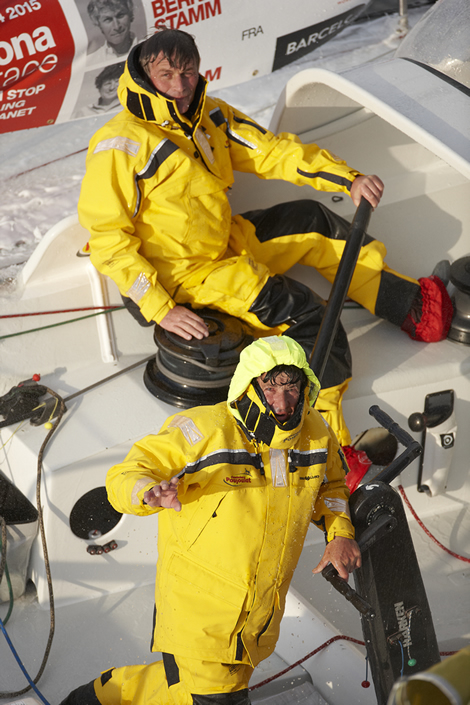 Behind Hugo Boss will be one of three 'generation before last' IMOCA 60s. The favourite among these must be solo offshore racing legends Bernard Stamm and Jean le Cam, aboard the latter's Cheminees Poujoulat. Readers will remember that Stamm had a particularly loathsome experience with his last IMOCA 60, a Juan K design. First, the boat all but sank when it was holed and subsequently abandoned and recovered during the 2011 Transat Jacques Vabre. Then it suffered further catastrophe when it snapped in two while in the Western Approaches amid heinous conditions on a return delivery from the finish of the 2013 TJV. After several failed rescue attempts - which saw the crew take to the liferaft, only to then have to try and return to Cheminees Poujoulat's broken hull and another attempt when Stamm ended up in the water, he and crew Damien Guillou were eventually picked up by a Norwegian cargo ship (read a fuller account of this harrowing tale from the high seas here).
While bits of that Cheminées Poujoulat were recovered, it is a complete write-off. So for this race, Stamm has the boat that as Foncia originally won the 2008-9 Vendée Globe in the hands of Michel Desjoyeaux, then as MAPFRE was raced by Iker Martinez and Xabi Fernandez to second place in the last BWR before becoming Jeremie Beyou's Maitre Coq for the last Vendée. Following Beyou's tenure the boat was acquired in 2013 by German Jörg Riechers' mare team and its proprietor publisher, Nikolaus Gelpke, until Gelpke pulled the plug on the entire campaign earlier this year. For the Barcelona World Race, the boat has been chartered from Gelpke.
Surprisingly, the boat is a sistership to no less than three other boats in the race, all Farr Yacht Design boats built for the 2008 Vendée Globe. These boats were typically prone to being a bit bow down, and so some feature 'reaching strakes', simply box sections that were laminated around the bow just above the waterline in an attempt to reduce this effect. However among these boats, Cheminées Poujoulat is unique in having had a new bow section fitted to her, featuring greater volume and more buoyancy up forward. Given this and the calibre of her crew, Cheminées Poujoulat is a reasonably firm favourite for second place.
While this is Bernard Stamm's first Barcelona World Race, for his co-skipper, three time Solitaire du Figaro winner Jean le Cam, it is unfinished business – sailing President (previously Mike Golding's Ecover) with Willy Garcia in the last race, they dismasted close to the Cape Verde islands.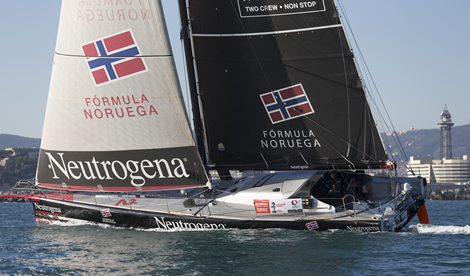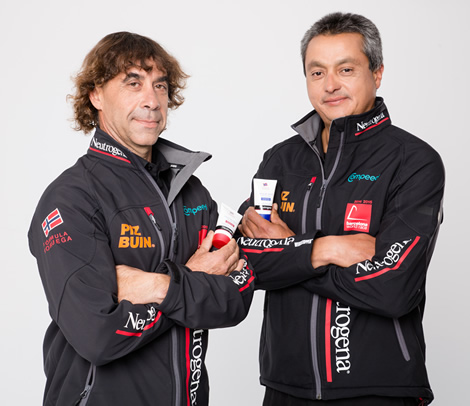 They will face strong competition from Spanish round the world legend Guillermo Altadill and the IMOCA class' first Chilean sailor Jose Munoz (who previously sailed a Class40 round the world in the Portmao Global Ocean Race). Their campaign is backed by one of several FNOB sponsor, Neutrogena (Boris Herrmann and Ryan Breymaier sailed a Neutrogena boat to fifth place in the last BWR), but on this occasion it is being run by Alex Thomson Racing, with Altadill and Munoz sailing the ATR-owned boat that Alex Thomson raced to third place in the last Vendée Globe.
Their boat was originally OC-conceived, launched as Estrella Damm for the first Barcelona World Race when she was sailed by Altadill and American Jonathan McKee. While they had to retire, the boat went on to be sailed by Seb Josse in the 2008 Vendée Globe backed by BT and subsequently in the hands of Roland Jourdain as Veolia Environnement won the IMOCA class in the 2010 Route du Rhum.
Munoz may be something of an unknown quantity in European sailing circles, but he is one of Chile's foremost racing sailors and boat preparateurs, both for inshore and offshore campaigns. He and Altadill have also probably carried out more doublehanded training than most of the other teams having sailed together throughout the summer as well as in the IMOCA Ocean Masters New York to Barcelona Race.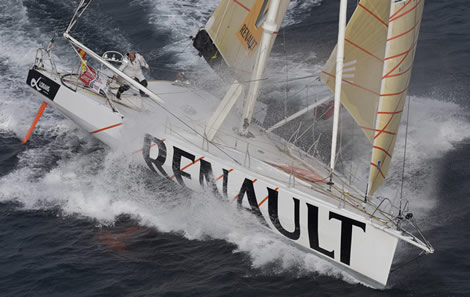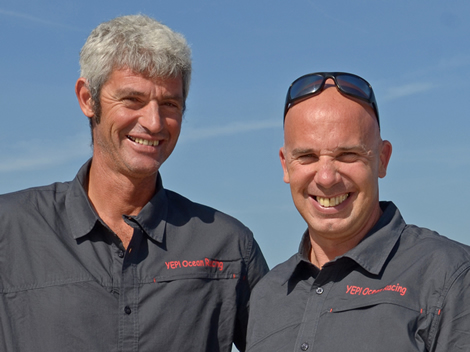 While German Jörg Riechers complex 'cross-platform' Mini-Class40-IMOCA 60 campaign with mare suffered a terminal blow when its proprietor Nikolaus Gelpke pulled the plug on it, Riechers had been booked in to do the Barcelona World Race in his build-up to the 2016 Vendée Globe. Because of this, with the help of the FNOB, he has been lined up with Renault, which backed Pachi Rivero and Antonio Piris' entry in the last race.
Aboard his Class 40, Reichers cleaned up in the Route du Chocolat in 2012 and is back with his doublehanded sailing partner, the highly experienced Frenchman Sebastien Audigane, who sailed the 2010 BWR as Kito de Pavant's co-skipper on Groupe Bel until they were forced to retire with keel damage.
It is perhaps odd that the IMOCA 60 Riechers planned to sail in this race is competing in other hands (as Cheminees Poujoulat), but he has managed to gain use of the 2008 generation Finot-Conq design that Armel le Cleac'h sailed to second place in the 2008 Vendee Globe in the colours of Brit Air. This boat was sailed by Bertrand de Broc in the last Vendee Globe as Votre Nom autour du Monde avec EDM Projets. De Broc campaigned the boat in this autumn's Route du Rhum, but had to retire when he was thrown over in the cockpit and damaged his elbow. This helped provide Riechers and Audigane with some welcome additional training time in the boat.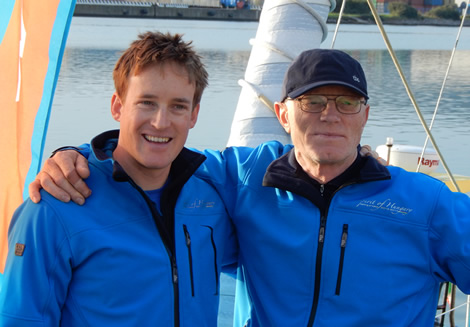 Something of an unknown quantity is Spirit of Hungary being sailed by Hungarian singlehanded round the world legend Nandor Fa, at 61 the oldest competitor on the race. One of the pioneers in the sport, Fa raced in the 1990-1 BOC Challenge and subsequently the 1992 and 1996 Vendée Globes and the launch of his new boat marks his return to the IMOCA class. Fa was supposed to be sailing with another Hungarian sailor, but when he pulled out, he was rapidly replaced by US-Kiwi sailor Conrad Coleman, who has already sailed around the world doublehanded previously when he won the 2011-12 Global Ocean Race aboard a Class40.
Spirit of Hungary is the first boat launched to the latest iteration of the IMOCA 60 rule. As with Fa's previous boats, it is largely to his own design, but on this occasion was built by Pauger Carbon in Hungary (which has built the RC44 fleet) and finished off by Fa. Sadly while it looks the part, the boat suffered considerable structural problems during the summer due to the wrong choice of foam core being used in the build. Originally due to compete in the New York to Barcelona Race in June, after being delivered to New York, Spirit of Hungary had to be shipped back to Europe and has since been back into Pauger to undergo the no small task of having a new core and outer skin fitted…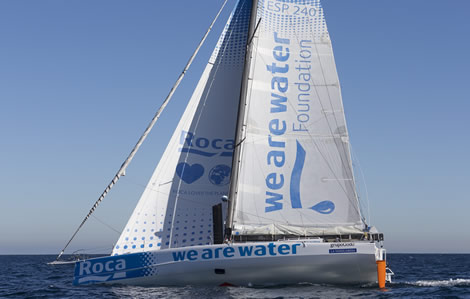 The third of the four Farr Yacht Design IMOCA 60s taking part is We Are Water, sailed by the Garcia brothers Bruno and Willy. The Garcias are real people with real jobs – Bruno is a cardiologist, Willy a jeweller. However both are also accomplished shorthanded offshore racers, having individually sailed the Mini Transat and raced together in the Transat AG2R in the early 1990s. Bruno also raced with Jean le Cam in the last BWR, until their yacht, President, dismasted.
The Garcias were the last to enter the Barcelona World Race and are supported by the We Are Water Foundation, once again a continuation on from the last race, when a boat bearing this name was sailed by Jaume Mumbru and Cali Sanmarti. They are racing the second former Jean-Pierre Dick IMOCA 60 in this race - the ex-Paprec-Virbac 2, winner of the first BWR, and sailed to fourth place in the second BWR by Alex Pella and Pepe Ribes in the colours of Estrella Damm.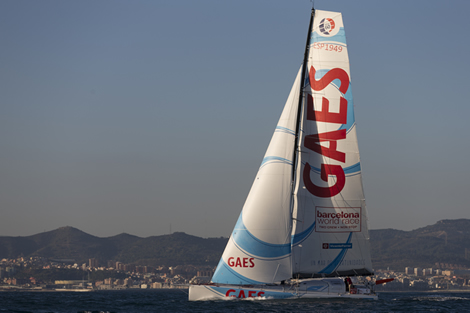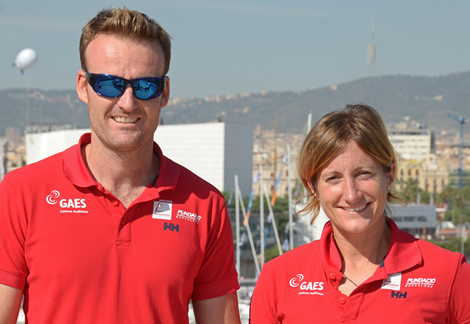 Along with Guillermo Altadill and Jose Munoz, the mixed Spanish crew of Anna Corbella and Gerard Marin are one of the most practiced in the BWR fleet. Both competed in the last race but on separate boats – Corbella, a former Mini sailor and the only woman taking part in this BWR, sailed with Dee Caffari aboard Caffari's former Aviva, backed by Corbella's present sponsor - GAES Centros Auditivos (which makes hearing aids…), a voyage that saw her become the first Spanish woman to sail around the world non-stop. Meanwhile Marin raced Fòrum Marítim Català with Ludovic Aglaor.
This time they are campaigned the much travelled IMOCA 60 that started life as Loick Peyron's Farr-designed 2008 Vendee Globe steed, Gitana 80. Subseequently Pachi Rivero and Toño Piris took the boat, rechristened Renault Z.E., to third place in the last BWR and it was subsequently campaigned as SynerCiel by Jean le Cam, who sailed her to fifth place in the last Vendee Globe.
Corbella and Marin have been training throughout the summer, including competing in the New York to Barcelona Race in June.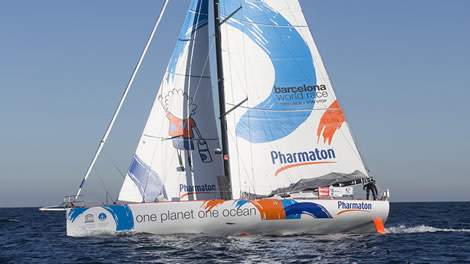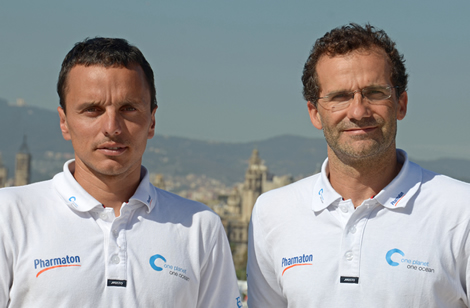 The old lady of the fleet is One Planet, One Ocean and Pharmaton, which once upon a time was Dame Ellen MacArthur's Kingfisher (2nd in the 2000 Vendee Globe and Route du Rhum winner in 2002). Somewhat long in the tooth now, this, the most successful of British IMOCA 60s, has since resided in Spain and has taken part in the last two Barcelona World Races, first as Educación Sin Fronteras sailed by Albert Bargués and Servane Escoffier and then with Gerard Marín and Ludovic Aglaor as Fòrum Marítim Català.
Conitnuing the FNOB tradition of getting new blood into the IMOCA class, she is being sailed on this occasion by Didac Costa, a fireman cum Mini Sailor, who achieved the top Spanish result in the Series class in the 2011 Mini Transat. His co-skipper Aleix Gelabert is an architect by professional and was the first Spanish skipper to finish the 2011 Mini Transat in the Proto class.
IMOCA 60 anoraks can check out our 'where are they now' article here
Back to top
Back to top