Rambler 88 to head for St Barths
Friday December 19th 2014, Author:
James Boyd
, Location: none selected
Following the recent launch of Rambler 88, owner George David is lining up to kick off the race program for his new maxi with Les Voiles de St. Barth to be held of 13-18 April 2015.
The former CEO of United Technologies, who vastly expanded that corporation's global footprint, David has made an equally world-class name for himself in the yacht racing world with his previous Ramblers (a 90 and a 100 footer), winning high-profile regattas and breaking, if not shattering, one prominent offshore race record after another: Rolex Buenos Aires to Rio (2008), RORC Caribbean 600 (2011), Newport to Bermuda Race (2012) and Block Island Race (2011 and again in 2013) included.
His latest Rambler 88 is soon to be undergoing first sea trials out of Newport, RI before heading south to being training properly in Florida.
David explains his program for 2015: "We're targeting the Transatlantic Race 2015 (for which Rambler 100 holds the record), but the RORC Caribbean 600 and Les Voiles de St Barth are right up there, too. said David when asked what events on Rambler 88's schedule would be most important. "Les Voiles de St Barth is a great venue and event. It starts with St. Barth and all that means, plus typically-solid sailing breezes that bend around the island and have their gusts and lulls. This is a regatta where you need to get in front and stay in front; it rewards those who can sail where they want."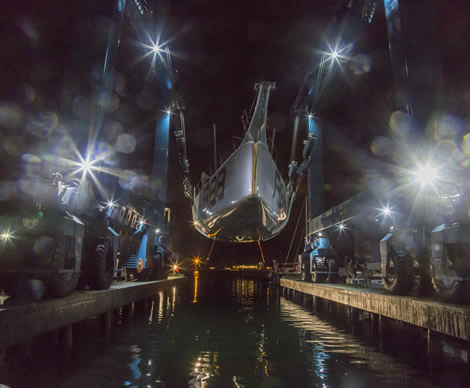 Back to top
Back to top