Indian Ocean salvage operation
Thursday December 18th 2014, Author:
James Boyd
, Location: none selected
Team Vestas Wind skipper Chris Nicholson is to return to the Cargados Carajos Shoals to attempt to recover his VO65 after it ran on to a reef there during the second leg of the Volvo Ocean Race nearly three weeks ago.
Nicholson flew in to Mauritius last night to join the team's Shore Manager Neil Cox, who is leading the salvage mission. Getting Team Vestas Wind off the reef will be no mean feat as after nearly three weeks of being ground against the colar, it is unclear at present whether the boat still has its keel attached and whether its rig is still standing.
"The ultimate plan, the gold-medal prize we're reaching for, is to get the boat buoyant enough to float across the lagoon to get it into more protected water," said Cox. "That would stop it disintegrating out on the reef, and, at the same time, once we get to the other side of the reef, gives us the chance to set it up in a controlled fashion to either be able to tow the boat back to Mauritius, or to use the derrick of the Maersk Line ship coming here on Monday to get it on board."
Cox, who has worked with Nicholson on two previous Volvo Ocean Race campaigns, added: "The race has taken me through some pretty bizarre scenarios, but I would say that this one is unique."
Nicholson and Cox set up the recovery operation in the Mauritian capital of Port Louis, liaising with local resources, chartering a boat they will use as a mother ship, getting all the necessary tools through customs and the permits to go back to the archipelago 430km away where the boat lies.
"We'll base ourselves on this mother ship, on the inside of the lagoon. It's on the leeward side of the reef and two and half miles away from the boat. The ship has the facilities for us to live onboard, because there is no way for us to stay on the island. We've also chartered local fishing boats to cross the lagoon everyday.
"It's a case of how structurally sound the boat is, and what we can utilise to get it buoyant again. And anything that floats, float tanks, buoyancy bags, you name it, is coming out with us. We want to bring as much of the boat back as possible. If anything can be recycled or used for a potential new boat, we have to do everything in our power to make that happen.
"The reality is, it's a very dangerous workplace we're going to. It doesn't have all the nice things we have in the stopovers. It's in the middle of the ocean. We're on our own and, while I'd avoid the cheap shark headlines, yes, there is a lot more activity (of sharks) on the reef at night time."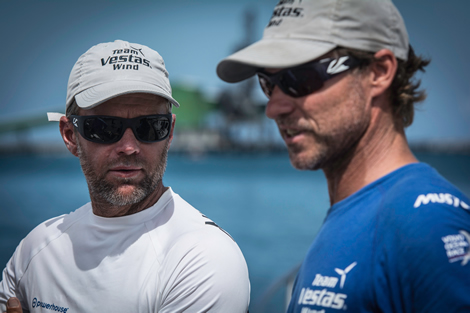 Back to top
Back to top