Stéphane Guilbaud jumps ship
Spindrift racing is restructuring and will now operate as two units: one focussing on sports performance, the other on company development. General management of Spindrift racing will now be the responsibility of Stéphane Guilbaud.
The 52-year-old Belgian is a huge name in elite professional sailing, having spent 18 years working behind the scenes as manager of Franck Cammas' campaigns, during which time Cammas has enjoyed numerous victories ranging from La Solitaire du Figaro to the ORMA 60 and Jules Verne Trophy to the Volvo Ocean Race to the Little America's Cup.
Guilbaud has managed teams of more than 100 people, and will focus entirely on performance at Spindrift racing, taking care of the technical and sport units, assisting Yann Guichard in the day-to-day running of the team.
Yann Guichard, President of Spindrift racing commented: "We would like to welcome Stéphane and we are delighted that he has joined the team. He is the right man in the right place at the right time. Spindrift racing is a young outfit that has already achieved excellent results and has ambitious goals for the coming years. Stéphane's expertise will allow me to focus fully on sport performance. Dona and I have therefore restructured our business by splitting the two strategic divisions: sport performance and company development."
Executive Director Léo Lucet has been a stalwart of Spindrift racing since its inception in 2011. First as a sailor, then heading up the administrative side of the team. He has made an immense contribution to the team's success and will now assist Dona Bertarelli and become more involved in company development. He will, among other things, be the team spokesman, and will be responsible for representing Spindrift racing and its partners and developing their brand image, as well as for organising events.
"We have major development goals for the team as part of the investments we have made," explains Dona Bertarelli. "This restructuring will provide us with the people and the strength to achieve our performance objectives and our institutional and commercial goals. Léo Lucet and Stéphane Guilbaud will work together under this mindset, accompanied by all members of the Spindrift racing team."
The now 30-strong team is preparing for the 2015 season, in which it will compete in crewed events such as the D35 Championship, the Tour de France à la Voile and the Jules Verne Trophy.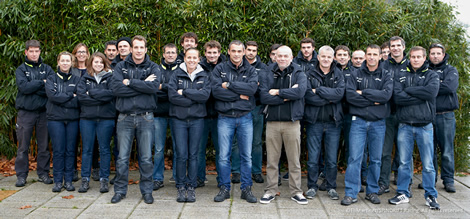 Back to top
Back to top