New Rambler 88 - first glimpse
Here are the first images of George David's new Juan K-designed Rambler 88 which has just been rolled out from New England Boatworks in Rhode Island.
David's previous Juan K-designed Rambler 100 (ex-Speedboat) readers will remember disasterously lost her canting keel in the 2011 Rolex Fastnet Race and turned turtle. Most of her crew were able to clamber up on to the upturned hull but five, including owner George David were swept away from the boat. Fortunately all the crew were safely rescued. The wreck of Rambler 100 has since been sold to Anthony Bell, rebuilt and competes in the Rolex Sydney Hobart race as Perpetual Loyal.
The new Rambler is 88ft long - which seems an odd length - too big to be a Mini Maxi and not a maximum length 'maxi' (ie 100ft). For example its seems unlikely that Rambler 88 will be able to hang on to the coat tails of Jim Clark's new 100ft VPLP Verdier designed Comanche when the two line up in the Transatlantic Race next year. Perhaps there is some notion that this might be possible given how close Ken Read's VO70 Puma finished to Rambler 100 in the 2011 Transatlantic Race (which Puma eventually won on corrected time).
The photo above allows an interesting comparison with the first Rambler maxi, the water ballasted 2002-generation Reichel-Pugh designed 90 footer (that was previously one of Neville Crichton's Alfa Romeos). No surprises that the boat has a powerful hull shape with a giant chine (although a softer chine than Comanche) running the full extent of the hull and similarly a hull-deck chamfer running the length of the hull (not sure why this is needed - its usually a 'rule optimisation' design feature and we can't believe IRC would pick this up). It also has the substantial bowsprit, similar in design to one fitted to Speedboat/Rambler 100.
The boat has a canting keel - hopefully one which stays on this time - and interesting is the positioning of the twin daggerboards, which are closer to the centreline of the boat than they are on Comanche (where they are positioned a long way outboard - similar to the IMOCA 60s MACIF and Maitre Coq). However on both the boards are toed in, so that when the leeward board is lowered and the boat is heeled, the board provides some vertical lift in addition to just leeway prevention.
There is a VO70-style cuddy over the companionway, whereas Comanche's deck is more flush and features twin companionways. Also the absence of any pedestals in Rambler 88's cockpit suggests that she is a 'push button' boat with powered winches, whereas Comanche has pedestals - these are required if she is to undertake record attempts.
Anyone else got any other observations?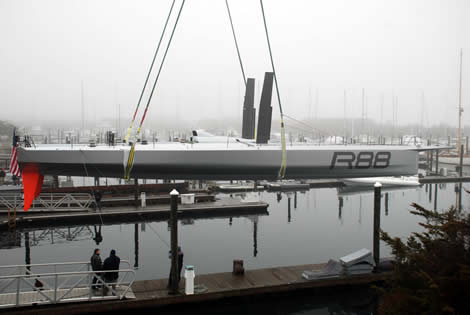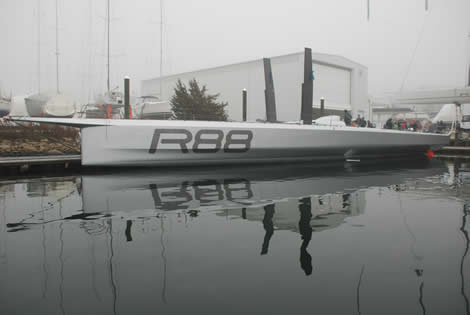 Back to top
Back to top