Third place for 75 year old Sir Robin
Sir Robin Knox-Johnston, 75, has finished the Route du Rhum–Destination Guadeloupe in third place in the Rhum class. His Open 60 Grey Power crossed the finish line off Pointe à Pitre, Guadeloupe at 8.52pm GMT Saturday after 20 days, 7 hours, 52 minutes and 22 seconds at sea.
Hours from the finish line, when he was locked in a tense final battle with Italian Andrea Mura, doing all he could to steal second, the living legend, the first man to sail solo, non-stop around the world in 1968/9 and the oldest competitor in this year's Route du Rhum pronounced that he would be simply 'ecstatic' if he reached the podium.
"I am absolutely over the moon and ecstatic to get third. I didn't expect to get on the podium when I started the race. I was up against some damn good competition with lighter, more modern boats than mine that are easier to manage. My boat is a hard boat to work," he said of his 14 year old Open 60 that started life as Giovanni Soldini's Finot-Conq designed Fila.
"The top international solo sailors were racing and it was tough, but I thoroughly enjoyed it. It was quite fantastic. There were three of us battling for the second and third spot. I got competitive and that was tiring. It came down to boat speed. She's a fast boat I've got. I managed to hold onto my lead but I couldn't beat Andrea Mura (second) despite catching him up.
"These last few days we have been racing very hard against each other and in the end there is no shame in being beaten by good people. And I was beaten by two very good people. I congratulate them. I will be back next time with a smaller boat."
Mura, who is getting a new VPLP-Verdier designed IMOCA 60 to compete in the next Vendee Globe only just managed to hold off the advances of the British skipper the French have loved to call 'the Don'. He pulled back more than 200 miles on Mura in the last nine days and rose to third on the penultimate day of the race. He was reeling Mura in until the breeze shut down on the final 50 miles around the island of Guadeloupe. But the Italian, who nicknamed his 75 year old adversay 'Robin Hood' was so impressed with his esteemed rival's race he said on the dock that he considered waiting at the finish for him, to enjoy the moment and get a picture of them together. When Mura crossed the finish Grey Power was still about 17 miles behind.
"I was beaten by two very good people. I congratulate Anne and Andrea."
Sir Robin also thanked his friends, family and the public for their support. "It's been fantastic. It has helped me push on harder than I might otherwise have done. I have had a wonderful reception in Guadeloupe too and look forward to spending a few days here after a good shower and rest.
"I do this because I enjoy it. And there are some great sailors to race against. We are all competing and it is a wonderful sport to be in. So why give it up? If you can still do it, do it!
Recounting his Route du Rhum, Sir Robin said: "My race was slow to start but got faster as I went along and it was great because I had three other boats in the same class who were close and we were all very equal, and so that made it great. The hard bits were the first days and coming round the island at the end. The constituents which make this race great are Saint Malo at the start, we are racing to Guadeloupe which is wonderful and it is an interesting course to follow. It has everything right, it really does.
"The low point was the English Channel and last night was one to forget, it was pretty much pandemonium at times. I tore the reaching sail and had a Chinese gybe."
Knox-Johnston sailed a typically accomplished course, relying on high average speeds and a smart, regular track, remaning safe through the big winds and seas of the first three days after the start. Unlike Mura, who became trapped in the light winds of the Azores high pressure zone, making pedestrian speeds for three days Knox-Johnston sailed a low risk course which balanced sailing the minimum distance while also remaining in the best available breeze for most of the time.
"The competition was excellent, I loved watching to see how I was gaining or losing, that made it really fun.
"If I said in Saint Malo I felt 48 then perhaps tonight I feel 50, but no more than that!"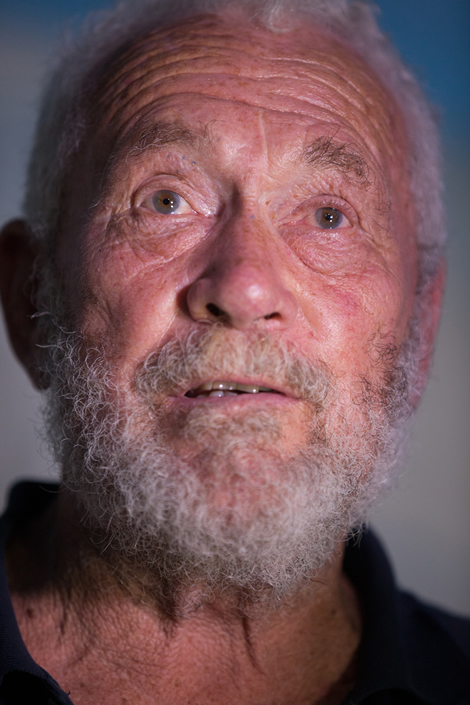 Sir Robin also said he will be back for the next race in 2018 with a smaller boat. "When I heard Loick Peyron was coming back next year that was it. He has a little trimaran so I need to sell this boat and build a trimaran and but it will be more of a cruising tri, but it would be great to race Loick again, he is such good fun. He did fantastically."
Sir Robin last sailed the Route du Rhum in 1982 on his 70ft catamaran Sea Falcon and the Rhum class in the Route du Rhum was perfect to lure him back to ocean racing after a seven years hiatus. This class is peppered with boats with storied histories - like a pair of yellow 38ft trimarans sistership to that of Canadian Mike Birch's Olympuc Photo who won the inaugural race in 1978 by just 98 seconds.
Sir Robin's last race was around the world, completing the Velux 5 Oceans race in 2006-7. And this time his Route du Rhum proved his better than 32 years ago. In 1982, five days in, he led the race outright but the catamaran's batteries suddenly caught fire and he had to reroute to Madeira to replace them. He finished 14th overall.
After many years at the helm of the very successful Clipper Ventures plc business his participation in last year's Sydney-Hobart race rekindled his racing spirit. He said in Saint-Malo that he was doing this race "because I bloody well want to go racing again".
In fact his competitive attack seems to have spiked as he progressed up the fleet. Mid-Atlantic he was simply at one with his boat, enjoying racking up miles in warm sunshine and trade wind conditions. But as he was often the fastest monohull in the Rhum fleet he progressed up to challenge for the monohull lead.
Back to top
Back to top