Alex Pella surges ahead
The podium was completed in the Route du Rhum's IMOCA class when at 14:59:20 UTC on Saturday, Marc Guillemot and Safran crossed the Guadeloupe finish line to take third place behind François Gabart (MACIF) and Jérémie Beyou (Maître CoQ).
In what will be his last race as the skipper for Safran, Guillemot completed his fifth Route du Rhum in a time of 13 days 1 hour 59 minutes and 20 seconds at an average speed of 12.92 knots over his 4056 mile race from Saint-Malo.
Safran crossed the finish line in 15 knot trade wind conditions, arriving 21 hours 20 minutes and 25 seconds after MACIF.
After the traditional champagne scraying, that Guillemot dedicated to his boat, the skipper shared his thoughts: "Five Route du Rhums, five finishes. I feel like I've had a good race, although François Gabart was the best. Now, it's obviously emotional because this boat is bit like my child. There's a lot of me in this wonderful monohull, which was well thought out and well designed by the team at Safran and the architects, VPLP-Verdier. When I was closing in on the line, I was happy that it was over, but at the same time, I knew it was the end of the story."
Safran remained in the top three since exiting the Channel, but the complicated weather conditions in the first few days caused a series of problems on board. However the skipper from La Trinite-sur-Mer overcame these technical issues but was subsequently unable to get back into the MACIF-Maître CoQ duel.
"This transat turned into a real fight," Guillemot continued. "We had to sail in the toughest conditions right until the end. I've never had so many problems that have led to more problems. And when, 950 miles from the finish, I had no more engine, it turned into a fight again - and I turned into a mechanic. Four times a day, I would recover the leaking oil with a fizzy drink can and put it back in the engine."
Guillemot was forced to helm a lot himself, rather than use the autopilot, in order to conserve power. "It was exhausting," he continued. "Driving these boats downwind is challenging and my spinnaker was hoisted on the solent halyard, which made Safran even more unstable."
Acknowledging Guillemot's final race with Safran, CEO Jean-Paul Herteman said: "Safran and its 68,000 employees are very proud of the performance of Marc Guillemot in this last race. Our skipper, with whom we have been for nine years has once again defended the colours of our Group fantastically by getting on to the podium and improving on his performance in 2010 by more than a day."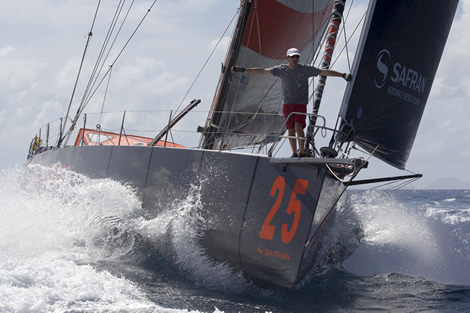 Guillemot once again praised his team and this amazing human and technical adventure that he has shared with Safran over all these years. But the 55 year old skipper has no intention of hanging up his seaboots and will continue working with his replacement, Morgan Lagravière, who has a new Safran IMOCA 60 due for launch in January, set to be campaigned in the 2016 Vendée Globe.
Late on Saturday night, into a very noisy, partying Pointe-a-Pitre, Armel Tripon on For Humble Heroes taking fourth place in his first major race in the IMOCA class, racing the VPLP-Verdier designed former Groupe Bel. Tripon crossed the line at 03:04:04 UTC in an elapsed time of 13d 14h 4m 4s and sailed 4 123 milles at an average if 12.65 knots.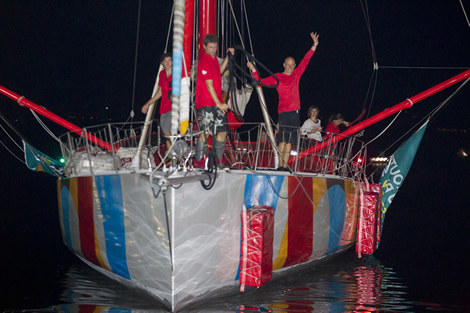 Louis Burton on Bureau Vallee crossed the finish line next at 14:33:44 UTC Sunday in an elapsed time of 14d 1h 33m 44s, averaging 14.41 knots for the theoretical 3,542 mile course, although he sailed 4273 miles at 12.66 knots.
On finishing Burton said: "It's a great race. My target was between fourth and sixth. I achieved that but broke lots of things in the first few days. I lost my wind indicators, the pilot crashed and I ruined a spinnaker in the Trades and so I had to race under a gennaker. For four days in the Trades that is slower. 
It was very intense the pace in the IMOCA, having to work hard to keep up . This is my first big solo race since abandoning in the Vendée Globe and so this Route du Rhum really makes me feel better. I was fifth in the TJV and now fifth here. I feel good but in terms of sleep and tiredness I am pretty close to the limit because it really is a sprint, not a marathon."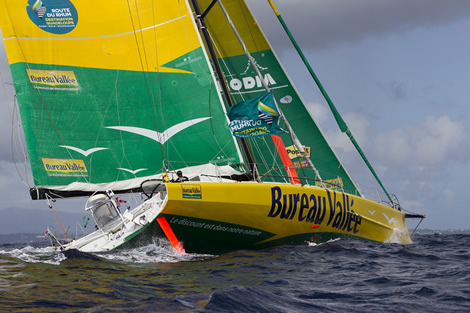 All but one boat has now finished in the Multi 50 class. Pre-race favourite Yves le Blevec on Actual was unable to catch up with Gilles Lamire on Rennes Metropole-Saint Malo Agglomeration, who took third place finishing at 23:44:37 UTC on Friday night. Actual crossed the line just 25 minutes later.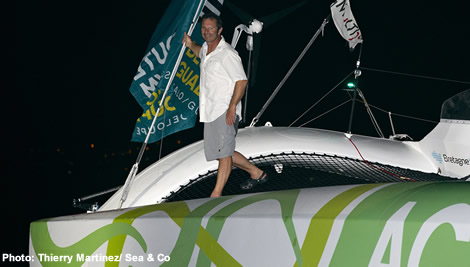 Having led the Multi 50 class as it suffered some devastation in the Bay of Biscay, Actual suffers problems with her masthead wind gear and le Blevec was forced to make a pitstop in Cascais to effect repair. Unfortunately it took almost 24 hours before he was able to rejoin the race.With the help of his router Christian Dumard (like the Ultimes, the Multi 50s are allowed shore based routing), Actual took a more southerly track than the front runner in the class in an attempt to get into stronger breeze. As with Pierre Antoine's trimaran, Actual also sustained lightning damage that took out her computer and her AIS. Despite this Actual continued to close on the race leaders but sadly ran out of runway.
Le Blevec commented: "I'm super happy with the sailing. The boat is very fast, it was just the delay... I had to stop racing three days when in the space of half an hour, both the masthead wind instruments broke. I could have gone on but I would have been deliverying the boat, not racing as I would have had no information on the direction and strength of the wind. The race with Gilles Lamiré was hot. I would have liked to have come in before him but there's not much difference between third and fourth. To the north of the island, I thought I was going to do it, but thanks to the breeze it didn't happen.

As with Guillemot and Safran, this will be Le Blevec's last race on the Multi 50 with his sponsor Actual who first supported him when he won the Mini Transat in 2001. It is believed that Le Blevec is now contemplating a Vendee Globe campaign in the IMOCA class.
Images courtesy of Expedition and Predictwind
Click on image to enlarge it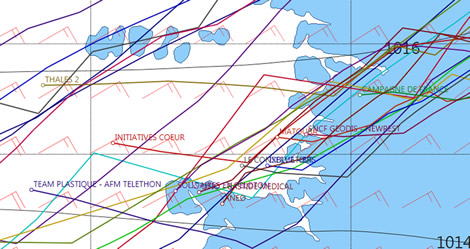 Spain's Alex Pella on Tales 2 Santander has managed to build up what is now a commanding lead of 110 miles among the Class40s, with two days of sailing left before reaching Guadeloupe. While his competitors have taken a more southerly route, Pella has instead been on a long starboard gybe and will soon be gybing to lay the north side of Guadeloupe.
Pella reported: "We are in good trade winds now, all is really good on board. I am just a little bit nervous because in this game you never know what can happen if there is something in the water or something like that, but I feel good, the boat is going well. I have 15 knots of wind right now from 090°. It is perfect. I need to gybe but I am waiting for the next wind shift. I think this is a very good boat, but it about the total package, it is good design, very good build, and we have worked hard to have all the right set ups, the sails are very good -me, I am not bad - I think that all he things on board are working very well in this race."
Miranda Merron on Campagne de France is still doing extremely well, holding eighth place. In an email we received from her this morning, Miranda was kicking herself for having sailed too conservatively at this section of the race. Currently she is further to the north than he rivals, following a similar track to the race leader. However here she seemed to be sailing in less pressure and was around 1 knot slower than her competition ahead of her.
"It is very hot and every time I seem to gybe then the wind seems to conspire against me about 20 minutes after I gybe. I have had some squalls between sundown and sunrise and some of them have been good for me, making 13-14 knots towards Guadeloupe, but then behind there is no wind and it seems like all those miles gained are then lost. It is all about taking the helm when it gets too windy for the autopilot.
"Really I am quite fatigued. Earlier on I had a reef in the main and I was looking at it going 'Should I shake it?' And in the end I did, but 20 minutes later it was 20 knots again. And so I am trying to minimise unneccessary manouvres. But going in the right direction does not count as unneccessary manouvres! It depends how the conditions are. At night it is very dark with only half a moon so you really cant just go to sleep. If there are squalls on top then you really have to be there."
In the Rhum Class, Anne Casaneuvre has done the biggest 'horizon job' on the fleet and now holds a monster 622 mile lead over second place aboard her trimaran Aneo. Behind there is a monohull show down for third place with future IMOCA 60 skipper Andrea Mura aboard Vento di Sardegna in the south having just overtaken Sir Robin Knox-Johnston on the Open 60 Grey Power.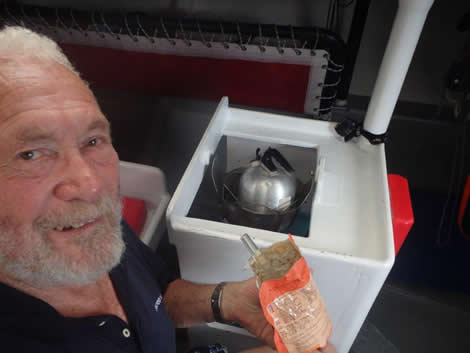 Robin has been having a few issues on board such as racing without wind instruments, while his communications systems crashed yesterday and he had to spend three hours fixing them. He reported; "It is steadier than it was yesterday and so that is good. It was swapping around yesterday. I am feeling a bit tired today I did not get much sleep, one did not get very much sleep because there was a lot of changes in the wind, and them my satcomms went down this morning so that took three hours trying to get that to work again. So, frankly, I am really needing some sleep. I think the weather will settle and maybe come round to the north. For me it is just these constant changes in wind direction and strength. With no wind instruments it means you are constantly changing course, I have to be on top of it all the time. "
Yannick Bestaven penalised - Phillippa Hutton-Squire writes:
The final conclusion to my 2014 Route du Rhum race was played out over the weekend when the international jury heard my protest against the boat that was involved in the collision with me during the first night of the race, 142 La Conservateur. In the collision spreaders were pulled sideways through the mast creating a crack 3/4 of the way around the circumference of the mast, even though I managed to get boat back to Roscoff in Northern France without the mast falling down there saving further damage to the boat or my new sails! However the mast did break in half later when it was removed from the boat.
There is never a happy conclusion for all parties when the incident is decided by a protest committee. Initially I was hesitant to protest Yannick as although I felt sure he was in the wrong, I knew how hard it is to get to the start of races like this. After a long debate I filed a protest against Yannick for the collision. On Saturday the 15th the Jury claimed the protest invalid. Then the Jury filed a protest against Yannick on 142 and me on 52. On Saturday evening we had a conference call to hear the protest. The Juries conclusion is that Yannick has a time penalty of 24 hours once he has finished the race.
I am very happy that Yannick is still racing and doing so well. He is currently in 4th place with only 770nm to go to the finish in Guadeloupe. I hope that maybe we will be at the start and finish of 2018.
Now I will put the disappointment of my 2014 RDR that only lasted for 12 hours behind me. On the plus side I have learnt so much during the build up of this campaign and had fantastic group of people helping me, I know it will be a struggle again to raise money but the RDR is a fantastic race. I now plan to be on the start line of 2018 RDR but more importantly to be at the Finish!!!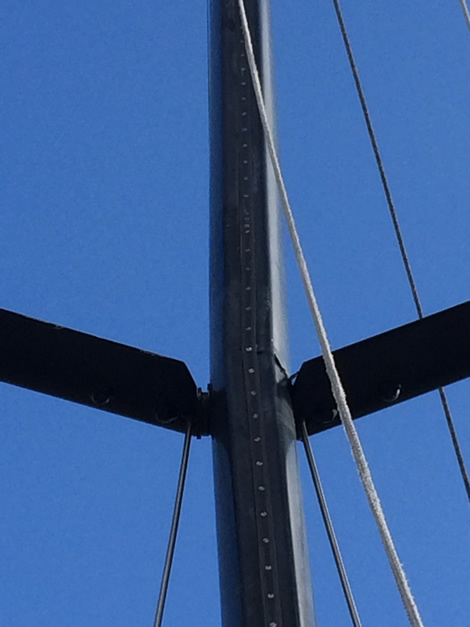 Back to top
Back to top