MACIF approaches Guadeloupe
Erwan Le Roux and his VPLP trimaran FenetreA-Cardinal (whose sponsor, in case you are you wondering, manufactures windows, doors and shutters) yesterday afternoon UTC time won the Multi50 class by a comfortable margin over Lalou Roucayrol aboard Arkema Region Aquitaine, which is due into Pointe a Pitre any minute now.
Sadly the Multi 50 class in this Route du Rhum has been a war of attrition, something akin to the latter day transats of the ORMA 60 class before that fizzled and died. Among the four potential winners Loic Fequet on the former Crepes Whaou! 2, Maitres Jacques retired with another broken bow (like the TJV last year), while pre-race favourite Yves le Blevec was forced to make a pitstop to repair his wind instruments, effectively putting him out of contention. While he has closed to within 50 miles of third placed Gilles Lamire on the neatly named Trimaran Rennes Metropole-Saint Malo Agglomeration (formerly Lionel Lemonchois' Prince de Bretagne Multi 50), sadly le Blevec is running out of runway to get the final podium position.
Images courtesy of Expedition and Predictwind
Click on images to enlarge them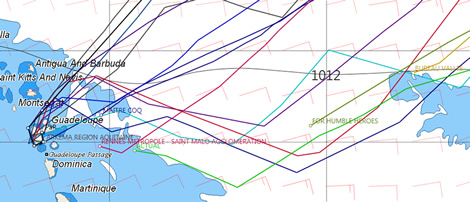 The race in the IMOCA 60 class this race has been sadly quite boring, with a relatively depleted fleet, partly thanks to the class being split between the Route du Rhum and the forthcoming Barcelona World Race as well as many of the top teams focussing on their new builds for the 2016 Vendee Globe. Vendee Globe winner Francois Gabart on MACIF , who has been out in front for the majority of the race, is currently approaching the north coast of Guadeloupe holding a comfortable 71 mile head over Jeremie Beyou on Maitre Coq. This will mark a suitable finale to Gabart's time in the IMOCA class, prior to his moving up to his new maxi-tri in 2015. Perhaps a little disappointed by what also will be his last race as skipper for Safran is Marc Guillemot, who looks set to take a comfortable third place with 274 miles left to the finish at 0848 UTC.
Meanwhile in the Class40, Spain's Alex Pella on the Botin Partners-designed TALES 2 Santander has managed over the last 24 hours to pull out a solid lead. While 30 miles ahead of second placed Kito de Pavant on Otio-Bastide Medical, Pella put in a hitch south at aroud 0500 UTC yesterday morning for around two hours, found better pressure and as a result, at the latest sched, is now 77 miles ahead. Great work by Pella.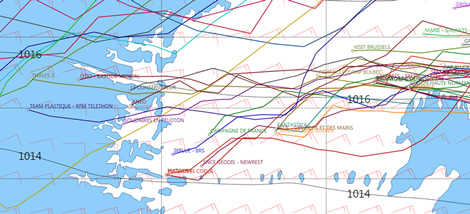 Miranda Merron on Campagne de France is still in the next group is having trouble making in roads into the boats ahead, but still holds eighth place with a 100 mile cushion ahead of ninth.
Behind in the Rhum Class, Sir Robin Knox-Johnston on his Open 60 Grey Power is cooking with gas! Having taken a fairly severe hitch south on Wednesday night, he's since gybed back to the west and in the process has elevated himself from seventh to fourth place.
This morning Sir Robin reports:
In distance only, we crossed the halfway mark yesterday after 11.5 days.
Not exactly record breaking for most of the fleet as the Azores High Pressure system moved south after the big boys had passed through and has slowed us all down.
The fun in the Rhum Class is that it is like the OSTAR used to be, made up of boats of all types and sizes that do not fit into the other classes like the Class 40's. It is the class where the less heavily sponsored can have a go at a sensible cost and so helps to provide a step on the ladder for a young sailor to gain a reputation in trans-oceanic racing. Of the 20 boats that started in the Rhum class, Anne Caseneuve has the class wrapped up.She has sailed an intelligent race and sailed hard. After her it becomes more open.
The boat I have been tilting against for the past week is Groupe Berto, a multihull sailed by Jean-Paul Froc. I have watched and admired his tactics. He can outpoint me and also sail further off the wind whereas I seem to have a very slight advantage on a broad reach. OK I have taken the lead by a few miles today, but that lead is vulnerable and the race is far from finished. Between us and Anne are two others who must feel us breathing down their necks.
Looking at the mainsail last evening, and its coming up for nearly two weeks solid use, this new Bainbridge cloth seems to hold its shape very well. No sign of stretch anywhere.
Whilst just checking the aft ballast tanks are empty, there always seems to be a slight seepage into them from the intakes, and out in the stream of water popped a small pink crab.It must have grown from a cell in there.
It had survived the pump, but where it has gone now is anyone's guess.It must have had a shock seeing daylight for the first time.
Good material for nightmares though - what lurks in the ballast tanks?
Another beautiful night for star gazing.Ursa Major came into view late on, but Polaris was easily found from Cassiopea's Chair. Polaris now some 24 degrees above the horizon, the same as our latitude of course
RKJ
Back to top
Back to top