Multi 50 victory for Le Roux
When he crossed the finish line at 18:13:55 UTC today, Erwan Le Roux and his trimaran FenetreA-Cardinal won the Multi50 class of the Route du Rhum-Destination Guadeloupe. The solo skipper completed the 3,542 miles theoretical course in 11 days 5 hours 13 minutes and 55 seconds at an average speed of 13.16 knots. In terms of actual miles on the water, Le Roux sailed 4,071 miles at an average speed of 15.12 knots. In doing so Le Roux has set a new course record, beating the 2006 course record of his former co-skipper Franck-Yves Escoffier by 12 hours and 15 minutes.
Erwan Le Roux enjoyed a great race across the Atlantic with his nearest adversary, Lalou Roucayrol racing Arkema – Région Aquitaine, who finished runner-up in the last race in 2010. Although they were close for most of the first half of the race, Erwan Le Roux finished with a lead of over 100 miles.
In doing so, Le Roux has completed a rare Transatlantic double, adding victory in the Route du Rhum to his double-handed win one year ago in the Transat Jacques Vabre with Yann Elies into Itajai, Brazil.
The Breton skipper from Auray has now won most of the major events since he purchased the boat in 2011. Built in 2009 as Crepes Whaou 3 to the VPLP design, Le Roux actually won the 2009 Transat Jacques Vabre on the boat when it was new, as co-skipper to her then owner-skipper Franck-Yves Escoffier.
Le Roux, 40, has grown in experience and stature in recent years. He served his time in the ORMA class at the shoulders of Marc Guillemot, Loïc Peyron, Thierry Duprey, Daniel Souben, and in the Multi 50 along with Franck-Yves Escoffier. He also had earlier success in monohulls previously, twice winning the Tour de France a la Voile, also racing successfully in Class40 and Classe Mini.
The first part of the Bay Biscay was a classic tactical game with Roucayrol doing well offshore in the west. Pre-race favourite, Yves Le Blevec, led early on, aboard Actual, but was then forced to make a double pit-stop to repair his wind instruments. 

 While Roucayrol stayed offshore, Le Roux went inside the TSS at Cape Finisterre and and eventually took the lead on the night of 6 November which he never relinquished.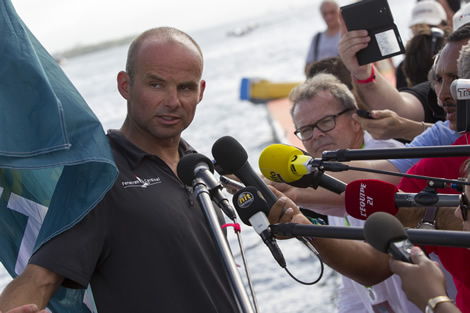 Lalou Roucayrol's newer 2013 launch Neyhousser/Verdier/Muyl design is faster downwind and the battle between the two went on for nearly 2000 miles until Erwan Le Roux eases progressively further ahead, opening up a 100 mile advantage over the final 48 hours into Guadeloupe.
Back to top
Back to top